A's could opt to spend their money on Chavez
With the A's deciding against re-signing Miguel Tejada, Eric Chavez could be the player they decide to keep.
Originally Published:
March 17, 2003
By
Jim Caple
| ESPN.com
PHOENIX -- Oakland third baseman Eric Chavez, pitcher Mark Mulder, second baseman Mark Ellis, infielder Frank Menechino and pitcher Mike Venafro all shared a house last year, the greatest concentration of baseball talent ever in one Bay Area residence with the possible exception of when Barry Bonds went home alone.
Theirs was the typical home of a group of active young men. The refrigerator rarely contained anything other than beer, soda, orange juice, milk and wine. The pantry held few food products that didn't have Cap'n Crunch or Tony the Tiger on the box. If the many TVs weren't tuned to SportsCenter, they were hooked up to PlayStation.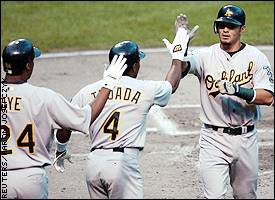 Eric Chavez, right, hit a career high 34 home runs in 2002.
Of course, there was one slight difference. When most people answer their doorbells, they usually find a recovering crack addict trying to stay clean by selling magazine subscriptions door-to-door. Not the Athletics.
"Once people found out where we lived, they just started coming by and dropping off all sorts of stuff and kids would stop by for autographs,'' Menechino said. "They drop off candy, cakes, beer, wine. It's just weird. Half the time we don't even know who it's from.''
"The weird thing is we would come home and there would be a stack of beer at the front door,'' Chavez said. "And it wouldn't be like Coors Light or Corona, it would be Pilsner something or some new beer coming out. It was weird. And there would be T-shirts with the beer logo on them. It was crazy.''
Think about it. Not only do these guys earn millions to play baseball, they wake up in the morning and find free booze delivered to their doorstep. Life isn't fair, is it?
"I don't know where it came from, but one day there were eight cases of beer with a note from someone we never heard of who said he knew me,'' Mulder said. "I hope he doesn't read this because I don't want to hurt his feelings, but that beer was awful.''
Last year was the third season Chavez, Mulder and Menechino shared a house, but the household is breaking up this year. Venafro is with Atlanta this year, and Chavez is moving out as well.
"He's got a girlfriend and he doesn't want to live with us anymore,'' Menechino said.
Women. Isn't this just the way it was with the Beatles and Yoko Ono?
On the rise
Eric Chavez's season-by-season statistics over the last three years:
Year
Games
Hits
HR
RBI
Avg.
'00
153
139
26
86
.277
'01
151
159
32
114
.288
'02
153
161
34
109
.275
The household breakup is symbolic of life with the Athletics. No matter how good the people are, they don't hang around very long. Two years ago Jason Giambi left Oakland to sign with the Yankees. Johnny Damon signed with the Red Sox. This winter Art Howe left to manage the Mets, and general manager Billy Beane nearly went to Boston.
Saturday morning, Chavez talked about how this spring was almost a relief because at least the roster returned relatively intact while new manager Ken Macha had been with the team the previous five years as the bench coach. Just minutes later, as if on cue, owner Steve Schott announced the team would not even attempt to re-sign MVP shortstop Miguel Tejada.
The news left Chavez a little stunned.
"I thought we could re-sign him. But I thought there was a chance we could re-sign Jason, too,'' he said. "It's tough. Miguel has been with us since the beginning. As far as winning goes, we've seen teams lose good players and go on to have better seasons.''
That includes the Mariners, who reached the postseason after trading Ken Griffey Jr. and set the American League record for victories after losing Alex Rodriguez to free agency. It also includes the Athletics, who won more games in 1998 than in 1997 after trading Mark McGwire and won more games last year after losing Giambi and Damon.
Still, in Oakland's case, it must get to be a bit like working the conveyor belt with Lucy and Ethel in the chocolate factory. No matter how many chocolates you box up, the belt never slows down. The situation just gets worse and worse.
"It is,'' Chavez said. "We kind of depend on Billy and the scouting area to come up with some talented new players. They've been pretty successful at it. And then Billy is always making a trade in July for someone. He's a pretty good captain to steer the ship.''
Beane, among the very best general managers in recent years, is unparalleled when it comes to fielding a contender on a tight budget. The question is whether he can find a way to hold onto Oakland's best players beyond their free-agent years. He's signed Chavez and the big three starters -- Mulder, Barry Zito and Tim Hudson -- to contracts that avoid the salary arbitration process. But free agency still looms, and Chavez is the next player in line behind Tejada. He's due to become a free agent after next season.
| | | |
| --- | --- | --- |
| | " | You have to deal with each situation on its own. I don't think it would be fair to say, we're selecting this guy to build around and not this guy. But the ability to sign anyone is all a challenge. We'll view it all on a case-by-case basis. " |
| | | — Billy Beane, A's GM, on the possibility his club may decide to re-sign Eric Chavez instead of Miguel Tejada |
If Chavez isn't already the best third baseman in the league, he's easily the best third baseman who hasn't made the All-Star team. His absence from the All-Star rosters barely seems possible after his past two seasons. Last year he hit .275 with 34 home runs and 109 RBI to lead all major-league third basemen in homers and total bases while earning his second consecutive Gold Glove. Just 25, he already has as many home runs (105) as Reggie Jackson had at his age, and more home runs than Mark McGwire did (83).
His eye at the plate is improving, leaving him with one liability -- hitting left-handers (he batted just .209 against lefties last year and is .221 against them for his career).
"He's one the best young players in the game and in my mind, one of the best players, period,'' Beane said. "We always knew with Eric that his development wasn't a matter of anything more than getting some more candles on the cake. It was his destiny.
"He just turned 25 in December. The biggest negative you can say about him is that his best days are still ahead of him. And the ones behind have been pretty good.''
Given all that, and given that Chavez is at least two years younger than Tejada (who some suspect is older than his listed age of 27), he may very well be the better player to build around. If the Athletics can afford to build around anyone.
"You have to deal with each situation on its own,'' Beane said. "I don't think it would be fair to say, 'We're selecting this guy to build around and not this guy.' But the ability to sign anyone is all a challenge. We'll view it all on a case-by-case basis.''
Chavez said he didn't know how the Tejada announcement affects him. He also said he saw no reason to go to the Athletics and ask about a contract extension. Beane said the club isn't thinking about that right now, considering that Oakland just made the Tejada announcement. "We have to be respectful of that and not leapfrog over him to another player.''
"If they come to me, I would be happy to listen,'' Chavez said. "It is what it is. They either can re-sign me or they can't.''
Jim Caple is a senior writer for ESPN.com.