Commentary
Aaron passes the torch to Bonds
Originally Published:
August 7, 2007
By
Jim Caple
| ESPN.com
SAN FRANCISCO -- Before the baseball winds up on eBay, before we make up our minds what the new record means (if we can) and before Pedro Gomez is assigned to follow around Alex Rodriguez, let's pause for a few words from the former home run king.
"I would like to offer my congratulations to Barry Bonds on becoming baseball's career home run leader," Hank Aaron said in a video message played on the AT&T Park scoreboard after Bonds hit his 756th home run. "It is a great accomplishment which requires skill, longevity and determination. Throughout the past century, the home run has held a special place in baseball and I have been privileged to hold this record for 33 of those years. I move over now and offer my best wishes to Barry and his family on this historical achievement.
"My hope today, as it was on that April evening in 1974, is that the achievement of this record will inspire others to chase their own dreams."
The words struck the proper note on a historic night, especially compared to how commissioner Bud Selig shoved his hands in his pockets and stifled a yawn for 755. Aaron's message was simple, gracious and encouraging. A lot of people hold differing opinions on what Bonds has achieved (and how), but Aaron reminded us that records are set, records are broken and what really matters is how those numbers move and inspire us.
"It meant everything, absolutely everything," Bonds said of the message. "We've all admired Hank Aaron, all have so much respect for him, everyone in the game. Right now, everything's hitting me so fast, I'm at a loss for words again but it was absolutely the best."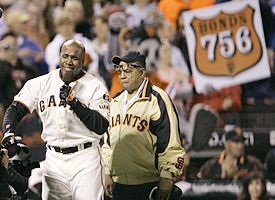 AP Photo/Eric RisbergBarry Bonds, standing with godfather Willie Mays, gets emotional when speaking about his late father, Bobby.
What makes the new record controversial is that we want the number to mean what the old number did, which is difficult in the age of performance enhancers. But that's also what makes baseball so special, so wonderful -- the way that what happens today is always connected to what happened yesterday. Bonds, of course, is the son of an All-Star and the godson of a legend. The Washington Nationals pitcher he hit the record-breaker off,
Mike Bacsik
, is the son of former major league pitcher Mike Bacsik who pitched to Aaron when Hank had 755 home runs as well.
"If my dad had been gracious enough to give up a home run to Hank, we'd both have given up 756," Bacsik said. "I'm excited. We won the game and I got to see history. I dreamed about this when I was a kid. Unfortunately when I dreamed about it, I was the one hitting the home run."
After giving up a single and a double earlier in the game, Bacsik ran the count full to Bonds in the fifth. With the best hitter of his generation waiting at the plate and what felt like the entire city of San Francisco leaning in, Bacsik threw a fastball, trying to go down and away. Bonds had other plans.
One moment the baseball was heading to home plate in the mid-80s and the next it was rocketing the opposite direction much, much faster.
Bonds instantly knew the ball would land in the bleachers, which he should after hitting so many home runs. He raised both arms in jubilation and watched the ball clear the center-field fence, then circled the bases while fans cheered and fireworks exploded in the sky.
Fans elsewhere may have conflicting opinions of Bonds, but not San Francisco fans. They know what his 15 seasons with the team mean. There were fans who have attended Giants games practically since they moved to San Francisco and there were fans who were at their very first game (and won't they have something to tell their grandkids?). They clapped and whistled, hugged and slapped hands, laughed and cried.
Meanwhile, the home run glanced off the index finger of a fan named Brian Herman ("I thought it broke my finger") and then bounced into the crowd to his left. Fans dove into a furious scrum and the guy who eventually came up with the ball was a man identified as Matt Murphy, a 22-year-old from Queens, N.Y., in a Mets jersey who was passing through San Francisco on his way to Australia. Security guards waded into the mass and helped Murphy leave the stadium with the ball firmly in his grasp.

It's all about history. Pretty soon someone will come along and pass him.
Willie Mays on Barry Bonds' new record
However much the ball eventually brings at auction, there is one person who won't be bidding. "I don't want the ball," Bonds said. "I never ever believed a home run ball belonged to a player. If he caught it, it's his."
When Bonds reached home plate, he pointed emphatically to the sky in recognition of his late father, Bobby. He was greeted by his family and teammates, applauded by the Nationals. He hugged his wife and he hugged his mother. "My mom has always been there, she's the one who drove me to my Little League games and took me to school all the time," he said later. "My mom was the concession stand lady, selling hot dogs out of the concession stand. My mom was the one who was there when my dad was never there."
He pointed to several sections of the stadiums, saluting the fans. Then he walked down to the third-base line where he met Willie Mays. "Willie has been there for me ever since my dad has been gone, been that mentor to me and kept me strong."
Bonds took a microphone and thanked the fans. Giants manager Bruce Bochy sent Bonds out to left field to start the next inning, then immediately replaced him with Rajai Davis so that the new home run king could run off the field in the spotlight again.
The game resumed 10 minutes after the home run, but it was pretty much an afterthought at that point. Who, after all, remembers the score of the game when Aaron hit No. 715?
So now we have a new number to replace 755. At least until Bonds hits 757 or 775 or whatever he ends with (he says he'll be back next year). The greatest record in sports? A tainted number? You're free to decide for yourself. As Bonds has: "This record is not tainted at all. At all. Period. You guys can write anything you want."
Whatever you think of Bonds, eventually someone will break his record. That's the way baseball works. As Mays said before the game, "It's all about history. Pretty soon someone will come along and pass him."
Jim Caple is a senior writer for ESPN.com.
756: BONDS PASSES AARON

Barry Bonds passed Hank Aaron to become Major League Baseball's new all-time home run leader when he belted No. 756 off Washington's Mike Bacsik.

NEWS
• Steroid talk kept Aaron away
• Bonds' No. 756 ball fetches over $750K in auction
• Mark Kreidler: No. 756 ball: Going, going... sold?
• Bids begin for Bonds' No. 755 and 756 HR balls
• Bonds handed key to city in San Francisco tribute
• Fan putting 756 ball up for auction
• Bonds hits No. 756
• Photo gallery of No. 756
• Diamond Daily: Ascending the throne
• New York man catches ball
• Bush called to congratulate Bonds
• Sadaharu Oh congratulates Bonds
• Selig meets with Mitchell instead
• Attorney keeping Bonds apprised of BALCO
• Action figures ready to hit shelves
• Aaron might "eventually" speak to Bonds
• Bonds gear goes on display at Hall
• Record-tying ball set for auction block


ANALYSIS
• Rob Neyer: Who's chasing Bonds?


• Keith Law: Up-and-coming sluggers


• Buster Olney: No comparing Bonds


• Rob Neyer: Don't forget Aaron's greatness


• Jim Caple's Off Base: Simply regret-a-ball
• Eric Karabell: Bonds' fantasy value


• Jim Caple: Aaron passes torch to Bonds
• Gene Wojciechowski: Barry has broken record
• Experts: Bonds as the new HR king
• Amy Nelson: How much will the record ball fetch?
• What they're saying about Bonds
• Tim Kurkjian: What if ...
• Jim Caple: Joining the masses in hopes of 756
• Eric Neel: Long-awaited No. 755 is one to savor
• Debate: Who's the greatest slugger of all time
• Imagine Sports: How would Aaron fare today?

SPORTSNATION
• Rank: Who could break Bonds' record?
• Poll: Do you consider Bonds the real HR champ?
• Rank: Is it the most respected sports record?
• Rank: Who are the greatest all-time HR hitters

VIDEO


• Watch Bonds hit No. 756
• Bonds on finally hitting No. 756
• Bonds still has more baseball in him
• Mike Bacsik on giving up No. 756
• Kirk Rueter on Bonds' achievement
• Hall of Fame case for Bonds
• Baseball Tonight breaks down No. 756
• Dusty Baker talks about Bonds
• Bonds speaks after breaking record
• Bonds: "The hardest part is over"
• Baseball Tonight: Is an asterisk needed?

AUDIO


• Baseball Today: Giants GM Brian Sabean
• Pedro Gomez: Bonds' record chase
• Mike Bascik Jr./Sr: Father, son on No. 756

• Buster Olney: Bonds is greatest of his time

• Bob Costas: Record handled with class

• Peter Gammons: Selig's eerie message

• Fay Vincent: Bonds' record was exciting

• Ernie Harwell: Accept Bonds as the new king


SPECIAL FEATURES
• Beyond 756 page: Everything on Bonds
• Milestone Meter: From 756 to 300 to 3,000
• ESPN.com: The Best On Bonds
• Slideshow: Reliving Hank Aaron's No. 715

PRE-755 CONTENT
• Jerry Crasnick: Ready to make the call
• Jayson Stark: Kuiper's the anti-Bonds
• Jim Caple: Bonds feeling no pressure
• Tim Kurkjian: Victims of landmark home runs
• Bonds' Town Hall: Did Bonds use steroids?


• Bonds' Town Hall: Did anyone know?


• Bonds' Town Hall: Media witch hunt


• Brokaw: The Long Winter of Henry Aaron

• Beyond 756: Chat with Amy Nelson

MOST SENT STORIES ON ESPN.COM