Commentary
Giants not worried about opening loss
Sure, the defense was suspect and the bats were quiet, but it was only the first game
Updated:
April 1, 2011, 2:12 AM ET
By
Jim Caple
| ESPN.com
LOS ANGELES -- This is the way Opening Day should be.
No umbrellas. No fans huddled in overcoats. No snow in the forecast. No temperatures so low you can't tell whether that's steam escaping from Jim Leyland's breath or cigarette smoke. Just brilliant blue skies, the mercury inching through the 80s, a World Series champion in one dugout, a bitter old rival in the other, two aces trading zeroes inning after inning, a promising young rookie stepping to the plate against a tough veteran closer with the game on the line and a new manager biting his nails in the ninth inning.
Heck, it was such a great day that most of the 56,000 fans even stayed for the entire game to chant, "Giants suck! Giants suck!'' and watch San Francisco rookie Brandon Belt line to third base for the final out of the Dodgers' 2-1 victory in Don Mattingly's managerial debut Thursday.
[+] Enlarge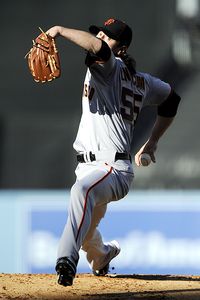 AP Photo/Mark J. TerrillTim Lincecum was solid on Opening Day. He just didn't get much help.
"The intensity level was definitely up there," Belt said. "It was definitely exciting but I just tried to go up there and breathe and calm myself down and try to treat it like every other at-bat. That's how I've had success. I think I did that OK but I came up just a little short."
The Dodgers put out mixed signals during the national anthem when they released dozens of white doves while a menacing stealth bomber flew overhead. But mixed signals are kind of what Opening Day is all about. After months of build-up, it's easy to overreact to a quiet offense or sloppy defense in the first game. The question is always, is that just one game or a sign of worries to come?
Last year, the Giants won their first World Series since moving to San Francisco thanks to superb pitching and just enough offense. If Belt is as good as advertised, the Giants might be even better this year. But they probably still will occasionally struggle for runs and cross their fingers when the ball is hit to some fielders. And that was the case in Thursday's opener, in which they made three errors and were scoreless until Pat Burrell's solo homer in the ninth.
Starter Tim Lincecum pitched a great game, allowing no earned runs and five singles in seven innings. Unfortunately, he was going up against Los Angeles ace Clayton Kershaw, who was just a shade better while holding the Giants scoreless and striking out nine in seven innings. Lincecum also was the victim of a little wildness in the sixth inning, when the Dodgers scored the game's first run on a walk, a throwing error, a hit batter, another throwing error and an intentional walk.
That is what qualifies as a slugfest against the Giants.
"We made a couple bad throws," manager Bruce Bochy said. "It's going to happen.''
The question is: How often?
There were some concerns during spring training about shortstop Miguel Tejada, who is 36 and really struggled at the plate and in the field in the Cactus League. His play improved considerably the final week or so, but on Thursday he rushed a throw on a force play on Matt Kemp at second base in the crucial sixth inning. His throw went into right field, so instead of two out and a runner at first, the Dodgers had runners at the corners and one out.
[+] Enlarge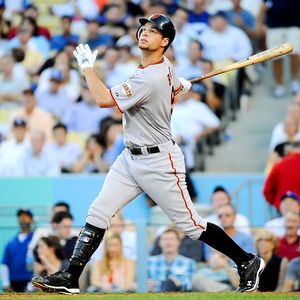 Kevork Djansezian/Getty ImagesRookie Brandon Belt handled himself well in his debut.
Then, after Lincecum hit World Series hero Juan Uribe, catcher Buster Posey made a bad pickoff throw to third base that allowed Kemp to score. "It's just kind of one of those plays that is an instinctual play, and I just didn't execute it," said Posey, who was crucial to the Giants last year. "It was a ball in the dirt and I thought he'd be a little farther off the base and we would maybe catch him napping. We'll never know.''
The good thing is that third baseman Pablo Sandoval made a nice diving catch on a line drive that easily could have gone for a two-run single had "Panda" weighed as much as he did last season. So that's a good sign for San Francisco fans.
So was Belt's play in his major league debut. Despite the normal pressure and jitters of a debut, he made some nice plays at first, hit an infield single, drew a walk and showed good discipline at the plate. He might have lined out Thursday to end the game but he'll get a chance to come through again the rest of the season.
"There are still 161 to go. It's not something we need to worry about," Lincecum said of the loss and the errors. "Whether it's Opening Day or the middle of the season, these kind of things happen and you just iron them out and hopefully they go better next time."
Jim Caple is a senior writer for ESPN.com.
Follow Jim Caple on Twitter: @jimcaple
SPONSORED HEADLINES
MORE MLB HEADLINES
MOST SENT STORIES ON ESPN.COM
EDITORS' PICKS
Is the time right for the Phillies to trade Cole Hamels?
Jayson Stark »

The Red Sox introduced their two newest stars.
Story

Where does Hanley Ramirez rank among left fielders?
Buster Olney
New Era Youth Los Angeles Dodgers Royal 9forty Pinch Hitter Adjustable Hat Shop »