Indians could swing and miss the playoffs
CLEVELAND -- General manager Mark Shapiro's mandate for the Cleveland Indians organization hangs on a small plaque on the elevator leading from the Jacobs Field press box to the clubhouse downstairs.
"Our Vision:" the plaque reads. "To Build and Sustain a Championship Team in a Culture of Excellence."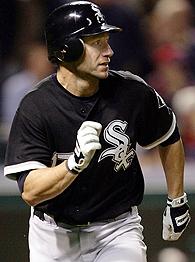 Ross Gload, a September callup, was 0-for-5 before stroking his decisive two-run double.
That's the long-term goal. At the moment, the Indians would settle for a crummy bloop single with a man on second base.
Last weekend, the Indians appeared to be on their way to the franchise's first playoff appearance since 2001. Then center fielder Grady Sizemore lost a fly ball in the sun in a heart-wrenching loss to Kansas City. Then the Indians lost 1-0 to Tampa Bay's Seth McClung, he of the convenience store (7.11) earned-run average.
And now the youthful Cleveland lineup is in a bat-squeezing funk precisely when it hurts the most. The Indians went hitless in nine at-bats with runners in scoring position Friday, stretching their futility streak to 0-for-23 on this season-ending homestand. Ross Gload came through with a two-run double off Fernando Cabrera in the 13th, and the White Sox beat the Indians, 3-2, to push Cleveland one step closer to a nice season with a very unfulfilling conclusion.
Even if the Indians preferred not to scoreboard-watch, they have little choice in the matter. The electronic board in left field at Jacobs Field provides all the relevant details from the Boston-New York series at Fenway Park -- from runs, hits and errors for both clubs to pitcher-batter matchups to the count on each hitter. The update includes everything but David Ortiz's daily calorie intake and the Amazon.com ranking of Johnny Damon's book.
Boston's 5-3 victory Friday cast the rest of the regular season in stark terms: If the Red Sox and Yankees split their two meetings this weekend, the Indians have to beat Chicago on Saturday and Sunday to force a playoff. The odds aren't great, considering they're 5-12 against the White Sox this season.
For what it's worth, Indians manager Eric Wedge and the players said all the right things, about character and resolve and the ability to produce under duress.
"We have some mentally tough individuals on this team," Wedge said. "They've been stepping up all year. I have a strong feeling about these guys individually and collectively."
The Matchups
SATURDAY, 1:15 P.M. ET
Jon Garland vs. Jake Westbrook
SUNDAY, 1:05 P.M. ET
Brandon McCarthy vs. Scott Elarton
Cleveland pitcher
Kevin Millwood
continued his dogged pursuit of the league ERA title despite taking a hard comebacker off the left knee and snagging another ball with his bare hand on a reflex catch.
"Everybody in here believes we can do it," Millwood said after the game. "But it's one thing to feel that way, and another thing to go out and do it."
There'll be one noteworthy difference in the games this weekend. The Indians will have to beat a Chicago lineup consisting of players that non-fantasy league geeks and Baseball America devotees have actually heard of.
After the White Sox clinched the division title with a 4-2 win over Detroit on Thursday, manager Ozzie Guillen looked at all the banged-up players on his roster and decided that several could use a break. So he did the humane thing Friday and let most of his main men hang out in the dugout with him and bench coach Harold Baines while the champagne hangovers dissipated.
Aaron Rowand, Jermaine Dye, Paul Konerko, Carl Everett, Juan Uribe, A.J. Pierzynski and Tadahito Iguchi all sat out the series opener against Cleveland. In their place, Guillen played Brian Anderson in center field, Timo Perez in right, Gload at first base, Joe Borchard at designated hitter, Geoff Blum at shortstop, Chris Widger behind the plate and Willie Harris at second.
| | | |
| --- | --- | --- |
| | " | We have no choice but to bounce back. This was a tough loss, but we can't dwell on it. We have to come back and be a little better tomorrow -- period. " |
| | | — Aaron Boone |
For the record, Chicago's entire starting lineup came in with a total of 32 homers (22 by third baseman Joe Crede) and 128 RBI this season. With those aggregate totals, this group could give Travis Hafner a run for third place in the American League MVP race after Ortiz and Alex Rodriguez.
Still, the White Sox are in this bunker as a unit. Pierzynski and Widger both lambasted a radio reporter who offhandedly referred to the Chicago backups as "scrubs" in the clubhouse Friday. With 97 victories, the White Sox have assured themselves of home-field advantage throughout the American League playoffs (not to mention the World Series). But they're starting to chafe at the notion that they're afterthoughts while everybody focuses on the Red Sox and Yankees.
"We're aware of the ramifications of this series for everybody who's involved," Pierzynski said. "But that's all anybody talks about all the time -- Red Sox and Yankees. It doesn't seem like there are any other teams out there."
Guillen's decision to play the shock troops elicited discussion before the game as an example of the dilemma that confronts clinching clubs. To what extent are they obligated to continue playing regulars to preserve the "integrity" of the race? Or should their focus be solely on getting ready for the next games that really count, in October?
When Guillen met reporters in the dugout, he didn't seem to care a whole lot about courting public opinion in Boston and New York.
"Why did I make out the lineup this way?" he said. "You want to hear the truth? Because I'm the manager."
With Mark Buehrle and the Chicago bullpen shutting down the Indians for eight innings, Chicago's shock troops appeared to be good enough. But Cleveland came back and tied the game in the ninth inning on a Travis Hafner single, a Victor Martinez double and a Ronnie Belliard groundout.
As it turns out, the mini-rally merely prolonged the agony. The loss was Cleveland's 35th one-run defeat of 2005, tying the franchise's single-season record.
And now the Indians face the prospect of Dye, Rowand, Konerko and company returning to the lineup and wanting to finish the season strong.
"We have no choice but to bounce back," said third baseman Aaron Boone. "This was a tough loss, but we can't dwell on it. We have to come back and be a little better tomorrow -- period."
Write the words down in a notebook or hang them on an elevator wall. It's desperation time either way.
Jerry Crasnick covers baseball for ESPN Insider. His book 'License To Deal' has been published by Rodale. Click here to order a copy. Jerry can be reached via e-mail.
ESPN.com MLB Sr. Writer
ESPN.com senior writer
Author of "License to Deal"
Former Denver Post national baseball writer
SPONSORED HEADLINES
MORE MLB HEADLINES
MOST SENT STORIES ON ESPN.COM
EDITORS' PICKS
What if Jeremy Giambi had slid?
Jim Caple »

The Giants and Cubs will pick up where they left off Tuesday night.
Story »

Would the Angels try to bring back Bartolo Colon?
Jim Bowden »