Cameron overcomes tragic year
After overcoming a horrific injury and the loss of his sister last year, Mike Cameron's become an all-star at coping, writes Jerry Crasnick.
PEORIA, Ariz. -- Trevor Hoffman entered the Scripps Clinic in San Diego last August carrying a get-well teddy bear and feeling a sense of dread. He had been sitting in the Petco Park bullpen a few days earlier when New York Mets outfielders Mike Cameron and Carlos Beltran collided with unspeakable force in pursuit of a fly ball, and he could only imagine how difficult it must be for Cameron to recuperate so far from home.
Still, nothing could prepare Hoffman for the sight of Cameron looking so busted up and incapacitated in his hospital bed. Two fractured cheekbones, a broken nose and a broken orbital socket will leave their mark on a man.
"I didn't even recognize him," Hoffman said. "I walked in and his face was so swollen after surgery and the blow that he took. It was like, 'Wow.' "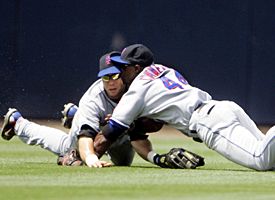 AP Photo/Lenny IgnelziCameron's 2005 season ended on Aug. 11, when he slammed into Carlos Beltran while trying to catch a fly ball.
The winter months promised to be a test for Cameron, as he adjusted to the notion of living life and playing baseball with a collection of titanium plates and screws holding his face in place. Little did he know that a more daunting challenge lay before him.
Cameron's offseason took a tragic twist on Halloween night, when he received a phone call that put his ordeal in its proper place. His sister, Christi Godfrey, a 911 dispatcher who had just returned from a vacation cruise, had been rushed to a local hospital with a pulmonary ailment caused by a blood clot.
Cameron jumped in his car and made the 45-minute drive from Atlanta to his hometown of LaGrange, Ga., only to be told the unfathomable was real. His sister was dead at 26, and Cameron was left to comfort his mother and hug Christi's two young daughters.
"It's crazy," Cameron said softly. "I've always been the one to assume responsibility in my family. But there are things you just can't protect your family from."
Cameron reflects on that Halloween night often as the 2006 big-league season approaches. He worries about his sister Kim, who was so close to Christi, and thinks about fitting ways to pay homage to his deceased sister. He considered inscribing a personal message on his cap, but has chosen to keep his memories and his tribute close to the heart.
Baseball provides him with an emotional outlet and a way to forget. Cameron has moved from right field back to his natural position in center, with a new team in San Diego. He feels, for want of a better word, rejuvenated.
"I loved New York because of the passion people have there," Cameron said. "But it's more laid-back and relaxed here. This is more my flow."
The Mets, who had room for only one center fielder, did Cameron a favor in November and traded him to San Diego for Xavier Nady. Several months after walking into the New York clubhouse with his clothes baggy from a liquid diet and a 15-pound weight loss, Cameron is healthy and vibrant once more.
The Padres are as loose as a team can get, with clubhouse attendants wrestling on the floor and players providing a running commentary as they watch the latest Kanye West video on a TV above the locker stalls. Cameron, while new to the scene, is just one of the guys.
Hoffman makes the obligatory wisecrack about Cameron "setting off airport metal detectors" with his new titanium-enhanced face, and right fielder Brian Giles takes mock umbrage when a reporter asks if he's excited about playing beside a two-time Gold Glove center fielder.
"Why don't you ask him if it'll be special to play next to me?" Giles said.
| | | |
| --- | --- | --- |
| | " | I don't know if I'd call it a reckless abandon, but he's always played with a fearlessness. I think it's going to take him a while to feel comfortable going into the gap hard again. " |
| | | — Trevor Hoffman |
Catcher
Mike Piazza
, also new to San Diego from New York, simply is relieved to see Cameron in one piece after that horrific collision with Beltran. The replay is so unsettling, Hoffman refuses to watch when it airs on television.
"Everyone laughs at the bloopers," Piazza said, "but it can be dangerous out there when guys can't hear because of the crowd noise. I saw Delino DeShields run into Raul Mondesi and they took him off on a stretcher, and he had one eye going this way and one eye going that way.
"When you have two outfielders with more or less world-class speed running at each other that hard, it's dangerous. It was a very, very scary moment, and it affected our ballclub at the time as well."
The Padres know they're getting an all-or-nothing type offensive player in Cameron. He's hit 25 homers three times in the majors, but last year marked the first time in nine seasons that Cameron didn't strike out 100 times -- and that was only because injuries limited him to 76 games. He still whiffed 85 times in 308 at-bats for the Mets.
General manager Kevin Towers has a hard time containing his enthusiasm over Cameron's defensive impact. The Padres were out-doubled 151-116 at home in 2005, and Towers had grown tired of watching line drives split the gaps and roll to the Petco walls. San Diego will be quicker and more athletic in the outfield with Cameron in center field, Giles in right and Dave Roberts, hamstrings permitting, logging the bulk of the time in left.
In the Cactus League, every day brings a new adventure for Cameron. During a recent Padres-Angels game, pitcher Jered Weaver threw a fastball high and tight, and Cameron had to scurry to avoid getting drilled in the head. It was an inevitable part of climbing back on the horse.
"I'm pretty sure there are going to be moments where everything is in slow motion," Cameron said. "That's all part of it."
Cameron uses words like "creativity" and "craft" in describing his approach to outfield play, a sign that he regards defense as both a vocation and an art form. He's an authority on walls and wind conditions, and he routinely works on jumps against live batting practice as well as fungoes from coaches. He has a healthy respect for other great center field defenders through the years, from Willie Mays to Garry Maddox to Devon White.
While Cameron has earned the right to be mentioned among the Gold Glove elite, his effectiveness was based in part on a controlled aggression in center. It's natural to wonder if he lost his edge when his face got rearranged seven months ago.
"I don't know if I'd call it a reckless abandon, but he's always played with a fearlessness," Hoffman said. "I think it's going to take him a while to feel comfortable going into the gap hard again."
Cameron's history shows that he'll make do. In Seattle, he walked into a difficult situation as Ken Griffey Jr.'s replacement and became so popular that lots of Mariners fans were distraught to see him leave. In New York, Cameron and Cliff Floyd became media go-to guys and brought energy to the clubhouse. While Cameron chafed at times over losing his center field spot to Beltran, he refuses to be bitter in hindsight. He won't be lobbing any grenades at the Mets from afar -- a la current Mariner Carl Everett's unloading on the White Sox this spring.
At 33, Cameron speaks with the maturity of a man who's seen a lot. Last week Cameron recalled how he used to visit Minnesota with the Mariners, and the resident Twin Cities icon, Kirby Puckett, would take him, Torii Hunter and Jacque Jones to dinner. Puckett, a charter member of the exuberant center fielder fraternity, is suddenly gone at age 45.
After his medical ordeal and the loss of his sister, Cameron emerged with his faith stronger and his optimism unimpaired. He's become an all-star at coping.
"I think the Good Lord has a hand on me and has been watching a lot of things that have transpired in my life over the last few months," Cameron said. "It's been a challenge for me, but the challenge is nothing more than how you perceive it."
A man gets knocked down, he gets back up. That's just the way it is.
Jerry Crasnick covers baseball for ESPN Insider. His book "License To Deal" was published by Rodale. Click here to order a copy. Jerry can be reached via e-mail.
ESPN.com MLB Sr. Writer
ESPN.com senior writer
Author of "License to Deal"
Former Denver Post national baseball writer
SPONSORED HEADLINES
MORE MLB HEADLINES
MOST SENT STORIES ON ESPN.COM
EDITORS' PICKS
Carlos Beltran took swings at the Mets, saying he wanted to be a Yank in '05.
Story »

2015 free agents who should be traded now.
Jim Bowden

Little Earth San Diego Padres Cross-Body Navy Sheen Purse Shop »