Nothing but bad times for Phillies
The end of Jimmy Rollins' hitting streak coupled with three straight losses by the Phillies has made for an awful first week in Philadelphia.
PHILADELPHIA -- With apologies to Mel Ott, Yogi Berra and Jimmy "The Toy Cannon'' Wynn, 5-foot, 9-inch guys who take big hacks and hit the ball in the air usually have the wrong idea. That's true no matter how hard the wind is blowing out or how close the fences might be.
Phillies shortstop Jimmy Rollins, a little guy who never gets cheated, did his level best to take another step toward Joe DiMaggio's record 56-game hitting streak on Thursday. Too bad his swing was pure uppercut.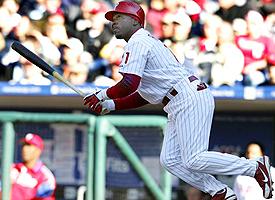 AP PhotoJimmy Rollins failed to get a hit Thursday, flying out three times and grounding out once.
Rollins flied out to St. Louis outfielders
Juan Encarnacion
,
Skip Schumaker
and
Jim Edmonds
, respectively, with a misplaced bunt thrown in for good measure, and his 38-game hitting streak came to a quiet and unsatisfactory conclusion.
And we should all feel a little cheated. What looked like a possible feel-good alternative to an April of syringe tosses and "Bonds on Bonds'' critiques is now in the past tense. Rollins' streak is over, and we'll have to turn our attention to Curt Schilling and Josh Beckett, those smokin' hot Milwaukee Brewers, and Aaron Miles' bid to hit .600.
Here are the final, relevant details to Rollins' 38-game joyride: He hit .370 overall, with 22 doubles, three homers and only 17 walks in 195 plate appearances. He showed he can be a major force at the plate, but it appears he'll always lack the selectivity of the classic leadoff man.
For all the magazine profiles Rollins generated over the winter, his accomplishment was still underappreciated in a sense. His streak was the longest ever by a shortstop, and he carried the Phillies in August and September when the team was fighting for a wild card spot and every win mattered. At precisely the moment he should have been dragging, Rollins -- all 5-feet, 9 inches and 170 pounds -- got a burst of energy and raised his game to a new level.
In the process, Rollins helped justify the Phillies' $40 million investment in him and showed that he thrives in the spotlight. Indeed, when a reporter asked him Thursday if he felt relieved that his streak had ended, Rollins refused to give the conveniently aw-shucks response.
"I like the cameras around our team,'' he said.
At the moment, the Phillies might be best served playing on a desert island. In a three-game sweep at the hands of St. Louis, Philadelphia's starting pitchers worked a combined 13 1/3 innings. The lineup was inept with runners in scoring position, and if David Bell's two errors in the series finale were any indication, he has some significant mobility issues at third base.
Beyond that, you'd like to see a little more enthusiasm. In the ninth inning, the Phillies needed to put two runners on base to give Rollins a final shot at extending the streak, but they went down meekly. If you happened to check the Philadelphia dugout, there wasn't a single player leaning over the rail in anticipation. Maybe they were all jockeying for pole position on the food spread.
Rollins said all the right things afterward -- that he'd trade the streak for a win, that Thursday's loss was more disappointing than the 0-fer, and right on down the line. If he needed a boost, it came from the eternal optimist, Phillies manager Charlie Manuel.
"I was walking up the steps with him after the game and I told him, 'You can start another streak tomorrow and we'll start a winning streak,' '' Manuel said.
Maybe so, but if Rollins goes zero for his next 16, logic tells you he'll hear some boos from the always fatalistic Philly fans. I can say this with a reasonable amount of certainty.
In a recent column predicting potential best case-worst case scenarios for the 30 big-league clubs, I observed that the Phillies better get off to a decent start or some enterprising fan is going to unveil a Web site advocating that new general manager Pat Gillick be fired.
Turns out the site is already up and running.
Jerry Crasnick covers baseball for ESPN Insider. His book "License To Deal" was published by Rodale. Click here to order a copy. Jerry can be reached via e-mail.
ESPN.com MLB Sr. Writer
ESPN.com senior writer
Author of "License to Deal"
Former Denver Post national baseball writer