Yankees' patience burying Red Sox
The Yankees have scored 39 runs in three games, and have left the Red Sox completely shaking their heads in disbelief.
BOSTON -- Three things with the potential to make Boston Red Sox fans feel more stressed than their ordeal at Fenway Park so far this weekend:
• A September blizzard.
• Revelations of yet more structural defects on the Big Dig highway construction project.
• Multiple viewings of "Snakes on a Plane."
Actually, it hasn't been all bad. Boston fans who still harbor a soft spot for Johnny Damon have watched him go 9-for-18 with six extra-base hits for the Yankees since Friday. And old friend Peter Gammons, making an inspirational recovery from a brain aneurysm, dropped by the home and visiting clubhouses and perked up everyone's spirits when his picture flashed on the Fenway scoreboard and he responded with a smile and a wave to the crowd.
Winslow Townson /AP PhotoJosh Beckett gave up nine runs on seven hits while walking nine in Saturday's 13-5 Red Sox loss to the Yankees.
But once the national anthem is complete, the rules dictate that someone has to pitch, and this is where the questions begin and end for the Red Sox these days. If Boston general manager Theo Epstein has some ideas on clever acquisitions to turn things around, he isn't sharing them with anybody.
The Yankees, bolstered by GM Brian Cashman's deadline deals, are walking with some extra spring in their step. The offense is clicking, they've gotten serviceable starts from Chien-Ming Wang and Randy Johnson, and they're almost assured of carrying a lead into September. If Hideki Matsui and Gary Sheffield are able to return from the disabled list, they'll make the lineup that much more formidable.
The Red Sox? Manager Terry Francona looks exhausted as he tries to make do with a Kyle Snyder here, a Kason Gabbard there and a patchwork bullpen. And while Josh Beckett was certainly a stand-up guy in assessing his horrid performance Saturday, his repeated use of the word "brutal" was not a good sign.
Beckett's line: 5 2/3 innings, nine walks, nine earned runs and one very hard look in the mirror.
"It's unacceptable," Beckett said. "It's brutal. I couldn't get ahead or put anybody away. When you don't execute your pitches and you're walking guys on top of that, it's going to be a long day."
The five-game series to end all series is turning into a walkover and a monument to bad pitching. Especially on the Boston side, where the Red Sox are evoking historical references of entirely the wrong kind.
After winning 12-4 and 14-11 on Friday, the Yankees beat up on Beckett and the Red Sox bullpen for a 13-5 victory Saturday to take a 4½ game lead in the American League East standings. It marked the first time in franchise history that the Red Sox have allowed 12 or more runs in three consecutive games.
All that offense is taking a toll on pitchers' employment status. Boston's Jason Johnson was designated for assignment Friday, and teammate Rudy Seanez and Yankees starter Sidney Ponson got the same treatment Saturday.
Yankees reliever Kyle Farnsworth got off lightly in comparison: He's just limping around with a bruised shin after being struck by a Wily Mo Pena line drive Friday night.
On a bad day all-around for pitchers, the only things to survive Friday's doubleheader intact were the Red Sox's streak of consecutive regular-season sellouts (it's now at 287 and counting) and Donald Trump's hair. After throwing out the ceremonial first pitch, Trump went on the radio and made some friends locally by donating $60,000 to the Jimmy Fund for cancer research. Then the Donald violated every tenet in the Bill Simmons Sports Guy Handbook by pointing out that while the Yankees are his favorite club, he also really likes the Red Sox.
After throwing a combined 752 pitches and playing for seven hours, 40 minutes in two games Friday, the Sox and Yankees completed the equivalent of a day-night-day tripleheader Saturday. They stumbled into the park loaded up on coffee, and both managers tried to assess the toll from Friday's marathon.
"I can get the same amount of sleep winning or losing, but I'm much more tired when we lose," said New York's Joe Torre, when asked if the doubleheader sweep had helped alleviate the fatigue.
"I love the way this team goes about its business," Boston's Francona said. "When we win, we don't get too carried away. And when we lose, the guys don't get too down or panic. This is the time to prove that."
Momentum, as they say, is today's starting pitcher. Unfortunately, for the Red Sox, so is lack of momentum.
Boston needed a lift from Beckett, its nominal No. 2 behind Curt Schilling. But he showed more of the mediocrity that's branding him as a disappointment. While the Red Sox keep waiting for him to assert himself, Beckett is 0-3 with an 8.75 ERA in his last four starts.
Beckett's lack of recent success prompted some observers to speculate that he's tipping his pitches. While Francona recently shot down that theory, he cited faulty mechanics and a lack of command for Beckett's latest clunker.
When Beckett fails to stay closed at the end of his delivery, his fastball flattens out rather than maintain its usual crispness. And his problems are compounded when he can't throw his breaking ball for strikes.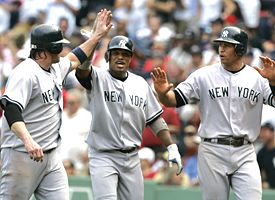 Charles Krupa /AP PhotoJason Giambi, left, Robinson Cano, center, and Alex Rodriguez celebrate after they all scored on a triple by Jorge Posada in the sixth inning Saturday.
If you're a tad off your game, these Yankees will make you pay. After laboring with 39 pitches in the first two innings, Beckett came out looking to assert himself in the third inning. So here's what happened: The ultra-patient
Bobby Abreu
led off with an eight-pitch walk, and later in the inning came around to score to give the Yankees a 3-0 lead.
In 19 games as a Yankee, Abreu is hitting .392 with 14 bases on balls. He's had a pronounced impact even with one home run in 74 at-bats.
"He's such a tough out," said Jason Giambi. "A pitcher will get ahead and think, 'I've got this guy right where I want him.' Then before you know it, he's got a walk or hit a ball off the wall. Then we have all the other guys coming up after him. You're never out of the woods."
This is the Yankee way. They watch the pitch count mount on the board in center field, and they revel in every 3-2 count and foul balls into the seats. It's a relentless approach that can lull a crowd into a stupor. But they sure give opposing bullpens a workout.
"This lineup was patient before he got here," Bernie Williams said of Abreu. "He just enhanced what we already had."
Francona showed enough faith in Beckett to let his starter pitch to Alex Rodriguez with the bases loaded in the sixth inning. But Beckett walked A-Rod to force in the go-ahead run, and that was that. Beckett relied almost exclusively on his fastball throughout, and it caught up to him in the end.
"He's a stubborn kid," Francona said. "I think in the long run, that stubbornness is going to be something we end up growing to love. This kid is going to be very special. I believe that. But it's not always been easy for him this year. He's working at it."
At least Beckett has company in his despair. His nine walks were the most by a Boston starter since Roger Moret issued nine in a complete game win over the Chicago White Sox on Aug. 22, 1975. Red Sox pitchers have walked 28 Yankees so far in this series, and 16 have come around to score.
In Boston, where history always lingers like a dark cloud, there are already the inevitable references to the 1978 Boston Massacre, when the Yankees charged into Fenway and outscored the Red Sox 42-9 and outhit them 67-21. Curt Schilling and David Wells will try to change that Sunday and Monday.
"We've dug ourselves a pretty good hole, and we're going to have to find a way to dig our way out of it," Francona said. "It gets frustrating. We've played a lot of baseball the last couple of days, and it seems like we've been out on the field a lot more than we've been in the dugout. It wears on everybody."
Jerry Crasnick covers baseball for ESPN Insider. His book "License To Deal" was published by Rodale. Click here to order a copy. Jerry can be reached via e-mail.
ESPN.com MLB Sr. Writer
ESPN.com senior writer
Author of "License to Deal"
Former Denver Post national baseball writer
EDITORS' PICKS
Continuing the BBTN 100 rankings with a look at the top 10 first basemen starters.
Rankings »

Bryce Harper will reach his 40-home run power ceiling, Jim Bowden says.
Blog

Is Cubs prospect Kris Bryant ready for the majors?
Story »

MOST SENT STORIES ON ESPN.COM