Spontaneity beats scripted remarks
Barry Bonds' 756th home run might come on a chilly night at AT&T Park in San Francisco or -- if his pursuit of Hank Aaron suddenly stalls -- a warm summer evening in Los Angeles or San Diego.
The homer might decide a tense game in the late innings or serve as a meaningless tack-on run in a 12-2 blowout. It could be a tracer just inside the foul pole or a splashdown into McCovey Cove.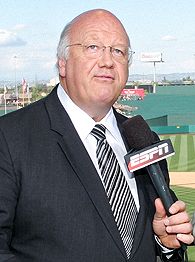 Phil Ellsworth/ESPNAlong with his duties on ESPN Sunday Night Baseball, Jon Miller has been the radio voice of the Giants since 1997.
Whatever form it takes, the record-breaker could be defined as much by how it
sounds
as how it looks. Just as Russ Hodges helped immortalize Bobby Thomson and Tom Cheek exhorted Joe Carter to "touch 'em all" after his World Series clincher in 1993, Bonds' record-breaking home run will be framed for the ages by the Giants' broadcasting crew. And if these guys have a common mind-set, it's that spontaneity beats scripted remarks any day of the week. "My philosophy has always been, 'Just capture the moment,'" said Jon Miller, who calls Giants games when he's not in the booth for ESPN. Miller, Duane Kuiper and Dave Flemming, the men entrusted with doing Giants play-by-play on radio and television, have a lot to ponder as they monitor Bonds' pursuit of Hank Aaron's record. For starters, Bonds' record-setting homer will come against a backdrop of alleged steroid use, so the achievement will be perceived as tarnished or fraudulent among many fans, media members and baseball historians. Unlike Aaron, who became a sympathetic figure for the racial threats and taunts he endured while chasing Babe Ruth, Bonds is a villain just about everywhere beyond the 415 area code.
IMMORTAL WORDS
Here are some famous home run calls: Bobby Thomson's pennant-winner vs. Brooklyn Dodgers (Oct. 3, 1951) Russ Hodges: "Branca throws. There's a long drive. It's gonna be ... I believe ... the Giants win the pennant! The Giants win the pennant! The Giants win the pennant! The Giants win the pennant! Bobby Thomson hits it into the lower deck of the left-field stands! The Giants win the pennant! And they're going crazy! They're going crazy!''
---
Roger Maris' 61st vs. Boston Red Sox (Oct. 1, 1961)
Phil Rizzuto: "Fastball hit deep to right. This could be it! Way back there! Holy cow! He did it! Sixty-one for Maris! Look at 'em fight for that ball out there!''
---
Hank Aaron's 715th vs. Los Angeles Dodgers (April 8, 1974)
Milo Hamilton: "Here's the pitch by Downing. Swinging. There's a drive into left-center field. That ball is gonna be ... outta here! It's gone! It's 715! There is a new home run champion of all time ... and it's Henry Aaron!''
Curt Gowdy: "The ball's hit deep ... deep ... it is gone! He did it! He did it! Henry Aaron ... is the all-time home run leader now!''
Vin Scully: "There's a high drive into deep left-center field. Buckner goes back, to the fence, it is gone! (Scully then paused about 25 seconds as the crowd cheered.) What a marvelous moment for baseball. What a marvelous moment for Atlanta and the state of Georgia. What a marvelous moment for the country and the world. A black man is getting a standing ovation in the Deep South for breaking a record of an all-time baseball idol. And it's a great moment for all of us and particularly for Henry Aaron, who is met at home plate not only by every member of the Braves but by his father and mother."
---
Kirk Gibson's walk-off vs. Oakland A's in World Series (Oct. 15, 1988)
Jack Buck: "Gibson swings ... and a fly ball to deep right field. This is gonna be a home run! Unbelievable! A home run for Gibson! And the Dodgers have won the game, 5-4! I don't believe what I just saw!"
---
Mark McGwire's 62nd vs. Chicago Cubs (Sept. 8, 1998)
Mike Shannon: "A shot into the corner! It might make it! There it is ... 62, folks! And we have a new home run champion ... a new Sultan of Swat!"
Joe Buck: "Down the left-field line ... is it enough? Gone! There it is, 62! Touch first, Mark, you are the new single-season home run king!"
---
Barry Bonds' 71st vs. Los Angeles Dodgers (Oct. 5, 2001)
Jon Miller: "There's a high drive deep into right-center field, to the big part of the ballpark ... NUMBER 71! And what a shot over the 421-foot marker!''
Vin Scully: "The 1-0 pitch. A fastball hit into deep right-center field. It's a way out and gone. There it is, No. 71."
---
Bonds' 715th vs. Colorado Rockies (May 28, 2006)
Duane Kuiper: "The pitch. Bonds hits one high, hits it deep to center. Outta here! 715! The wait is over. They are on their feet at AT&T Park. Bonds passes Babe Ruth. He is second on the all-time home run list!''
Conversely, Bonds is a fan favorite in San Francisco, so most people in the Bay Area will be supportive as he's circling the bases. There'll be no need for the announcers to find a middle ground or equivocate on air. "Even though this call will be around for a long time, I'm really broadcasting to a Giants crowd," Kuiper said. "Russ Hodges' call -- 'The Giants win the pennant!' -- is a great baseball call. But I bet if you ask Dodgers fans, they might tell you it was a little overboard." Although striking the right balance between enthusiasm and boosterism is a challenge, No. 756 isn't exactly a bolt from the blue for the San Francisco broadcast team. "Barry gives us a lot of practice," Flemming said. "Any time he comes to the plate these days, it's a potential historic home run. So it's not a situation where we're going to get too nerved up." Milestones are a commonplace occurrence in Bonds' world. Over the past seven seasons, he has hit career home runs No. 500, 600 and 700. He tied and passed his godfather, Willie Mays, tied and passed Babe Ruth, and broke
Mark McGwire
's single-season record of 70 on the way to hitting 73 home runs in 2001. Flemming, the youngest active major league broadcaster at 31, was privileged to be in the booth when Bonds hit his 715th off Colorado's
Byung-Hyun Kim
. But the mother of all technical malfunctions occurred, and the KNBR microphone went dead before Bonds' shot cleared the fence. It wasn't until after the fact that Flemming learned his words had been lost for posterity. As he hailed Bonds for hitting a "Ruthian shot to pass the Babe," radio listeners heard nothing but ballpark crowd noise. "When I heard the story, I felt physically ill," said Miller, who was working an ESPN game when Bonds passed Ruth. Strangely enough, the mishap gave Flemming a certain macabre notoriety. He appeared on "Good Morning America" and was written up in The New York Times as the author of baseball's bizarre phantom call. Although the experience pains him to this day, he has overcome his initial disappointment and is able to put the episode in perspective. "In a lot of ways, it was heartbreaking, but I snapped out of it," Flemming said. "I thought to myself, 'This is no tragedy.' I'm doing big league baseball. I called
Greg Maddux
's 3,000th strikeout and 300th win and Bonds' 700th home run. I've been a part of all these big moments, so it's hard feeling sorry for myself." Kuiper, who has been in the broadcast booth for about 500 Bonds homers, typically describes long balls with the phrase, "He hits it high … hits it deep …
outta here!
" Kuiper shares that catchphrase with Phillies broadcaster Harry Kalas and Mets announcer Gary Cohen, among others. But he's aware that for every broadcaster, intonation and delivery are as important as the actual words. "It's your own personality making the call," Kuiper said. "It would be really stupid for me to come up with something different and have Giants fans go, 'Where was Kuiper on that? Did he take the day off?'" History gives each broadcaster a road map for how to get it right. Flemming grew up in Virginia in a family of lifelong Cardinals fans, so he has a soft spot for Jack Buck exhorting St. Louis fans to "go crazy" after Ozzie Smith's surprise homer against the Dodgers in the 1985 National League Championship Series. Kuiper was raised in Wisconsin, where his father listened to Milwaukee Braves games while operating the tractor on the family farm. Earl Gillespie's call of a game-winning Aaron homer during the 1957 September pennant race is seared permanently into Kuiper's brain.

I've said this about all of Barry's really significant home runs: You just can't screw up the number. If you get the number wrong, you might as well just go in a corner and shoot yourself.
-- Duane Kuiper
As for Miller, he remains appreciative of Milo Hamilton's classic call of Aaron's record-breaker off the Dodgers' Al Downing. But he was more dazzled by Vin Scully's eloquent postscript. Today, 33 years after the fact, Miller marvels at how skillfully and poetically Scully was able to put Aaron's homer into perspective -- weaving in the racial backdrop and the historical significance of an African-American ballplayer in the Deep South breaking a record held by an immortal white player. "Vinny captured it," Miller said. "That's why he's the best that ever was in our business. He truly rose to the occasion. He didn't write it out. It struck him as the scene unfolded in front of him." The best broadcasters are able to frame the big picture while sweating the details. Once Bonds reaches 755, Kuiper plans to sit down every game with one very important piece of information written out in boldface in front of him: the number 756. "I've said this about all of Barry's really significant home runs: You just can't screw up the number," Kuiper said. "If you get the number wrong, you might as well just go in a corner and shoot yourself."
Jerry Crasnick covers baseball for ESPN.com. His book "License To Deal" was published by Rodale. Click here to order a copy. Jerry can be reached via e-mail.
ESPN.com MLB Sr. Writer
ESPN.com senior writer
Author of "License to Deal"
Former Denver Post national baseball writer
SPONSORED HEADLINES
MORE MLB HEADLINES
MOST SENT STORIES ON ESPN.COM
BARRY BONDS: THE NEXT HOME RUN KING
ESPN.com's complete coverage of Barry Bonds' pursuit of Hank Aaron's all-time home run record. For more, go to our Chasing Aaron page

STORIES
• Eric Neel: Fred Lewis -- Giant killjoy
• Eric Neel: Nomar steals Bonds' spotlight
• Gene Wojciechowski: Bonds beat moves to LA
• Gene Wojciechowski: Bonds can't hide
• Jerry Crasnick: Ready to make the call
• Jayson Stark: Kuiper's the anti-Bonds
• Jim Caple: Bonds feeling no pressure
• Tim Kurkjian: Victims of landmark home runs
• Jayson Stark: Selig doing the right thing
• Jayson Stark: The "Bonds Tour" comes home
• Jayson Stark: Selig's non-statement about Bonds

SPECIAL FEATURES
• Milestone Meter: From 756 to 300 to 3,000
• ESPN.com: The Best On Bonds
• Slideshow: Reliving Hank Aaron's No. 715

VIDEO


• Bonds' Town Hall: Did Bonds use steroids?
• Bonds' Town Hall: Did anyone know?
• Bonds' Town Hall: Media witch hunt
• Brokaw: The Long Winter of Henry Aaron

SPORTSNATION
• Beyond 756: Chat with Amy Nelson