Commentary
Mitchell report includes a few recently signed, traded players
Of the 86 major leaguers mentioned in the Mitchell report Thursday, several have been in the headlines lately for reasons other than their alleged use of performance-enhancing drugs.
Miguel Tejada
just changed clubs Wednesday in a big trade from Baltimore to Houston.
Andy Pettitte
reached agreement on a one-year, $16 million contract with the
New York Yankees
. And second baseman
Brian Roberts
, Tejada's former Orioles teammate, has been mentioned in speculation as a potential trade target of the
Chicago Cubs
. Those three players have something else in common: Their names appear prominently, in boldface, somewhere in Sen. George Mitchell's voluminous document.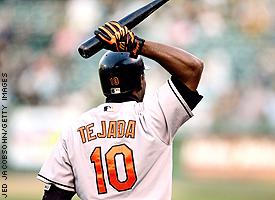 Jed Jacobsohn/Getty ImagesOne day after getting dealt by the Orioles, Miguel Tejada was named in the Mitchell report.
• Tejada first shows up on Page 105, allegedly injecting himself with Vitamin B-12 in the Orioles' clubhouse restroom. • According to former Baltimore outfielder
Larry Bigbie
, Roberts admitted to injecting himself with steroids "once or twice" in 2003. • Pettitte, like fellow Yankee
Roger Clemens
, is implicated by former New York strength and conditioning coach Brian McNamee, who claims to have injected both pitchers with human growth hormone. Although big league teams are accustomed to taking risks in making trades or signing high-profile free agents, the process is more fraught with uncertainty this winter. One day you're welcoming a player to the fold. The next day, his name is being splashed all over ESPN as part of a 20-month investigation into steroid use in the game. In light of these new revelations, are teams rethinking their recent acquisitions? Houston general manager Ed Wade declined comment on his team's trade for Tejada, and Milwaukee GM Doug Melvin couldn't be reached for comment on pitcher
Eric Gagne
, who signed a $10 million contract with the Brewers on Monday. Colorado GM Dan O'Dowd, similarly, could not be reached for comment about the team's decision to sign reliever
Matt Herges
to a new $2.5 million deal. Herges allegedly bought HGH from former
New York Mets
clubhouse attendant Kirk Radomski between 2004 and 2005, and the Mitchell report includes a copy of a $3,240 check from Herges to Radomski. The general reticence among clubs to speak publicly is understandable given the potential legal fallout from the Mitchell investigation. At the moment, clubs seem more than willing to take a step back and let commissioner Bud Selig run interference for them. Despite Mitchell's recommendation that Major League Baseball refrain from doling out punishment, Selig said he'll consider disciplining players on a "case-by-case" basis. "It looks as if teams are going to sit back and wait for Selig to do something, and then they'll react accordingly,'' said Howard Wasserman, a visiting associate professor at St. Louis University School of Law. "I think he's looking to punish people, because he thinks he'd be subject to a lot of criticism if he didn't.'' Will Selig try to wield his "best interests of baseball" powers as a hammer? And beyond that, could clubs try to terminate deals under the "personal conduct" clause in the standard player contract? Regardless of what happens, the players' association seems to believe that some players have been tarnished by their mere inclusion in the report. "Many players are named,'' said union leader Donald Fehr. "Their reputations are adversely affected -- perhaps forever.'' The union quickly served notice that it will defend the rights of any player who is disciplined in the aftermath of the Mitchell report. Once grievances are filed, the cases will have to be resolved through arbitration. "Senator Mitchell's suggestion that players should not be disciplined is certainly welcome,'' Fehr said. "Our job is to make certain that should any player be disciplined, he'll have a right to a hearing and the full panoply of due process protections that our agreements contemplate.''

Roberts
For the moment, teams still have to conduct business -- and it won't happen in a vacuum. At the very least, the contents of the Mitchell report will make clubs step gingerly. One National League executive, who requested anonymity, said that Roberts' brief mention in the report doesn't necessarily preclude the Orioles from trading him. But it will prompt the parties involved to exercise extra caution. "Is Brian Roberts going to get traded tomorrow? No,'' the official said. "Would a team with interest in him go ahead without checking on this? No. But you also have to see what Baltimore's position is on the whole thing. Everything is up for review right now.'' Meanwhile, some players on the free-agent market also have to deal with the consequences of the report. The Mitchell investigation claims that
Ron Villone
, a left-handed reliever, allegedly spent $9,600 in cash for three shipments of human growth hormone from Kirk Radomski in 2004-05. Now Villone, 37, is looking for a job. Could his association with the Mitchell report hurt his chances of finding work? That's anybody's guess. "Would this be something a club could use from a negotiating standpoint to hang over his head to try and suppress his value? Maybe,'' said an agent who spoke on the condition of anonymity. "But if he goes out next season and appears in 70 games with an ERA in the low-2.00s, he'll still be looking at a massive three- or four-year deal.''
Jerry Crasnick covers baseball for ESPN.com. His book "License To Deal" was published by Rodale. Click here to order a copy. Jerry can be reached via e-mail.
ESPN.com MLB Sr. Writer
ESPN.com senior writer
Author of "License to Deal"
Former Denver Post national baseball writer
SPONSORED HEADLINES
MORE MLB HEADLINES
MOST SENT STORIES ON ESPN.COM
THE MITCHELL REPORT

On March 30, 2006, baseball commissioner Bud Selig asked former Sen. George Mitchell to investigate steroid use in baseball. Now, the report is out.
The Mitchell report
•
Mitchell delivers his report
|
Read it (pdf)
•
Players: Who's named in the report
•
Recommendations from the report
•
Report reaction: What they're saying
•
Drugs listed in report
|
The Dope On Steroids
•
Evidence may limit Selig's punishment choices
•
Mitchell defends naming stars in report
•
Owners praise Selig, support extended tenure
•
Seligs hopes to finish review by spring
Clemens news
•
Reports: New name surfaces in Clemens saga
•
Date set for Clemens, McNamee depositions
•
McNamee unlikely to get congressional immunity
•
Mitchell reportedly tried to contact Clemens twice
•
McNamee's attorney defends immunity request
•
Source: Clemens hedges on giving deposition
•
Report of Clemens abscess raises more questions
•
Astros unsure if Clemens to help at camp
•
Clemens' accuser meets with federal prosecutors
•
Rocket reps: McNamee 'avoiding' being served
•
Source: No immunity expected for Clemens
•
Laywer: McNamee 'avoiding' being served papers
•
Clemens denies steroid use in taped conversation
•
Trainer's lawyers alert Congress to second tape
Pettitte news
•
Pettitte undecided if he'll testify before Congress
•
Pettitte gets new lawyer for congressional hearing
•
Pettitte admits using HGH in 2002
Grimsley/Radomski documents
•
Unsealed documents:
Radomski
|
Grimsley
•
Federal agent Jeff Novitzky's sworn affidavit
•
Watson denies allegations in Grimsley affidavit
•
Hearst wants goverment. to explain conduct
Other News
•
Players, owners try to modify drug agreement
•
Fehr: Foreign players deserve equal drug penalties
•
Pujols bans TV station that erroneously named him
•
MLB establishes drug investigations unit
•
Report: Knoblauch ends silence on steroid report
•
Kent: Players should undergo blood testing
•
Rose investigator says Mitchell undermined report
•
Report: Congressional hearing postponed
•
MLB to crack down on clubhouse security
•
Congressman blasts Selig on steroids policy
•
Report: Players may still testify at hearing
•
Report: MLB players won't testify for Congress
•
Rose says users 'making a mockery' of game
•
Selig defends baseball's drug-testing program
•
Post-'03 cases face most MLB scrutiny
•
Congress calling new hearings on steroids, HGH
•
Report: Deal with feds led to McNamee testimony
•
Report: Roberts admits one-time steroid use
•
Nats prez: Team had no advance copy of report
•
Indians' Byrd discusses HGH use with MLB
•
Vina admits HGH use, but disputes steroid claims
•
MLB's man: Progress in urine test to detect HGH
•
O's respond to Mitchell findings
•
A-Rod's reply to Canseco: I never doped
•
Bush: MLB must take report seriously
•
Pujols sets record straight on inaccurate report
•
Reliever Donnelly 'sick' over inclusion in report
•
Former D-back Cabrera denies using steroids
•
Lowell calls for stronger steroid testing
Analysis
•
Munson: Delay means Congress serious
•
Wojciechowski: Rocket's logic fizzles
•
Assael: Clemens throws up and in at McNamee
•
Munson: Clemens' lawsuit is part propaganda
•
Olney: There's one thing Clemens can't change
•
Crasnick: A tale of two Rockets on "60 Minutes"
•
Neyer: Time to stop behaving like a child

•
Bryant: Odds are against Clemens in interview
•
Munson Q&A: Clemens, McNamee on the hot seat
•
Neyer: Investigate all players

•
Wojciechowski: Time for Clemens to speak up
•
Neyer: Does HGH enhance performance?

•
Hill: Pettitte's apology was a joke
•
Stark: Pettitte no different than Pats' Harrison
•
Stark: Clemens, Bonds tales similar, yet different
•
Bryant: Selig must address steroids era records
•
Santangelo admits HGH use; will 'face the music'
•
Helyar: Not good for short-term business
•
Fish: Baseball's steroids crisis management
•
Crasnick: Clemens' Hall of Fame chances?
•
Gammons: Drug culture quite slimy

•
Hall of Fame voters speak out on Clemens
•
Stark: Indelible impact on the game
•
Wojciechowski: Thaw needed in cold war
•
Bryant: Mitchell report flat without feds
•
Fainaru-Wada: Report sheds light on Bonds
•
Crasnick: Recently acquired players named
•
The man behind Clemens, Pettitte bombshells
•
Munson: Legal challenges troublesome
•
Fish: Congress reacts quickly to report
•
Helyar: Anti-doping experts don't agree on report
•
Nelson: Fehr, MLBPA kept in dark on report
•
Neyer: Non-surprising names

•
Neyer: Scout's telling take on Gagne

Video
•
Complete coverage
Audio
•
David Justice on The Herd
•
Best of Mike & Mike, on report's fallout
•
PTI discussion over report's release
•
Michael Kay Show
•
ESPN.com's Keith Law
SportsNation
•
SportsNation reacts to Mitchell report
•
What do you think of it?
•
Fan blogs: How fans are reacting
More
•
Mitchell investigation timeline
•
Kirk Radomski timeline
•
List of suspended MLB players