Commentary
Maddux issues one last heartfelt pitch
LAS VEGAS -- When Greg Maddux's contribution to baseball is assessed in its entirety, one prominent mistruth will endure: Lots of people will remember him as a squinty, undersized righty who relied on guile and his innate baseball IQ because his fastball was too meager to make a dent in a radar gun.
The part about smarts and game awareness is true. But as a teenager in Las Vegas in the mid-1980s, Maddux threw
hard
. It wasn't uncommon for him to hump it up at 92 or 93 miles an hour. Gary Hughes, a longtime scout who watched Maddux as a high schooler, vividly remembers those outings. He finds it amusing that every 6-foot right-hander who has come out of the Vegas area in the past decade has struck a chord with scouts who think they've unearthed the next Maddux. "You can lose a job projecting guys -- saying, 'This kid is going to be a
Roy Oswalt
or, God bless him, a
Greg Maddux
,'" Hughes said. "Those guys don't come around very often. [Maddux] is a freak in that way." Call him a freak, an anomaly or, as some breathless acolytes are wont to do, a baseball genius. Or feel free to contemplate the words of Don Sutton, who once observed, "Hands down, he's the best pitcher I've ever seen." Just make sure to call him retired. As agents and executives trolled the lobby of the Bellagio hotel in search of common ground at Major League Baseball's winter meetings Monday, the game paused briefly for a reality check and a formal tribute. Maddux, the master of control and best of his era, dropped by the proceedings to deliver a heartfelt and graceful goodbye. With 355 victories, 18 Gold Gloves, 5,000 innings and four Cy Young Awards in the bank, Maddux is joining
Mike Mussina
as the latest star to call it quits. Lots of people think he'll make a wonderful pitching coach or manager down the road, but his short-term future will be filled with tee times, family cookouts and watching his son, Chase, progress as a ballplayer.
Maddux will be missed

He wasn't greedy enough. He wasn't quotable enough. He wasn't controversial enough. But he was a winner -- a 355-game winner. And we'll miss him greatly this spring.
Story
•
Crasnick: Maddux's graceful exit
•
Neyer: Only Clemens compares
"I want to take a year off and spend time with the family, and do things that I have not been able to do because of baseball and see if I like it or not," Maddux said. "I'm going to miss it. Hopefully, I won't miss it too much." Maddux has always been understated and soft-spoken in front of big crowds, and his valedictory helped illustrate why he's so highly regarded in the game. His first move was to issue a blanket "thank you" to everyone from his teammates to his hitting (yes, hitting) coaches to the clubhouse attendants. Maddux also thanked former teammate
Tom Glavine
for teaching him what it meant to pitch in pain and his wife, Kathy, for running things so efficiently at home that he could focus on pitching all those years. He also paid tribute to his high school coach, Ralph Medar, who taught him that movement and location trump velocity as the most important attributes for pitchers with big dreams. Maddux knew in spring training that 2008 would be his final season, but he declined to make his intentions public because he didn't want a big "dog and pony show." When asked how it might feel if people refer to him as pitching's answer to Joe DiMaggio -- "the greatest living pitcher" -- Maddux practically flushed with embarrassment.
[+] Enlarge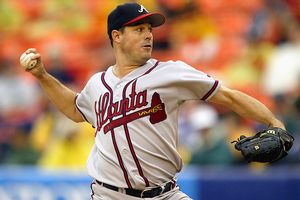 Chris Trotman/Getty ImagesFrom 1992 to '95 with the Braves, Greg Maddux won 75 games and four Cy Young Awards.
Agent Scott Boras introduced Maddux to the assembled crowd, and his office distributed a booklet filled with statistical references and breathless quotes. It wasn't unlike the binders Boras' firm hands out to the media each winter to sell the attributes of
Alex Rodriguez
or the group's other marquee free agents. Several of Maddux's former general managers -- Ed Lynch, Jim Hendry, Ned Colletti, John Schuerholz and Kevin Towers -- showed up for his farewell. And of course, there was his longtime Atlanta manager and good friend, Bobby Cox, who watched Maddux at his peak alongside Glavine and
John Smoltz
in the 1990s. When you reflect upon that 1995 season when Maddux went 19-2 with a 1.63 ERA when the aggregate National League ERA was 4.27, it looks like a misprint. But numbers only begin to tell the story. Cox remembers Maddux receiving three painkilling shots in his toe before and during one big start. He recalls how Maddux, on his off days, would sit in the dugout and watch his teammates for all nine innings rather than duck up to the clubhouse after four or five innings to get treatment or chill out. "More than anything, he was a team guy," Cox said. "He was one step ahead of me all the years I had him. If a doubleheader was coming or something happened and we were in trouble with our rotation, he was always the first one to come to me and say, 'I'm ready.' I never had to ask." And the scouts … well … they get misty just talking about the guy. Angels scouting director Eddie Bane, a former crafty left-hander in the big leagues, recalls the sense of anticipation in the scouting section whenever it was Maddux's turn to pitch. "We'd all rather watch him than [Roger] Clemens or
Randy Johnson
," Bane said. "Selfishly, it was because we knew the game would be over in an hour and a half. But it was so much fun to watch him do his craft. Chuck LaMar has seen a lot in this game, and he once told me, 'If I could do anything in baseball, it would be to sit down with Maddux for a half hour.' " In hindsight, Maddux had "special" stamped on him from the outset. It showed in the competitiveness he flashed in backyard Wiffle ball games with his older brother Mike, and in the way he dominated the competition as a 12-year-old at Nellis Air Force Base in Las Vegas, where he once struck out 17 of the first 18 batters he faced. "The coach wouldn't let him pitch anymore because he said, 'It's no fun. Nobody gets to play when you pitch,'" said Mike, the Texas Rangers' pitching coach. "I said, 'Wow, that's pretty dominant right there.'" Maddux's velocity eventually would increase, then decrease, as a function of wear and tear and time. His changeup developed into a weapon of mass destruction, and he would spend most of his 23 seasons in the majors making accomplished hitters look overmatched. Now he'll sit back and watch the game as a fan, reveling in its beauty from a different perspective. "There's really not a lot you can do to improve it," Maddux said. "The game of baseball is almost perfect the way it is." Hey, he should know.
ESPN.com MLB Sr. Writer
ESPN.com senior writer
Author of "License to Deal"
Former Denver Post national baseball writer
SPONSORED HEADLINES
MORE MLB HEADLINES
MOST SENT STORIES ON ESPN.COM
EDITORS' PICKS
Which of two top FAs to be should you bet on?
David Schoenfield »

Corey Kluber and six others should get contract extensions.
Bowden

The Rangers are among those hoping for a 2015 do-over.
Olney