Commentary
Zito's second-half surge sparks Giants
San Francisco riding resurgence from '$126 million man' in its drive to make playoffs
Giants starter Barry Zito is an avid guitar player, and he recently added the drums to his between-games musical routine. Banging away at a percussion instrument is a healthy diversion from his other favorite pastime -- beating up on himself.
When it comes to introspection, Zito is a veritable one-man band. Lots of pitchers are familiar with the old Ray Miller mantra of "work fast, throw strikes, change speeds." Zito is a more cosmic thinker, leading him to seek guidance from sources whose wisdom can't fit on the front of a T-shirt.
[+] Enlarge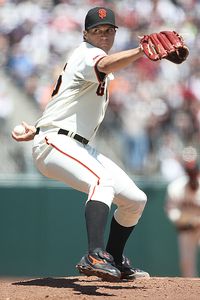 Jed Jacobsohn/Getty ImagesBarry Zito is 4-2 with a 2.09 ERA in 10 starts since the All-Star break.
For example, he recalls watching "The Oprah Winfrey Show" with his girlfriend last year when author, spiritual activist and frequent Oprah guest Marianne Williamson made a life observation that resonated.
"She said, 'All we ever do in our lives is take the journey back to who we really are,'" Zito says. "We're a certain way when we grow up as children. Then we go through this rigidity process where we pack on all this [expletive]. Then we realize we have to take off all the [expletive] and just be who we were again. That's essentially what the process is."
Since mid-July, Zito's personal journey has taken him back to the days when he wore Fort Knox gold, Kelly green and wedding gown white as a member of the Oakland Athletics' Big Three. The world was filled with promise, Cy Young Award votes and a healthy competition with Mark Mulder and Tim Hudson in those days.
Except for the first and 15th days of each month, Zito's professional life has been a slog since he signed a seven-year, $126 million contract with San Francisco in December 2006. After going 102-63 with a 3.55 ERA in Oakland, he's 30-41 and 4.56 as a Giant. Zito has been eclipsed by Tim Lincecum and Matt Cain in the rotational pecking order, and he was forced to take a hard look inward as fans booed and he became a staple on baseball writers' "all-overpaid" teams.
Things looked grim until recently, when reports of the "old Barry Zito" began resurfacing. First Zito cleared his mind of clutter and distractions. Then his left arm came along for the ride.
The offensively deprived Giants have crept back into wild-card contention, and Zito has been a major contributor to the cause. Entering Wednesday afternoon's start against San Diego, he's 4-2 in 10 appearances since the All-Star break. His 2.09 ERA in that span is third best in the majors behind Chris Carpenter and Adam Wainwright of St. Louis.
Zito's 9-11 record would be better if he weren't victimized by the worst run support in the major leagues. The Giants failed to score a run on his behalf in nine of his first 28 starts, and they scored three runs or fewer 23 times.
"Not to take anything away from Lincecum and Cain, but he's almost been our No. 1," says Giants catcher Bengie Molina. "He's been lights-out."
"Bad Barry" made a cameo appearance Friday in Milwaukee, throwing 96 pitches in four laborious innings against the Brewers. But for the most part the Giants have seen a more assertive Zito: a pitcher who's willing to trust his instincts, cut it loose and avoid the pitfalls of paralysis by overanalysis.
"When you feel like you have some bullets to fight with, you can walk out there with more confidence to go after hitters and get ahead of them," says pitching coach Dave Righetti. "When a pitcher feels like he can win, he's going to be a hell of a lot tougher to beat."
Zito might have to play an even more prominent role down the stretch if Lincecum's back spasms turn out to be more than just a temporary concern. Rookie Madison Bumgarner filled in capably for Lincecum in his major league debut Tuesday, but the Giants lost 4-3 to San Diego to fall three games behind Colorado in the NL wild card race.
"

Not to take anything away from [Tim] Lincecum and [Matt] Cain, but [Barry's] almost been our No. 1. He's been lights-out.

"

-- Giants catcher Bengie Molina
Zito has actually been throwing the ball better since the middle of last season, when he made some mechanical adjustments to free his hips and get more zip on his pitches. The FanGraphs Web site lists Zito's average fastball at 86.6 mph -- fifth slowest in the majors in 2009. But that's a noticeable uptick from two years ago, when he was muddling along at 84.5 mph.
Ever the self-improvement buff, Zito took part in some hard-core workouts with Giants closer Brian Wilson last winter and strengthened his arm playing long toss. With his improved velocity, Zito can afford to throw strikes rather than nitpick his way to 2-0 and 3-1 counts. He's averaging 16.6 pitches per inning this season compared to 17.8 last year.
Zito's walk total has declined appreciably, and his ratio of 7.03 strikeouts per nine innings is his best since 2002. He's throwing hard enough that hitters aren't able to sit back on his changeup and curve and still have the luxury of catching up to his alleged "heater."
If the improvements weren't reflected in better numbers through June, it's because nothing is ever easy with Zito.
"Starters all have too much time to think because they're going to go four and sometimes five days between starts," Righetti says. "Some admit to it, and some don't. Barry will definitely tell you what he's thinking, no question."
Professional athletes who sign enormous contracts can respond in three ways: They can put it in cruise control; embrace the attention and take their games to greater heights; or feel the added pressure and become paralyzed by the expectations of others.
Zito's presence in the third group springs from the best intentions. But the more he dwells on proving he's a worthy investment, the worse he tends to pitch.
"Every guy that doesn't prevail at this level succumbs to it," Zito says. "There's this thing inside you that tells you 'This is important. A lot of people care about it. And if I don't deliver, things are going to get bad quick.' That's essentially what drives guys from the game.
"The other, fresh approach is 'Dude, I don't know what the hell is going on. I'm just playing baseball and having fun. I just know I'm good, and I'm not going to try to figure out why.' You just let go."
Zito claims to no longer be obsessed with worst-case scenarios and what-ifs, but he can only do so much to deny his true nature as a worrier. While analyzing his turnaround, Zito cites a quote from actress Judy Garland, who once observed, "Be a first-rate version of yourself, not a second-rate version of someone else." Does this sound like a man who's ready to shed the shackles of self-doubt and go with the flow?

#75 Starting Pitcher
San Francisco Giants
2009 STATS
GM

28

IP

166.1

BB

68

K

130

W-L

9-11

ERA

3.95
The money is great, of course, but it comes with baggage, and a small part of Zito seems to yearn for the days when baseball was simpler and his name could appear in a sentence without the qualifier "$126 million man." When he pitched 8 1/3 one-run innings against Colorado during a recent homestand and Giants fans summoned him from the dugout for a curtain call, it was a step in the right direction.
No one in baseball is ever going to praise the Giants for making a smart call in giving Zito that much money. But if Zito can find a way to tune out the static and boil down the game to its essence, life will be a heck of a lot more fun. In the meantime, he's happy to listen to anyone who can help him strike the right balance.
Insights gleaned from "The Oprah Winfrey show"? Check.
Pithy Judy Garland reference? Double check.
During his voyage of discovery, Zito even sprinkles in a little aeronautical imagery.
"I'm just trying to get back to where I was nine years ago with Oakland," he says. "Right now I'm learning where all the dials are set. Back then, I didn't even know there were dials. I was just flying the plane."
Jerry Crasnick covers baseball for ESPN.com. His book "License To Deal" was published by Rodale. Click here to order a copy. Jerry can be reached via e-mail.
ESPN.com MLB Sr. Writer
ESPN.com senior writer
Author of "License to Deal"
Former Denver Post national baseball writer
EDITORS' PICKS
MLB players weigh in on baseball's best player, PEDs and what they really think about A-Rod's return.
MLB Confidential »

The BBTN 100 looks at the players ranked No. 26-50.
Rankings »

Will MLB's pace-of-play changes speed up the game?
Jayson Stark »

MOST SENT STORIES ON ESPN.COM