Commentary
Struggling to accept an imperfect world
Umpire Jim Joyce won't be forgotten for the missed call he made just over a year ago
On a day during which my Phillies teammate Eric Milton had his best stuff, we entered the ninth inning with a lead, while our opponents hadn't recorded a single hit. I was sitting on the bench as I frequently did in 2004, waiting for a last-inning call from our bench coach, Gary Varsho.
It was late enough in the season that I understood I had to be ready for anything by the time the fourth inning rolled around. Here we were five innings later, and I was wondering whether our manager was going to rely on superstition and not change a thing by leaving Ricky Ledee in center field or if he was going to pull the defensive-replacement card.
But prevailing wisdom told him to play the card. Put in the best defensive outfielder available to not only secure the lead but, as a bonus, secure the no-hitter that Milton was working on. I was as loose as I possibly could be, and all agreed that from history I was a better defensive choice. Even cold off of the bench.
[+] Enlarge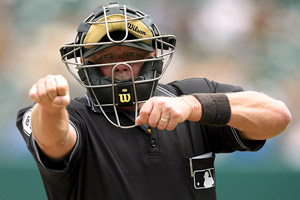 Brad Mangin/MLB/Getty ImagesMuch to his dismay, umpire Jim Joyce became a household name last year.
I went out for the ninth as the Philies' center fielder, knowing that as baseball's rules go, the "ball will find me," which wasn't necessarily a bad thing.
But it was.
With one out, the Cubs' Michael Barrett shanked one toward center field. I got a bad read, took a freeze step back then realized quickly I had to shift into a gear that did not exist. Our second baseman, a young Chase Utley, ran for his life after the ball, ultimately diving in futility as I did the same. The ball dropped in, no-hitter lost, and worse yet, a few plays later, the Cubs had tied the game.
I would ultimately bunt over the winning run after one of my bunt attempts was met with a roaring ovation by the home crowd, after LaTroy Hawkins almost took my head off when I squared. Fans who I knew had my back. Despite our final walk-off win, the atmosphere around the stadium was near anger. I was the one … who blew Milton's no-hitter.
Just over a year ago, umpire Jim Joyce became a household name. He was already a locker room name from years of good work and from the respect he garnered inside the game. When the Tigers' Armando Galarraga threw what appeared to be the final pitch of a perfect game, Joyce was the one who spoiled perfection by making the wrong call on a play at first base. And Joyce probably never stops thinking about that missed call.
That call sent tremors throughout every tradition the game has ever seen. Instant replay was discussed, the use of the "best interests of the game" clause was considered to reverse the call as we dusted off equally human policies from the ivory tower. The idea being that you can't have a clearly perfect game sullied by the human element.
But when I think of the game, every day has the markings of something you wish you could take back. Sometimes it happens on the last out, sometimes it happens in the way you glared at the opposing team's fan who found joy in screaming your .175 batting average. I remember one game in the minor leagues in which my team was losing big in the bottom of the ninth, and with two outs our hitter dribbled one right to the first baseman. The first baseman scooped it up, and just before he put his foot down on the bag, he dropped the ball. No one touched him, it just happened. We ended up coming back to win that game … scoring all of our runs with two outs.
The game plays a funny balancing act on us at all times. Just when you think you have found that perfect swing for which no pitcher will ever get you out, you play in a stadium where you don't pick up the ball well. Or during the time every pitch you throw pounds the catcher's target, you sprain your ankle covering first base. Or maybe you hit four balls right on the nose with the mechanics you were looking for your entire life but they were all at the Gold Glove Reds' infielders.
That is the humbling nature built into baseball. Once you do everything possible in your control, you have to let go. You have acted on every piece of instinct and skill that you possess, then it is gone: the wind takes over, the chunk of loose dirt in the infield mocks you, your slowly aging hamstring doesn't care that you are supposed to run to first base in 3.9 seconds. You cannot ever get too big for your britches, because as soon as you do, the game with break you off a slice of humility.
There are times we are indignant about the game. It owes us something because we did what we were asked, we waited and our time is now. Just as 40,000 fans at a game could sense they were about to share something special, to be able to see a no-hitter or that perfect game in person, only to have some rogue human element get in the way. Even though humanity is what gave us the hope in the first place. But we had already scripted the Hollywood ending and when it didn't happen, we needed to find the cause.
Many times, we are confident that we can identify that cause: a bad call, a bad jump, a rain delay, a bum shoulder. But once we get more time behind us, we may look back through another lens and realize it could have been the pitch selection, the batter's box, the bad food before the game or even the lighting.
Every game has a moment that changes everything, and the spirit of that moment depends on the eye of the beholder. In Joyce's case, it was easy for us to see it in plain view; it was the last out, nothing else had to be done, but to get to the last out, in most cases, 26 other outs had to be recorded and they had to bounce your way. And Joyce was part of those 26 outs, too.
In Game 6 of the National League Championship Series between the Cubs and Marlins in 2003, when Steve Bartman reached above a jumping Moises Alou to grab a lifelong souvenir baseball, the Cubs curse found human form. The Marlins proceeded to rattle off eight unanswered runs and bury the Cubs, 8-3. Now we know that there was a botched "potential" double-play ball, we know that it is possible that arguing an interference call may have made Mark Prior cold, we know that Derrek Lee ripped a fastball to left field when another pitch could have been called. We even know that it was actually only Game 6 of that series and not Game 7. Wait a minute, maybe we don't know. But it is a lot easier to point to one moment than figure out the carrot and the stick exercise of trying to fathom how one moment is only a part of a series of moments. (see: Dave Roberts -- stolen base -- Boston Red Sox history).
And in baseball, everyone has a tape recorder in his or her head that he or she is sure is perfect. As a player, it is integral to survival. It can play out like it may in the Buster Posey affair, as players and front offices hold grudges until they avenge the injury to their star family member. It can play out in how you can recall pitch sequences to note how a pitcher got you out or how a hitter looks when he is looking at a curveball. This tape recorder can replay the memory of where you were when your father asked you, for the first time, how you felt when you first saw Mark McGwire take batting practice. Baseball people have long memories, and that's part of the reason why Joyce will unfortunately always feel a level of torment for his role in the scarring of the perfect moment.
Joyce said in an interview he has learned that "sometimes perfection is the ability to accept imperfection." In a game that never forgets anything and forgiveness is contingent on something that hasn't happened yet, a perfect game is the convergence of forgiveness and letting go. We need it to see baseball in its most pristine state, in which everything goes right even though every umpire, player, coach, manager and fan is fighting ulcers the entire game while clawing to collapse over that perfect line. We have muttered clichés that nothing is perfect … yet we expect it when it is within reach.
It is hard to step back without cursing the game we love for its constant reminder of forces bigger than we are. That you are the best in the world, as a player, a loyal fan, a GM, a manager or, in Joyce's case, an umpire, and we still don't get do-overs. Baseball makes you rely on tomorrow and the next time.
And tomorrow may never come -- that makeup call, that chance to right the ship -- or because of our long memories, it comes and we are too busy living in yesterday.
When I was interviewed about being a key factor in Milton's lost no-hitter, I reluctantly wore the bull's-eye. I certainly felt bad about it just as I felt bad about my withering career and playing time. I shared with my family the frustration of living up to the expectations of the masses, of being around excellence and near perfection every day, even as I thrived off of being in its company.
I certainly knew that one moment did not define my career, with the history books permanently recording my one 200-hit season in 1999, a game-winning playoff hit or my 293-game errorless streak to end my career. But I was fortunate to have a lot of good yesterdays to fall back on to help me feel good about today.
I imagine Joyce has the same, if not greater level of major league accomplishments in his history book. The only problem is on days when an umpire is perfect his effort is just part of the landscape of the game. He stands out only when he is not perfect, and in that imperfection, he is seen to be ruining someone's day.
Very bad days are especially hard in baseball as time is universal; there is little distinction between the past, present and future.
Tomorrow is today, yesterday is tomorrow, today is yesterday. Perfection is our reprieve from the beautiful black hole of time that baseball holds us in, yet when we collide with it we surprisingly find that it is only human.
Doug Glanville, who earned a degree in systems engineering from the University of Pennsylvania, played nine major league seasons with the Cubs, Phillies and Rangers. He serves on the board of Athletes Against Drugs and on the board of the MLBPAA (MLB Players Alumni Association). His book, "The Game from Where I Stand," was released in May 2010. Click here to buy it in paperback on Amazon.com. Follow him on Twitter: @dougglanville
• MLB analyst for ESPN and ESPN.com
• Played nine major league seasons with the Cubs, Phillies and Rangers
• Email: mail@dougglanville.com
• Website: http://www.dougglanville.com/
EDITORS' PICKS
Will MLB's pace-of-play changes speed up the game?
Jayson Stark »

The BBTN 100 looks at the players ranked No. 51-100.
Rankings »

The Cubs sent their top prospect to the minors.
Story »

MOST SENT STORIES ON ESPN.COM