Island misadventure for Benitez, Mets
While the Expos quickly warmed to their new island home, the Mets will leave San Juan with their confidence shaken.
Originally Published:
April 14, 2003
By
Bob Klapisch
| Special to ESPN.com
SAN JUAN, Puerto Rico -- What started as an irresistible experiment -- returning baseball to its Puerto Rican roots -- turned into a weekend of pure pain for the Mets. Only 12 games into the season, their question is closer to a naked plea: Can anyone stop this downward spiral?
"This (losing) can't go on much longer," is how Roberto Alomar put it after Sunday's 2-1, 10-inning defeat to the Expos -- the Mets' fifth straight loss and the third time in a week Armando Benitez has blown a save.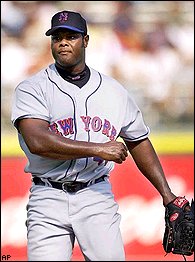 Armando Benitez brings plenty of baggage with him to the Yankees.
The gloom in the Mets' clubhouse reached so far and wide, the players stopped noticing the energy-level at Hiram Bithorn Stadium. The fact that they and the Expos had made history -- hosting the first segment of a 22-game Montreal "homestand" in San Juan -- mattered less to the Mets than solving the mystery of Benitez' decline.
Just three outs away from preserving Al Leiter's 1-0 shutout, Benitez was victimized by Orlando Cabrera's home run to left center. One inning later -- just one pitch into the 10th inning -- Jose Vidro took Mike Stanton over the wall, too, forcing the Mets to make that empty, million-mile walk back to the dugout.
The Expos, meanwhile, are busy establishing themselves as factors in the NL East. General manager Omar Minaya said, "there's no doubt anyone can win this (division), including us. There's definitely parity here."
Minaya's exuberance spilled over into his assessment of Bithorn Stadium, and the fact that his players still haven't unpacked their suitcases since mid-February. The Expos have seven more games in San Juan before returning to Olympic Stadium, but Minaya is already fond of the tiny winter-league facility. "I thought the dimensions (360 in the gaps) would be too small, but the ball actually plays well here. The size isn't that much of a factor," Minaya said. "And the turf could end up helping us, because we have a lot of speed."
Still, the Expos conceded they enjoy no particular loyalty from San Juan's fans, who came only to root for their countrymen. The weekend's warmest ovations were reserved for the Mets' Alomar and Rey Sanchez, and for the Expos' Vidro, Javier Vazquez and Wil Cordero.
In fact, the most compelling moment of the entire series wasn't the Expos' comeback on Sunday, but the run Alomar scored in the seventh inning Saturday night, the 1417th of his career. That allowed him to pass Roberto Clemente for the most runs scored by a Puerto Rican player.
Alomar admitted he was deeply touched by the ovations he received at that moment and in each pre-game ceremony.
"To be in front of my people, in my country, with my family, makes it more special," Alomar said. "To me, Roberto Clemente will always be the top, even if I pass him. I always believe he's here with me."
Alomar didn't hide from a more pressing reality, though: records and applause aside, the weekend brought back disturbing memories of the Mets' last-place finish in 2002. The club spent heavily to erase last year's failure -- fattening the payroll to $119 million, the highest in the National League -- but once again, the Mets aren't hitting.
They're last in the NL in runs and batting average, and while there are culprits everywhere, no one represents a clearer picture of the Mets' struggle than Mike Piazza: he managed to break an 0-for-17 slump in the ninth inning Sunday only with an infield single. Piazza still has no extra base hits this season.
Piazza says he has "no excuse" for his slump, other than "chasing bad pitches, taking bad swings."
In the meantime, the Mets are leaning on a closer whose psyche is more fragile than ever. Benitez has been busy working on mechanical flaws which are robbing his fastball of 4-5 mph, but the closer's troubles go deeper than that.
John Franco said, "Armando has a tough time turning the page" after blowing a save. The Mets would love to find a secondary ninth-inning savior, but as Art Howe said, "it's not like we have a lot of other options. This is our team."
That's why the manager felt compelled to call a postgame meeting on Sunday, to remind the Mets that a season can't be ruined in April. Club COO Jeff Wilpon seconded the thought, reminding a reporter, "this is only 12 games we're talking about."
But it's not. It's 12 games, plus the full weight of last summer's last-place finish, sticking to the Mets like their soaked uniforms in Sunday's 96-degree heat.
One Met didn't even need words to describe the disenchantment. Asked how he felt after Benitez surrendered Cabrera's home run, the Met made an imaginary criss-cross over his wrists.
"Like that," he said.
Bob Klapisch of The Record (Bergen County, N.J.) covers baseball for ESPN.com.
Bob Klapisch is a sports columnist for The Record (N.J.) and a regular contributor to ESPN.com.
SPONSORED HEADLINES
MORE MLB HEADLINES
MOST SENT STORIES ON ESPN.COM
EDITORS' PICKS
Jim Bowden ranks the seven teams most likely to sign the right-handed pitcher.
Story

A path to the playoffs for all teams in the NL East.
David Schoenfield »

Will teams like the White Sox, Yankees and Astros regret raining so much cash on relievers?
Jerry Crasnick »