Matsui presents kinder, gentler Godzilla
Ichiro-mania has given way to a new craze with the Japanese media -- tracking Godzilla in New York.
Originally Published:
April 30, 2003
By
Bob Klapisch
| Special to ESPN.com
NEW YORK -- It usually takes just five minutes after every Yankee game for the clubhouse door to swing open. But unlike most ballparks, where the reporters are the first ones in, it's Hideki Matsui who's walking out. He heads for his daily post-game press conference with the Japanese press -- an iron-ritual, regardless if the Yankees win or lose, and whether Matsui hits a dramatic home run or goes 0-for-4.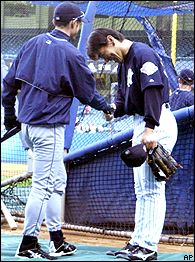 Hideki Matsui, right, bows to the Mariners' Ichiro Suzuki before Tuesday's game.
"If I hit, they want to know what I hit," Matsui said. "If I don't hit, they want to know why."
The Japanese star is the most sought-after commodity in the Bronx these days, albeit by the 50 or so Japanese reporters who cover him full-time, city-to-city, wherever the Yankees go. Even a deep slump, which has slimmed Matsui's average to .252, hasn't diminished the interest in him.
In fact, Matsui's countrymen are even more intrigued than ever, now that "Godzilla" is proving to be human, after all.
After going 0-for-5 on Sunday in a 10-7 loss to the Rangers -- during which Matsui struck out three times -- a Japanese reporter asked Joe Torre if Matsui would possibly be headed for Triple-A Columbus.
"Is Matsui tired?" the reporter wondered.
"No, but I'm getting tired of answering that question," Torre said sharply.
The Yankees are satisfied with Matsui's overall contribution, convinced he still has the short, smooth stroke to hit close to .300, and just enough of an uppercut to hit 25-30 home runs at home, where the Stadium offers its friendly dimension for left-handed hitters.
But the Japanese press, and millions of Japanese baseball fans, were undoubtedly expecting more from a dream matchup between Matsui and Ichiro Suzuki this week. The Yankees and Mariners are colliding for a three-game series, which in any other season would've been entertaining enough. But the series became a backdrop to 27 million fans back home, all of whom were using it as way to measure Matsui vs. Ichiro.
Talk about a purist's dream: on paper, it's Ichiro's high-average, high-IQ approach to hitting vs. Matsui's blunt force. The hit-to-all-fields philosophy vs. swing-for-the-planets. It might sound overheated to outsiders, but a Japanese reporter told the Seattle Times that Matsui and Ichiro stepping on the same field, "is like the World Series in May back in Japan."
Yet, Matsui and Ichiro are both suffering through precipitous slumps. Ichiro, who won the American League batting title, the Rookie of the Year and Most Valuable Player awards in 2001, saw his average fall to .255 after going 1-for-5 Tuesday night.
Matsui had a meaningless single in the ninth inning, going 1-for-4 to keep his average at .252. He's 3-for-42, and hasn't hit a home since April 14.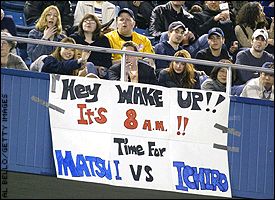 Ichiro vs. Matsui in the Bronx is like "the World Series in May back in Japan."
Despite the soft numbers, there was no was no shortage of questions for the two stars, particularly for Matsui. One reason the Yankees left fielder is always being interviewed is that he's so much more accommodating than Ichiro. A year ago, Ichiro would only speak to the Japanese press through a single pool reporter, denying access to dozens of newsmen and women who'd traveled thousands of miles to cover him.
Ichiro has loosened up somewhat this year, but he still makes strict demands. Anyone who attends Ichiro's Q and A sessions must ask a question; those who intend to simply record his answers are prohibited.
Matsui has a far different philosophy about being interviewed.
"I feel I have a responsibility to the people who ask me questions to answer them," he said. "I treat (interview requests) the same way as I treated them in Japan."
Not only does Matsui speak to the Japanese reporters in a stand-alone press conference every day, but through an interpreter, he fields questions from American reporters -- in groups or one-on-one -- at all times, both pre and post game.
Matsui's generosity doesn't evaporate outside the clubhouse, either. He regularly takes the Japanese press corps out to eat, and even invited the eight American writers who travel regularly with the Yankees out for dinner during spring training. Such accessibility and friendliness hasn't gone unnoticed by the Yankees.
"He knows what it means to be a big-name player and what's expected of him," Torre said. "But there's not a lot of 'Look at Me' in him. In a lot of cases, a player that good and that well-known is high maintenance. The more I see and get to know Hideki, the more I realize what a good person he is."
Not once has Matsui exploded in anger during his recent slump. In fact, he's remained calm and friendly, even as the questions all lead to the same place: is "Godzilla" a home run monster or just a man?
"I'm not really satisfied, but the important thing is to learn from every game, and apply it to the next one," Matsui said.
Obviously, if he's got a secret plan to begin flexing his muscles, Matsui isn't sharing them. Better to act than vent or whine -- especially when the whole world is watching.
Bob Klapisch of The Record (Bergen County, N.J.) covers baseball for ESPN.com.
Bob Klapisch is a sports columnist for The Record (N.J.) and a regular contributor to ESPN.com.
EDITORS' PICKS
Lloyd McClendon is 'carrying the torch' as MLB's only black manager.
Jerry Crasnick »

Josh Hamilton had a drug relapse involving the use of cocaine and alcohol.
Story »

The SportsCenter spring training tour has been all over Florida and Arizona.
Tour schedule »

MOST SENT STORIES ON ESPN.COM