It's a day-to-day existence for new-look Yankees
Things can change quickly for the Yankees. And the acquisition of Aaron Boone is the perfect example.
Originally Published:
August 4, 2003
By
Bob Klapisch
| Special to ESPN.com
Aaron Boone's new life as a Yankee began last Thursday with a old-fashioned conference call, which was no surprise considering the team was on the West Coast and Boone was en route to meet them. No overflow press gathering, no luncheon at "21" and no face-to-face with owner George Steinbrenner, who was in Tampa making sure every one of his lieutenants was on the phone gushing over the trade.
Incredibly, there were nine officials on the line, including GM Brian Cashman and president Randy Levine. The Yankees were obviously advertising their unity in acquiring Boone, but to bludgeon the point, Levine began the call by describing just how "together" they were in the decision to surrender rookie lefty Brandon Claussen.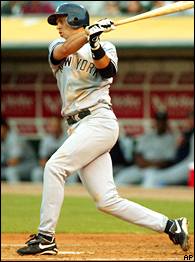 Aaron Boone doubled and scored the Yankees' lone run in their 2-1 loss to the A's on Sunday.
Levine invoked that very word --"together" -- nine times in the first five minutes. Count 'em. Nine. Once for each executive on the line.
Steinbrenner was missing, of course, but it was he who generated the panic --or at the very least, the heightened awareness -- of the Red Sox that led to the Yankees' 11th-hour frenzy. It all began with the Yankees losing 2-of-3 to the Sox at Fenway a week and a half ago, compelling the Bombers to rethink Claussen's status as an untouchable.
Until that point, the Yankees were busy projecting him as a fixture in the 2004 rotation, given Roger Clemens' impending retirement, free agency for both Andy Pettitte and David Wells and a mysterious shoulder injury which has kept Jose Contreras on the disabled list for nearly two months.
Claussen was young and cheap and blessed with impressive stuff, still intact after recovering from Tommy John surgery. The Yankees trusted him enough to start him against the Mets on June 28, when he allowed just one earned run in 6.1 innings. To any club who inquired about Claussen -- like the Reds, who'd wanted him and Nick Johnson and $2.5 million for closer Scott Williamson -- the Yankees said: No chance.
But as July was ready to yield to August, the Yankees suddenly felt the Red Sox breathing hotly on their necks, just 1½ games out after the Fenway series. Boston GM Theo Epstein had already won the tug-of-war for lefty set-up man Scott Sauerbeck, forcing the Yankees to settle for Jesse Orosco. And Epstein would soon snare Williamson, too.
The Yankees subsequently heard that Epstein was about to strike again -- this time, he'd targeted Boone and was prepared to send him to the Mariners for Freddy Garcia. Given how fast the Sox were moving, the Yankees rearranged every previous priority, including finding a new right fielder to replace Raul Mondesi.
The Yankees were leaning toward Pittsburgh's Brian Giles, and there was talk of a push for Montreal's Vladimir Guerrero, even Texas' Juan Gonzalez despite the fact he'd vetoed a trade to New York three years ago and would almost certainly do so again. What the Yankees weren't chasing, at least not until the final 24 hours before the deadline, was another third baseman. At least not until an internal decision was made to keep Boone away from the Sox, and to do whatever it took to achieve that goal -- including trading Claussen.
Of course, no one doubted Cashman when he expressed regret over losing Claussen -- "we still believe he's going to have a fine career," the GM said -- but he insisted the timing of the deal had nothing to do with the Red Sox's surge and everything to do with the collapse of the Reds' regime, which made Boone available.
New to the neighborhood
Players on the Yankees' current roster who were acquired after Opening Day this season:
Player
Date, team acquired from
Ruben Sierra
June 7, Rangers
Karim Garcia
June 25, Indians
Armando Benitez
July 17, Mets
Jesse Orosco
July 22, Padres
David Dellucci
July 29, D-Backs
Aaron Boone
July 31, Reds
Gabe White
July 31, Reds
Instead, Cashman said, "this was too good of an opportunity to pass up." True or not, the Yankees accomplished the immediate goal of upgrading at third base, even though Boone's arrival all but ends the Drew Henson experiment. Going into the weekend, the former Michigan quarterback was hitting .228 with 12 homers and 56 RBI at Triple-A Columbus along with 21 errors.
"This deal speaks volumes about where we are with Henson," is how Cashman bluntly put it. Meaning, Henson could either consider switching to the outfield, or else return the prorated portion of his $17 million signing bonus and get on with a career in the NFL.
As for Boone, he struggled in his debut in pinstripes, going 2-for-11 as the Yankees were losing 2-of-3 to the A's over the weekend. Still, he gives the Yankees a younger, quicker version of Robin Ventura and allows manager Joe Torre flexibility to navigate around several in-house droughts.
Even after going 2-for-3 on Sunday, Alfonso Soriano is still only batting .206 since the All-Star break and has been moved down to the No. 7 spot in the batting order. His leadoff spot has been assumed by Derek Jeter, who's currently batting .323 with a .394 on-base percentage. Jeter's No. 2 spot is, for now, occupied by Bernie Williams, while Boone is hitting sixth.
Right field will continue to be a "patchwork" equation, according to Cashman, although newly-acquired David Dellucci's defense alone should earn him most of the at-bats, particularly ahead of the ungraceful Ruben Sierra. Still, don't discount the possibility of the Yankees making one more, high-profile trade for an outfielder before September 1.
If the Boone-for-Claussen swap has taught us anything, it's that the Yankees' horizons extend no further than the next 24 hours. Losing Claussen hurts, but to dress the wound, the Bombers intend to fall back on an old Steinbrenner remedy:
Write someone a bigger check next year.
Bob Klapisch of The Record (Bergen County, N.J.) covers baseball for ESPN.com.
Bob Klapisch is a sports columnist for The Record (N.J.) and a regular contributor to ESPN.com.
SPONSORED HEADLINES
MORE MLB HEADLINES
MOST SENT STORIES ON ESPN.COM
EDITORS' PICKS
These players are vital to their team's success.
Blog

Ranking baseball's 30 farm systems for 2015.
Keith Law