Overkill not in Boss' vocabulary
Originally Published:
December 21, 2004
By
Bob Klapisch
| Special to ESPN.com
Deep into the winter, just days away from the Christmas holidays, the Yankees have nevertheless been busy heeding their DNA coding -- writing checks. But even by George Steinbrenner's hyperactive standards, the recent makeover has been stunning. Even with the Dodgers withdrawing from a proposed three-way trade that would have put Randy Johnson in pinstripes, Steinbrenner will find another route for Johnson to take into New York.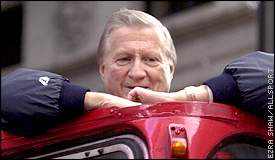 Erasing the memory of Game 7 is George's only offseason motivation.
Ever since losing Game 7 of the AL Championship Series to the Red Sox, the Yankees have been looking for the one ingredient that cost them a pennant. It sure wasn't Kevin Brown or Javier Vazquez, who combined to put the finishing touches on the most embarrassing collapse in baseball history. Both are now paying the price.
Already, the Diamondbacks are believed to be seeking another third party to replace the Dodgers, fueled by a desire to move the Big Unit's salary once and for all. One major league executive familiar with the talks told ESPN.com that Arizona ownership had already been in contact with several teams late Tuesday night. Meanwhile, the Dodgers moved quickly in another direction after the deal collapsed, agreeing in principle with free-agent outfielder J.D. Drew on a five-year, $55 million contract.
Vazquez is still a Yankee; he would have been sent to the Dodgers in that three-way deal that died Tuesday. But Brown will likely never throw a pitch for the Yankees in 2005. One team official speculated the right-hander might be gone even before spring training, assuming the Yankees are willing to swallow most of the $15 million he's owed next year.
That's how wide the gulf is between Brown and the Bombers, and not just because he lasted only 1 1/3 innings against Boston. Instead, officials believe Brown twice misled Joe Torre about the condition of his back, robbing the Yankees of any chance of winning Game 7.
The first time was immediately after Game 6, when the Yankees were beaten by Curt Schilling, 6-2. Realizing the season was coming to a one-game playoff the next night, Torre approached Brown and said, "we don't need any heroes. If you can't [pitch], just tell me."
Brown told Torre he was fine. The next night, just 90 minutes before the first pitch, Torre again confronted the pitcher, asking if he was healthy enough to start. Brown again assured the manager there was no problem -- and promptly allowed the Red Sox two runs in the first inning and left Vazquez with a one-out, bases-loaded crisis in the second.
Johnny Damon's first-pitch grand slam ended the Yankees' season, and in reality, started the engines of the winter's remodeling. Since that Black Wednesday in October, the Yankees have added Carl Pavano, Jaret Wright and still hope to have Johnson in the rotation, signed Tony Womack and were set for a face-to-face meeting with Scott Boras in Tampa, Fla., on Tuesday to write another check -- this one to Carlos Beltran.
Steinbrenner's goal is fairly obvious. He wants to wipe away the memory of the Game 7 loss, a wound made even deeper by the Sox's subsequent partying on the Stadium's infield. The Yankees don't just want to forget that night -- not to mention Brown and Vazquez -- they want to create the greatest lineup ever assembled in time for 2005.
Of course, if history has taught us anything, it's that on-paper talent looks great on Opening Day, but promises nothing in October. But the Yankees' upgrades have coincided with the Red Sox's own problems, including the departures of Pedro Martinez and Derek Lowe and Schilling's unavailability until May 1. That's why getting Johnson is a perfect-world scenario for the Yankees. As one official said, "even without Randy, I still like our rotation better than theirs."
| | |
| --- | --- |
| | |
| | Beltran |
| | |
| --- | --- |
| | |
| | Johnson |
So why are the Yankees pursuing Beltran? For one, because Steinbrenner has the money, and he intends to outspend everyone, even if it means hurtling the payroll past the $200 million threshold. But for all their wealth, the Yankees still aren't sure if Beltran will necessarily award himself to the highest bidder.
They're just as concerned that Beltran will drift back to the Astros, especially if Roger Clemens decides to pitch again in 2005 and makes a personal appeal to the center fielder. Beltran has told friends he loved the atmosphere in the clubhouse -- decidedly better in the post-Jimy Williams era -- and wouldn't mind playing in a smaller, less overheated sports community than New York's.
But if money is the sole factor here, the Astros are already a distant second to the Yankees, having offered $81 million over six years. That's a far cry from the $200 million Boras is seeking over 10 years -- a figure the Yankees wouldn't necessarily reject, not if they could add the game's best, all-around, under-30 player.
Beltran's presence is already being discussed in the Yankee family. At a news conference at the Stadium to announce a partnership with a memorabilia company, Torre openly spoke of shifting Bernie Williams to make room for Beltran.
"If you get a guy like Beltran, obviously he's going to play center field," the manager said. "But Bernie's been a team guy. He's never been tough to manage in terms of understanding what we're doing."
Derek Jeter was just as enthusiastic about Beltran, adding, "he can pretty much do everything. He's an outstanding player. He can beat you in so many different ways. He's got to be up there with the best players in the game."
All that's left for the Yankees is to actually sign Beltran ... and find another way to trade for Johnson. But with the Red Sox struggling to keep last year's karma alive, Steinbrenner is inching closer to his all-time Christmas wish -- enough amnesia to wipe away all forensic evidence of Black Wednesday.
Bob Klapisch is a sports columnist for The Record (N.J.) and a regular contributor to ESPN.com.
Bob Klapisch is a sports columnist for The Record (N.J.) and a regular contributor to ESPN.com.
SPONSORED HEADLINES
MORE MLB HEADLINES
MOST SENT STORIES ON ESPN.COM
Extended Sizes - Majestic Men's Replica New York Yankees Brian McCann #34 Home White Jersey Shop »