Commentary
Fat contracts likely will keep key free agents in Bronx
Originally Published:
October 19, 2007
By
Bob Klapisch
| Special to ESPN.com
NEW YORK -- Even though the Yankees tried to save money by cutting Joe Torre's salary, the fallout from his decision to turn down the club's contract offer on Thursday could end up costing the club millions to re-sign free agents Mariano Rivera and Jorge Posada. Get ready for several weeks of intense leveraging -- and in this case, it's the players, not the club, who hold the advantage.
The Yankees are already taking a massive public relations hit; the New York Daily News and New York Post stood side by side with Torre in its front page headline on Friday, telling George Steinbrenner: "Shove It." Given the graceless way Torre was forced out, and the strong anti-ownership climate among the fan base, the Steinbrenner family will have little choice but to overpay to keep Rivera and Posada from bolting, as well.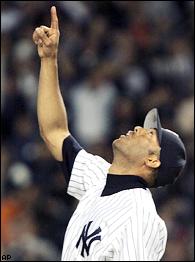 AP PhotoMariano Rivera has played nearly his entire career with the Yankees with Joe Torre as his manager.
Question is: Will these two key, core players hold the club's treatment of Torre against the Yankees? Yes and no. Both were extremely loyal to their manager. Rivera and Posada were models of Torre-era professionalism, quiet and focused, taking their cue from Joe Cool himself. Along with
Derek Jeter
, the Yankees' closer and catcher were the most important clubhouse lieutenants Torre could've had. Teammates say they're indispensable. Indeed, Rivera and Posada are system-bred stars, core Yankees, and it's still hard to believe that once the period of posturing and leveraging is over, once ownership has written the fattest possible check, they won't be back in 2008. At least one high-level executive believes money will heal the wounds, particularly with Rivera. When it was suggested the Yankees could've signed the closer at a reduced cost in spring training, before he had a chance to test the market, the executive shook his head. "[Rivera] has never given us a discount," he said. "He's always made us pay, which is fine. It's his right. With him, it's strictly business." Yet Rivera is the lone Yankee who has appeared to link his future to Torre's, hinting recently that if the manager left, so would he. Was Rivera telling the truth, or just preparing the Bombers for what figures to be an iron-clad demand for a possible three-year, $40 million deal? The Yankees initially were inclined to offer Rivera a two-year pact, according to one person familiar with their offseason strategy, but given the current volatility, it's a near certainty the Yankees will have to guarantee a third season. This will be especially true if the Bombers decide to make
Joba Chamberlain
a starter in '08 -- a goal set not by Torre or GM Brian Cashman or even George Steinbrenner. The pronouncement was made by Hank Steinbrenner, the Boss' oldest son who'll take over the baseball operations next season. Hank's surfacing prompted one major league GM to ask rhetorically, "Exactly who's going to be running the Yankees from now on?" Good question: 20 years ago, it was George. Two years ago, it was Cashman who was promised full autonomy, and he used his powers to save Torre from being fired after the 2006 season. But the equation is cloudier now, given the addition of two more Steinbrenners (Hank and younger brother Hal) and the emergence of team president Randy Levine, who ran point on Thursday's press conference at Legends Field. The Yankees' colder, more corporate dealings might impact
Andy Pettitte
, who has the rights to a $16 million option for '08. Even before Torre walked away, the left-hander was torn about his decision. Pettitte knew he'd go into next season without
Roger Clemens
, his closest friend on the team. And he had a good relationship with pitching coach Ron Guidry, who reportedly has been all but fired. Now Torre is history, too, and there's no way to measure how Pettitte feels about the void. This much is certain: Pettitte regarded Torre as a surrogate father. "The man means everything to me," he said one day in September. "I look at the way he's treated me, the way it is around here, and it makes me wish I'd never left [to play for the Astros]." As much as Pettitte will miss Torre, it's just as possible he'll be influenced by his (pain-free) elbow -- "this is the best it's felt in years" -- and by the way he pitched against the Indians'
Fausto Carmona
in Game 2 of the Division Series. Pettitte is forging a Whitey Ford-like legacy and has every reason to continue, especially if an insider like Don Mattingly is named as Torre's successor. The
Alex Rodriguez
scenario is somewhat more complicated, because he had grown closer to Torre in '07 than in his three previous years in New York. Clearly, A-Rod wanted Torre back in '08. But his career path is being driven today by money, not by any personal loyalty to Torre. In fact, the slugger and the Yankees are headed for a showdown over the opt-out clause he's sure to exercise. The Bombers keep insisting that if A-Rod frees himself of his current contract, they won't chase him on the open market. Who knows. It's possible that Torre might've played a role in wooing Rodriguez back into pinstripes. Now, it's all glorified coin flipping. A-Rod likes Mattingly but has reservations about Joe Girardi, who friends say reminds him of Buck Showalter. It's no secret A-Rod and Buck were a recipe for clubhouse poison while they were together in Texas. Let the leveraging begin.
Bob Klapisch is a sports columnist for The Record (N.J.) and a regular contributor to ESPN.com.
Bob Klapisch is a sports columnist for The Record (N.J.) and a regular contributor to ESPN.com.
YANKEES IN TRANSITION

Joe Torre's 12-year tenure with the Yankees came to an end after he turned down a one-year, $5 million offer to return as their manager. Joe Girardi has agreed to a three-year contract to be Torre's successor.


News
•
Dodgers' Little resigns; no word on Torre
•
Yankees hire Girardi to manage
|
Changes
•
Mattingly still wants to manage
•
Reports: Torre could head to Dodgers
•
Report: Hank Steinbrenner fires back at Torre
•
Torre: Pay cut, incentives doomed deal
•
Torre turns down offer to return as skipper
•
Shock, sadness greet Torre's departure
•
Possible Torre successor hired to manage K.C.
Analysis
•
Kreidler: Torre, A-Rod would sure help L.A.
•
Law: Girardi is perfect choice

•
Neyer: Girardi was obvious choice

•
Gammons: Yankees will survive

•
Torre, A-Rod could help some team win
•
Nelson: Torre changing his stripes
•
Klapisch: Will FAs follow Torre out of Bronx?
•
Neyer: Torre headed for Cooperstown

•
Olney: Torre led pinstripes with class
•
Olney: How it ended for Torre
•
Olney: Torre survived a dozen seasons
SportsNation
•
Rank the all-time managers
•
What's next for Yankees?
Audio
•
Jayson Stark on SportsBash:

•
Michael Kay Show: Bowa, Gammons, O'Neill
•
Jim Leyritz: It's Series or bust

•
Dusty Baker: Torre did right thing

•
Michael Kay: Yanks' offer was fair

Photo Gallery
•
A Bronx legend

MOST SENT STORIES ON ESPN.COM