Commentary
Mets turn to Pelfrey with '07 collapse rearing its ugly head
Originally Published:
September 16, 2008
By
Bob Klapisch
| Special to ESPN.com
History will have its long tentacles wrapped tightly around the Mets tonight as they try to preserve their next-to-nothing lead over the Phillies. Just a half-game separates the Eastern Division rivals who are accelerating in opposite directions -- a dreary déjà vu for the entire Mets community.
NL EAST

TEAM
RECORD
GB
NY Mets
83-66
--
Philadelphia
83-67
½

NL WILD CARD

TEAM
RECORD
GB
Milwaukee
83-67
--
Philadelphia
83-67
--
Houston
80-69
2½
St. Louis
78-71
4½
For more on the races, see Hunt for October.
Talk about being on the spot: While
Jamie Moyer
(3-0 in his last three starts) faces the Braves at Turner Field,
Mike Pelfrey
takes the mound against the Nats in the biggest game of the season, if not his career. It's up to the right-hander to reverse this collapse-in-progress, which took on a new urgency after Monday's 7-2 loss to the Nats. You don't have to remind the Mets about the ghosts of 2007; they're hovering everywhere. The team that blew a seven-game lead with 17 to go last September is teetering on self-destruction yet again. The
Billy Wagner
-less bullpen has allowed 14 runs and four homers in the last five games, and manager Jerry Manuel is the first to admit there are no dependable options. "We've obviously got some issues late in the game," the manager told reporters Monday night. Manuel is counting on Pelfrey to go deep into tonight's start, but the workload is piling up on the 24-year-old hurler. He's winless in his last four starts, and is already 29 innings beyond his previous career high in innings.
[+] Enlarge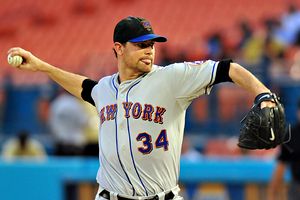 AP Photo/Steve MitchellMike Pelfrey (13-9, 3.77) has thrown 181 2/3 innings this season. In 2007, he threw 151 2/3 innings in the majors and minors combined.
Whether or not Pelfrey is wearing down -- his fastball is still being clocked around 94 mph -- this much is certain: The Mets are showing the same 11th-hour jitters that turned them into history's greatest-regular season chokers in 2007. They lost 2 of 3 games to the Braves over the weekend, including Sunday's devastating 7-4 defeat that saw the bullpen allow five runs in the ninth inning. The Mets figured to rebound against the Nats, against whom they'd scored 23 runs and batted .403 in a two-game sweep at Shea Stadium last week. But they managed just one run and one hit in seven innings against
John Lannan
, who thoroughly outperformed
Pedro Martinez
(six innings, four runs, eight hits).
David Wright
spoke for the entire organization when he said "We can't allow this to carry over to the next couple games." Meanwhile, the Phillies have become a human tidal wave, having swept the Brewers over the weekend (and getting manager Ned Yost fired in the process). After taking both ends of a doubleheader Sunday, the Phillies scurried to the widescreen TVs in the clubhouse just in time to see Atlanta's
Greg Norton
hit a pinch-hit, three-run home run propelling the Braves to a come-from-behind win over the hapless Mets. As colorfully described in the Philadelphia Inquirer, the Phillies, led by
Jimmy Rollins
, started doing the Tomahawk Chop. And reliever
Scott Eyre
, who was the wining pitcher against Milwaukee, sent Norton -- a former White Sox teammate -- a text message that read: "You made a lot of people in this clubhouse happy." The Phillies might be celebrating again tonight, considering a favorable pitching matchup against the Braves: Moyer's recent hot streak will be pitted against 22-year-old rookie
James Parr
.
Innings catching up to Rays' starters?
Speaking of late-season workloads, is it more than coincidence that the Rays' starting pitchers are melting just as their season's inning total continues to soar?
Too many innings?
| | | |
| --- | --- | --- |
| Starter | 2008 | 2007 |
| J. Shields | 200.2 | 215 |
| M. Garza | 175 | 83 |
| A. Sonnanstine | 175 | 130.2 |
| E. Jackson | 168.1 | 161 |
| S. Kazmir | 141.1 | 206.2 |
In their last three losses -- two to the Yankees, and Monday's 13-5 blowout at the hands of the Red Sox -- Tampa Bay's starters have combined to allow 18 earned runs in 10 innings (16.20 ERA). It's worth noting that three of the starters,
Matt Garza
,
Andy Sonnanstine
and
Edwin Jackson
, will finish the season with career highs in innings pitched. Garza had never thrown more than 83 innings prior to 2007. He'll double that total this season -- and has won just once since Aug. 15. If the Rays are going to hang on to first place tonight at Tropicana Field, Sonnanstine is probably their best bet. He shut out the Red Sox for seven innings last week in a 4-2 victory. The Rays' only problem? They'll be facing
Josh Beckett
, who, apparently healthy again, has allowed just one run in 11 innings this month.
Brewers call on CC
If you think the Mets (and maybe the Rays) are sweating today, consider the high-anxiety state of the Brewers, who have a new and thoroughly inexperienced manager to guide them through the final 12 games of the season.
Brewers probables
| | | |
| --- | --- | --- |
| Date | Opp. | Starter |
| Sept. 16 | at Cubs | CC Sabathia |
| Sept. 17 | at Cubs | Ben Sheets |
| Sept. 18 | at Cubs | Manny Parra |
| Sept. 19 | at Reds | Dave Bush |
| Sept. 20 | at Reds | Jeff Suppan |
Dale Sveum hasn't got much going for him other than the law of averages, which says it's highly unlikely the Brewers will run the table in reverse between now and Sept. 28. Actually, Sveum does have a formidable bullet to fire against the Cubs tonight --
CC Sabathia
, who was held out of Sunday's doubleheader sweep at the hands of the Phillies, the one that ended Yost's tenure with the Brewers. As it turns out, a fully rested Sabathia was Yost's going-away present to Sveum. If anyone can resuscitate the Brewers, it'll be the left-handed ace, who threw reasonably well (6 2/3 innings, three earned runs) in his only start against the Cubs this season. Given the panicked state of the franchise, however, the Brewers will need more than a quality start from Sabathia tonight. He'll have to be blow-away good.
White Sox getting no relief
Another manager with bullpen worries is Ozzie Guillen, who watched helplessly as the White Sox wasted a chance to fatten their lead over the Twins in a 4-2 loss to the Yankees on Monday night. Chicago's offense is often breathtaking -- the White Sox lead the major leagues with 215 home runs -- but the relievers have kept the American League Central race tight. Chicago leads the Twins by only 1½ games, thanks in part to the 17 runs the bullpen has allowed in the last 9 2/3 innings. Guillen was characteristically candid when asked to asses his bullpen's efficiency rating. "White hair is going to come out of my head," is what the manager told the New York Times.
Bob Klapisch is a sports columnist for The Record (N.J.) and a regular contributor to ESPN.com.
Bob Klapisch is a sports columnist for The Record (N.J.) and a regular contributor to ESPN.com.
EDITORS' PICKS
The BBTN 100 counts down the top 25 players in baseball for 2015.
Rankings »

MLB players weigh in on baseball's best player, PEDs and what they really think about A-Rod's return.
MLB Confidential »

Where does the recently-signed Yoan Moncada land on Keith Law's prospect rankings?
Top 50 update

MOST SENT STORIES ON ESPN.COM