Commentary
Mixed reaction to Bonds' indictment in Bay Area
Originally Published:
November 15, 2007
By
Mark Kreidler
| Special to ESPN.com
The Giants weren't gleeful on Thursday, in part no doubt because their history with Barry Bonds, besides sometimes being acrimonious, controversial and wearying was one of the most lucrative ever to go on the books in professional sports.
To that end, the news that Bonds had been indicted by a federal grand jury was met with a muted official response from his former longtime employer, the organization collectively intoning, "We look forward to this matter being resolved in a court of law." And behind the scenes?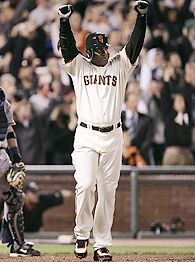 AP Photo/Eric RisbergBarry Bonds hit 586 home runs in 15 seasons with the Giants.
"Nobody's walking around dancing on his grave," said one team official. "But there are some people very happy that he's not ours to deal with right now." Indeed, privately there was an almost palpable sense of relief in the Giants' front offices -- not that Bonds now faces criminal charges of perjury and obstruction related to his grand jury testimony in the BALCO case, but that the San Francisco club no longer must answer to every twist of the story. The team's decision not to entertain a new contract for Bonds, baseball's all-time home run leader, was made barely two months before the indictment that now has Bonds on track for a court appearance on Dec. 7. In reality, though, the Giants lived with the prospect of a Bonds indictment for the last several years of the player's 15-season tenure with the club. Moreover, the slugger's entire chase of Henry Aaron's career home run record went down a path strewn with allegations, leaked courtroom testimony and the book "Game of Shadows," which painted a devastating portrait of Bonds as a drug cheat and a liar. In an interview in his office early in the 2007 season, Giants owner Peter Magowan made reference to the possibility that Bonds could be indicted at any point during the year -- one reason, the owner said, that the club was trying to move forcefully to a new team model based on pitching and defense. Bonds, at that point, was perceived as both a physical and a legal risk. But the upside lay in the obvious: his continued pursuit of Aaron's record, part of a dramatic arc of crowd-drawing performances in San Francisco that many believe gave the franchise the confidence to open AT&T Park seven years ago as a privately financed venture. The value of Bonds in that equation is almost impossible to calculate, though his salary soared to $20 million annually at one point and was set at just below $16 million for 2007, this despite a recent history of injury and the looming federal investigation. The Giants, meanwhile, have drawn more than three million customers to AT&T Park in each of their eight seasons there, in large measure because Bonds was for most of those seasons a fixture -- and lightning rod -- in the lineup. Once Bonds passed Aaron's 755-homer total last summer, though, there appeared little question that the foundering Giants would sever their relationship with him. As several members of the organization privately noted, the slugger's presence had by 2007 come to divide even loyal Giants fans into strong anti- and pro-Bonds factions, and many felt that the team's recent efforts to build around Bonds had hampered the club's long-term prospects. Thursday, as news of Bonds' indictment spread rapidly around the Bay Area, the reactions from fans were predictably just as mixed, with heated rhetoric filling radio airwaves and the "comment" section of SFGate.com, the San Francisco Chronicle's Web site. ("Witch hunt," one poster simply declared, while another wrote, "If only Bonds* would have done the right thing all along, we wouldn't have had to be bombarded with all this crap.")

Nobody's walking around dancing on his grave. But there are some people very happy that he's not ours to deal with right now.
--A Giants team official on Barry Bonds
In their official statement, the Giants appeared to put as much distance between themselves and Bonds as safely possible: "This is a very sad day. For many years, Barry Bonds was an important member of our team and is one of the most talented baseball players of his era. These are serious charges. Now that the judicial process has begun, we look forward to this matter being resolved in a court of law." Magowan did not personally comment on the player who represented his first superstar signing, after an ownership group led by Magowan spared the Giants from a move to Tampa-St. Petersburg in 1992. Clearly, the man Magowan chose as the face of the club ultimately led the Giants through periods of both torment and celebration. How Bonds will be recalled in San Francisco remains an open question. But the more immediate issue might be what kind of jury reception will await him in San Francisco, should he choose to go to fight the federal charges. "Any time you have a jury in the equation, you don't know," said Howard Frank, a San Diego-based criminal defense attorney who has represented professional athletes. "And the one thing you can say is that, in San Francisco -- as opposed to L.A. or New York or somewhere else -- Barry has probably his best chance of getting some jurors who are sympathetic."
Mark Kreidler's book "Four Days to Glory: Wrestling With the Soul of the American Heartland," has been optioned for film/TV development by ESPN Original Entertainment. His book "Kids of Summer," about one town's ability to consistently produce Little League champions, will be released in July 2008. A regular contributor to ESPN.com, he can be reached at mark@markkreidler.com.
Page 2
Regular contributor to ESPN.com
Author of "The Voodoo Wave" and "Six Good Innings"
Radio host, "The Rise Guys Show," Sacramento
SPONSORED HEADLINES
MORE MLB HEADLINES
MOST SENT STORIES ON ESPN.COM
BARRY BONDS INDICTED

Barry Bonds was indicted for perjury and obstruction of justice, charged with lying when he told a federal grand jury that he did not knowingly use performance-enhancing drugs.
News
•
Bonds pleads not guilty to refiled federal charges
•
Judge unseals Bonds testimony
|
Read it (pdf)
•
Bonds' lawyers set to make request for dismissal
•
Prosecutor cleared to work Bonds perjury case
•
Bonds asks judge to dismiss perjury charges
•
Bonds seeks to keep legal team in perjury case
•
Hearing to determine lawyers' conflict of interest
•
Bonds pleads not guilty; Feb. 7 next court date
•
Fish: Defense could challenge Bonds' positive test
•
Report: Agent says Bonds wants to play in 2008
•
Bonds lawyer shopping as arraignment nears
•
Bonds' new judge presiding over BALCO cases
•
Old friends-turned-foes to testify against Bonds
•
Bonds' trainer still won't testify if case goes to trial
•
Bonds indicted on perjury, obstruction charges
•
Bonds' trainer gains release after year in prison
•
Bonds latest name on sports' infamous legal list
•
Timeline: Bonds and steroid allegations
Analysis
•
Bryant: Remembering McGwire while Bonds is arraigned
•
Fainaru-Wada/Quinn: Answers to key questions as Bonds begins legal journey
•
Nelson: Bare market for Bonds
•
Bryant: Bonds a misguided martyr
•&nbsp
Hill: Indictment is just plain wrong
•
Olney: All roads lead to infamy

•
Fainaru-Wada/Quinn: Path to indictment
•
Bryant: Bonds case puts pressure on Mitchell
•
Olney: Era of dishonesty

•
Wojciechowski: Bonds' dare backfires
•
Fish: Bonds' positive test didn't come from MLB
•
Munson: Don't expect Bonds to cop a plea
•
ESPN.com: How should MLB react?
•
Kreidler: Mixed reaction in Bay Area
•
Neyer: How bad is it?

•
For the record: Legal definition of perjury
The indictment
•
United States v. Barry Lamar Bonds
SportsNation
•
Polling the reaction of SportsNation
ESPN Video
•
Indictment may end career
•
Bonds' attorney speaks out
•
Roger Cossack's take
•
Will Bonds be in the Hall of Fame?
•
Will Bonds play again?
•
Was race a factor in indictment?
•
Charles Barkley weighs in on Bonds
•
Buster Olney on Bonds
•
Steve Phillips on Bonds and A-Rod
ESPNRadio.com
•
Peter Gammons: A sad ending

•
Baseball Today: Peter Pascarelli
•
Shaun Assael on timing
•
Cossack on the indictment

The HR Chase
•
Bonds: Beyond 756
Background
•
The Dope On Steroids