Many clubs facing early bullpen problems
With several closers out with injuries, bullpens on the whole are struggling to get those precious late-inning outs.
Originally Published:
April 10, 2003
By
Tim Kurkjian
| ESPN The Magazine
Perhaps it was a portent when the Padres' Trevor Hoffman, arguably the game's best closer, was potentially lost for the season after undergoing surgery on his right arm during spring training. Other closers have since gone down, and several bullpens across the game have labored mightily.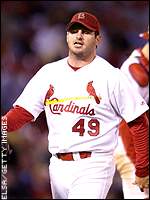 Steve Kline has been the Cardinals' closer in the absence of Jason Isringhausen.
Six teams, including the Yankees, Red Sox and Braves, had a bullpen ERA of above 6.00 through Wednesday. Four times has a team taken a lead to the bottom of the ninth inning and lost the game, including Boston and Colorado, who both allowed five runs in the ninth. The ERA of major-league relievers is 4.19 through Wednesday, which is slightly higher than the final numbers in 2001 and '02. Bullpens often endure slow starts, but it's possible the struggles may last longer this year. First, it was a bad spring for closers. The season began with Hoffman,
Mariano Rivera
,
Robb Nen
,
Jason Isringhausen
and
Antonio Alfonseca
all on the disabled list. Nen appears to be injured more seriously than once thought, and might be out until May. So might Alfonseca.
The Braves, who had the best bullpen in baseball last year, lost four-fifths of it in the offseason, leaving three rookies in the pen -- Trey Hodges, Joe Dawley and Jung Keun Bong. When asked if his bullpen was going to be OK, Atlanta pitching coach Leo Mazzone said, "I don't know.''
He meant exactly that. More than any other part of a team, a bullpen needs time to blend. It takes weeks, even months, for guys to find their roles, for managers and pitching coaches to get a feel for where guys work best. At this time last year, Mazzone didn't know about his bullpen either. But by June,
John Smoltz
was the best closer in the league,
Mike Remlinger
was the premier set-up man, and
Chris Hammond
was on his way to having one of the most remarkable seasons (a 0.95 ERA) a reliever has had in recent years. The Braves still have their closer, but 16 of 30 teams opened this season with a different closer than in 2002. Rookies rarely have been used to close, but three teams had one as their primary or committee closer -- the Royals (
Mike MacDougal
), the Tigers (
Franklyn German
) and the Devil Rays (
Lance Carter
).
BULLPEN BREAKDOWN
Team
IP
S
BS
ERA
Anaheim
26.1
0
1
1.71
Arizona
31.1
1
2
3.16
Atlanta
29.2
2
0
7.89
Baltimore
33.2
0
2
4.28
Boston
33.0
1
2
6.55
ChiCubs
22.0
1
0
3.68
ChiSox
16.2
1
2
4.32
Cincinnati
27.0
2
2
3.67
Cleveland
19.0
2
2
3.79
Colorado
34.1
1
0
4.98
Detroit
28.2
0
0
4.08
Florida
26.2
0
1
6.08
Houston
23.2
2
0
2.28
Kansas City
18.0
4
1
2.50
Los Angeles
31.0
2
2
2.32
Milwaukee
20.1
2
3
6.64
Minnesota
27.1
2
0
1.32
Montreal
23.1
2
1
2.31
NY Mets
29.0
3
1
5.28
NY Yankees
16.2
2
1
7.02
Oakland
24.0
4
0
3.75
Philadelphia
30.1
1
1
3.56
Pittsbugh
24.2
4
0
4.01
San Diego
39.0
2
0
4.85
San Fran.
32.2
5
1
3.85
Seattle
24.2
1
2
1.82
St. Louis
26.0
2
1
5.19
Tampa Bay
46.2
1
0
4.82
Texas
32.1
2
1
6.86
Toronto
26.1
1
1
3.08
Through 4/9
In the Tigers' second game of the season, three relievers (Wil Ledezma, Matt Roney and Chris Spurling) made their major-league debuts. The Padres have unproven Brandon Villafuerte, among others, to finish games. To properly build a bullpen, you first have to know about the guy at the end, but through 10 days of this season, many teams aren't entirely sure about their closer.
April has historically been a bad month for relievers, anyway. Former Orioles manager Earl Weaver, who once broke camp with eight pitchers, used to say that "seven pitchers are too many, 11 is not enough.'' Now teams usually break camp with 11 pitchers, sometimes 12. Seven of them might be relievers.
With so many, some get roughly 10 innings of work in spring-training games. Maybe that's not enough. And yet, when the season begins and starters are on pitch counts, which means they're not going deep into games, relievers are asked to pitch a lot early in the season.
In the first five games of the season, the Reds used at least four relievers in each game. When the Twins got snowed out in New York on Monday, manager Ron Gardenhire was relieved, saying, "Our bullpen needed the rest.'' The season was eight days old, and already at least one bullpen needed a blow. Plus, it has been extremely cold in some cities this April. Imagine sitting in a bullpen for seven innings in 38-degree weather, then having to get up to pitch. "You really have to know when you're going to pitch,'' said Phillies reliever
Dan Plesac
. "If you're the long man, you have to start moving around in the first few innings just to try to keep warm. If you're a late guy, you have to start moving around by the fifth inning to be loose in the eighth.'' Overwork. Injuries. Rookies. Cold weather. Undefined roles. Whatever the reason, bullpens for many teams are off to shaky starts. For their sake, let's hope it's an April thing.
Tim Kurkjian is a senior writer for ESPN The Magazine and a regular contributor to Baseball Tonight. E-mail tim.kurkjian@espnmag.com.
MLB reporter
Senior writer ESPN Magazine/ESPN.com
Analyst/reporter ESPN television
Has covered baseball since 1981
EDITORS' PICKS
Kevin Cash and the Rays are creating a new identity.
Jayson Stark »

White Sox ace Chris Sale will miss at least three weeks.
Doug Padilla »

Martin Prado was a big pickup for the Marlins.
Buster Olney

MOST SENT STORIES ON ESPN.COM