There's no joy in Baltimore
Originally Published:
August 4, 2005
By
Tim Kurkjian
| ESPN The Magazine
This was going to be the year the Orioles not only finished above .500 for the first time since 1997, but made the playoffs. On May 26, they were 30-16, they led the American League East by 4½ games, they had good young starting pitching, a quality closer and a great lineup -- led by the top two MVP candidates, the irrepressible Miguel Tejada and the best story of the season, Brian Roberts. The Orioles were a lot of fun to watch.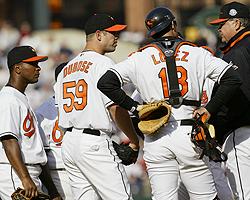 Searching for answers: Anyone have any idea how to clean up this debacle?
Now, they are a mess. They are 10½ games out of first place and, barring a miracle, will not be going to playoffs, and might not even finish .500. Even more distressing, their first baseman,
Rafael Palmeiro
, was suspended for 10 days for steroid use, news that came less than a month after he collected his 3,000th hit.
Thursday, they canceled the planned celebration for Palmeiro at his request, knowing the further embarrassment it would cause. And then, to cap off a six-week stretch in which they went from first place to fourth place, the Orioles fired manager Lee Mazzilli.
It has been an amazing fall. Mazzilli became the first manager since the Yankees' Gene Michael in 1981 to be canned during a season in which his team was at any point 14 games over .500. Palmeiro went from a future Hall of Famer -- one of four players ever with 3,000 hits and 500 home runs, one of the game's supposed anti-steroid advocates -- to a disgraced former star who'll spend the rest of his life trying to restore his image, and may never get to Cooperstown. And the Orioles went from fun and exciting to old and tired.
The collapse began at several points, none bigger than May 26 when left-hander Erik Bedard went on the DL with an arm injury. The rest of the rotation -- young, inexperienced and without an ace -- fell apart soon afterward. The bullpen got too much work and became exhausted. The low point came July 31 -- the trading deadline; the inert Orioles did nothing substantial there -- as starter Rodrigo Lopez lasted only 1 1/3 innings when he needed to go seven to save the bullpen, forcing the Orioles to bring in Bruce Chen, the next day's scheduled starter, in relief. The Orioles lost that game, and the next day, giving the White Sox their first four-game sweep in Baltimore since 1954, the Orioles' first year of existence.
As the pitching fell to pieces, the Orioles stopped hitting. The fabulous three at the top of the order -- Roberts, Melvin Mora and Tejada (all All-Stars in 2005) -- stopped hitting around July 1. The rest of the lineup, which was perhaps overrated anyway, wasn't there to save them. For most of this season, Sammy Sosa has looked old, nothing like his former self, and has been booed, another sign that he won't play in Baltimore next season. The only guy who was hitting was Palmeiro; and now, say the critics and cynics, we know why.
Lee Mazzilli became the first manager since the Yankees' Gene Michael in 1981 to be canned during a season in which his team was at any point 14 games over .500.
As the ship sank, there stood Mazzilli, powerless to stop it. What manager could? What manager could withstand the injuries, the terrible pitching and the lack of offense? Still, the whispers began around Baltimore and in the clubhouse: He doesn't have enough fire, he doesn't defend his players in arguments with umpires, he's not a great strategist, he sometimes throws the pre-game stat sheet in the garbage before even looking at it. And, damn it, he came from the Yankees. He never took to the Baltimore community. And he was never a favorite of owner Peter Angelos, which didn't help his case.
Mazzilli was in trouble at points last year, but his job was saved by a strong finish. In spring training, he was the manager who most needed a quick start, which the Orioles provided. But it all fell apart starting June 22 -- and hasn't stopped. Meanwhile, Baltimore general manager Jim Beattie and co-GM Mike Flanagan, both unsigned after this season, couldn't finalize a deal for a starting pitcher -- they were once the top candidate to land Florida's A.J. Burnett -- leading to more speculation that one or both won't be back in 2006.
Was Mazzilli fired to deflect attention away from the Palmeiro fiasco? No. He was fired primarily because his players played so badly, and with so little energy, the second half of the season. Maybe the spark will come from interim manager Sam Perlozzo, who has been an Oriole coach for 10 years. He has great energy, is well liked in the clubhouse and was the leading candidate to manage the Orioles two years ago until Mazzilli came in from New York, dazzled Beattie and Flanagan in his interview, and was named manager.
Now he's gone, so is Palmeiro's reputation and the Orioles' pennant hopes for '05. All gone in six weeks.
Tim Kurkjian is a senior writer for ESPN The Magazine.
MLB reporter
Senior writer ESPN Magazine/ESPN.com
Analyst/reporter ESPN television
Has covered baseball since 1981
SPONSORED HEADLINES
MORE MLB HEADLINES
MOST SENT STORIES ON ESPN.COM
EDITORS' PICKS
David Schoenfield breaks down some of baseball's best dynasties.
Story »

The idea of eliminating defensive shifts is absurd.
Buster Olney

If A-Rod hits enough home runs to earn his bonuses, the Yanks should be more than happy to pay them.
Wallace Matthews