Commentary
Rockies' improvement tied to better defensive play
Originally Published:
August 28, 2007
By
Tim Kurkjian
| ESPN The Magazine
The Rockies have tried almost every way to win in the thin air of Denver, which some will say is impossible. They have tried assembling ferocious offensive teams, some of the best in recent history. They have tried signing sinkerball pitchers. They have tried the humidor. And now they are closer than they've been in a while to getting it right.
The Rockies have the best defense in the National League. Through Tuesday, they had made only 59 errors, fewest in bthe majors, six fewer than any other NL team. They are on pace to make 19 fewer errors than they've ever made in a full season, and 45 fewer than they made in 2005. That is significant because there is a direct connection between good defense and winning teams: Starting in 1995, of the 24 teams that led their league in fielding percentage, 11 went to the playoffs. Meanwhile, of the 24 teams that led their league in home runs, only six went to the playoffs. That's how the Rockies used to try to win, and, at least recently, they've learned that it makes more sense to play defense in Denver.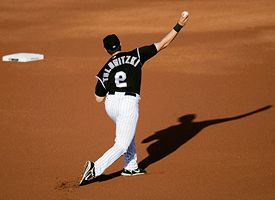 Doug Pensinger/Getty ImagesRookie Troy Tulowitzki is having a stellar defensive season at shortstop for the Rockies.
"We knew, with the way we put together our rotation, we weren't going to get a lot of strikeouts, so balls were consistently going to be put in play, and we were going to have to catch it,'' said Rockies general manager Dan O'Dowd. "[Manager] Clint [Hurdle] started that ball rolling two years ago by stressing the basics [of defense], but it has really caught fire this year. We have always tried to make routine plays, but we've gone beyond that.'' "This is by far the best defensive team we've had,'' said first baseman
Todd Helton
, who has been with the Rockies for 11 years. "We make the routine plays, and a lot of good ones.'' The defensive improvement, O'Dowd said, "begins with the kid at shortstop [
Troy Tulowitzki
]. His mentality is so consistent. We're starting to realize what a special player he's going to be.'' Tulowitzki has 11 errors in 123 games, the fourth-best rate in the NL, but more impressive because he's a rookie. Tulowitzki is a big shortstop (6-foot-3), much like his heroes, Cal Ripken and
Derek Jeter
, and has a strong arm. "He has much better range than I thought he would have,'' one scout said of Tulowitzki. "He gets to a lot of balls for a guy his size.'' Tulowitzki and second baseman
Kaz Matsui
have been marvelous. Matsui had trouble making the pivot after moving to second base from shortstop two years ago, but he is so quick and nimble on his feet, he has become very good around the bag. The Rockies lead the major leagues with 148 double plays. They are on pace for 185 (27 more than in 2005). Having a second baseman with a shortstop's arm is a bonus at second base. "Both of our middle infielders have great arms,'' Helton said. "That really makes a difference.'' The defense has improved because the Rockies have gotten faster in the past two years with Matsui and with center fielder
Willy Taveras
. "Speed and defense are very important in our ballpark,'' O'Dowd said. "Two guys can fly. The rest are capable runners.''

No matter where you play, you're going to be better when you catch the ball and your pitchers throw more strikes.
Rockies first baseman Todd Helton
But the renewed hope of the Rockies is also tied to another fundamental change: throwing more strikes. In 2004, Rockies pitchers walked 697 batters. In 2005, it dropped to 604, then to 553 last year. This season, Colorado pitchers have walked the six-fewest batters in the major leagues. They're on a pace for 483 walks, which would be the fewest in club history. The improved speed and defense, and the throwing of more strikes, have helped the Rockies lower their team ERA to 4.42, which would break the club record for the lowest ERA in club history -- demonstrably better than the franchise average of 5.26. And now the Rockies are starting to add power arms from their minor league system to the major league team, including right-hander
Ubaldo Jimenez
, whose fastball has been clocked at 100 mph. It's going to take more power arms. It's going to take more speed and more defense. It's going to take more of everything if the Rockies are, in the near future, going to get back to the playoffs for the first time since 1995. They still trail the Diamondbacks in the NL West, but at least the Rockies are starting to figure it out. "No matter where you play, you're going to be better when you catch the ball and your pitchers throw more strikes,'' Helton said. "So we're not going to be making any predictions until the season is over. But we're in a better position than we've been in a while.''
Tim Kurkjian is a senior writer for ESPN The Magazine.
MLB reporter
Senior writer ESPN Magazine/ESPN.com
Analyst/reporter ESPN television
Has covered baseball since 1981
SPONSORED HEADLINES
MORE MLB HEADLINES
MOST SENT STORIES ON ESPN.COM
EDITORS' PICKS
Follow the Gillette HR Derby on ESPN.com.
Derby Tracker »

Joey Gallo's homer lifted the U.S. over the World.
Crasnick »

Madison Bumgarner hit his second slam of the season.
Recap »
Rawlings Colorado Rockies Softee Triple Play 3-Ball Set Shop »