Commentary
Torii Hunter positive about moving to RF
Longtime CF says position switch was initially 'weird,' but was right move for 'long run'
Originally Published:
August 6, 2010
By
Tim Kurkjian
| ESPN The Magazine
The move is only about 150 feet to their left, but for some center fielders, it is like going from Paris to Paramus. Right field is no easy place to move to for a center fielder, but the Angels' Torii Hunter took his nine consecutive Gold Gloves and, without complaint, made the switch.
[+] Enlarge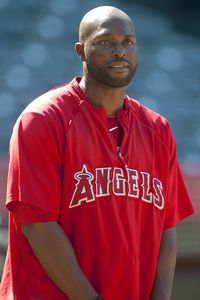 Kirby Lee/US PresswireTorii Hunter, 35, won nine Gold Gloves as a center fielder.
"It's all about winning,'' he said. "Believe me, I can still play center field. Believe me, I can still play center with any youngster. But I'm doing this because it will make our team better.''
The move was made Tuesday night, in Baltimore, for many reasons -- the first being that the Angels' outfield defense has been well-below average all season.
"Two balls a night were dropping that should have been caught,'' one Angel said. Added one scout, "Their outfield defense has the least amount of range of any in the league.''
Right fielder Bobby Abreu was having trouble charging the ball and throwing it across the diamond, so he was moved to left field where the throw to third base is shorter. Abreu in left means less time for Hideki Matsui, who is immobile, and Juan Rivera, who is slow and seems to have lost interest in playing. The switch clears a spot for speedy rookie center fielder Peter Bourjos.
So Hunter, 35, moved out of center field after playing 1,521 games at the position.
"What people don't realize is I had surgery in the offseason [for a sports hernia], and it still bothers me,'' Hunter said. "My legs are more tired than they've ever been. This is the most I've run in my career, I haven't run this much since I was a kid. I have a 100,000-mile warranty on my legs, and the warranty is up. I had to fix a flat tire to keep the car running.''
Angels manager Mike Scioscia said he discussed the idea with Hunter almost two years ago when the two talked about Hunter's career, and where it was headed. It was Hunter who said that someday he would need to move to a corner outfield position. So, after several more conversations, the move was made Tuesday night. It was much more graceful than when the Reds had to cajole 10-time Gold Glover Ken Griffey Jr. into moving to right field in 2007.
"We have got to keep Torii's bat sharp, he's going to play until he's 40, and we need continuity in the lineup,'' Scioscia said. "He is running 30-yard sprints from gap to gap every night. He can still play at an incredibly high level, but we have to take some of the pressure off him. This isn't about Torii. This isn't about the kid [Bourjos]. It is about making the team better.''
The Angels are not the offensive team that they were in 2009 -- not even close. If they aren't going to score as many runs, they're going to have to prevent them, hence the move. But Hunter isn't angry or bitter about it, and he didn't object to moving, as Alfonso Soriano initially did when the Nationals moved him from second base, where he was terrible, to left field, where he is still terrible. Hunter can still play center field. And he made the move with a smile on his face.
"The first night was weird, it was different,'' Hunter said. "Especially with a left-handed hitter up there, I was thinking, 'Where is this ball going to go?' It is totally different. The ball is sinking, it's got top spin on it, and no ball is hit straight. The only thing I liked is that on the throw to the plate, I don't have to throw the ball over the mound. And I threw someone out [the Orioles' Matt Wieters] at the plate my first night. That was a good thing.''
"

I grew up admiring Torii. I loved watching all his 'Web Gems.' I loved watching him climb the walls. I didn't know what to think. But [Tuesday] during BP, Torii said to me, 'Let me know what I can do to help.' … Hearing that was big for me.

"

-- Angels new center fielder Peter Bourjos
Then he laughed again.
"Right field is boring, it's freaking boring,'' Hunter said. "I mean, moving was hard. It is killing me. Center field was my position for 12 years. I felt like I controlled everything in center field. There was a lot of real estate out there, I felt like a big kid running around in center field. But right field, the ball goes over your head, you play it off the wall: boring. The most you have to run in right field is about five steps. But, it had to be done. At some point, you have to slap pride in the face. This is going to benefit me, and our team, in the long run.''
For now, the biggest beneficiary is Bourjos, who moved a nine-time Gold Glover to right field.
"That is a weird feeling,'' Bourjos said. "I grew up admiring Torii. I loved watching all his 'Web Gems.' I loved watching him climb the walls. I didn't know what to think. But [Tuesday] during BP, Torii said to me, 'Let me know what I can do to help.' He has been a big help. I didn't know how he would feel, if he'd be upset. But hearing that was big for me.''
Hunter understands Bourjos' position because he was in it 12 years ago when he was with the Twins.
"[Hall of Famer] Kirby [Puckett] did the same thing for me, he moved to right field to make room for me in center field,'' Hunter said. "[Bourjos] is a great kid. He's 23 years old, he can run, so let him run. With that kind of speed, I'll work with him. My job, like Kirby's job, was to help the next guy coming along. And my job is to help us win games.''
Tim Kurkjian is a senior writer for ESPN The Magazine. His book "Is This a Great Game, or What?" was published by St. Martin's Press and became available in paperback in May 2008. Click here to order a copy.
MLB reporter
Senior writer ESPN Magazine/ESPN.com
Analyst/reporter ESPN television
Has covered baseball since 1981
SPONSORED HEADLINES
MORE MLB HEADLINES
MOST SENT STORIES ON ESPN.COM
EDITORS' PICKS
The Yankees have adapted to an aging SS by getting shifty.
Story

Albert Pujols continues his pursuit of 500 career home runs.
GameCast

Bryce Harper got benched Saturday for a lack of hustle.
Story »
Majestic Men's Replica Los Angeles Angels Albert Pujols #5 Road Grey Jersey Shop »