Season of change brings success to San Fran
With so many offseason changes, I'd be lying if I said the San Francisco Giants' success didn't surprise me.
Originally Published:
August 1, 2003
By
Joe Morgan
| Special to ESPN.com
Having made so many offseason changes -- starting with the departure of manager Dusty Baker and followed by the loss of key contributors Jeff Kent, David Bell and Livan Hernandez, who were all integral parts of many championship seasons -- I'd be lying if I said the San Francisco Giants' 68-40 record didn't surprise me.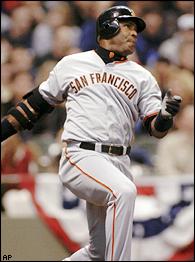 Like him or not, Barry Bonds is the heart of the Giants' offense.
With their replacements, the Giants have gone from a power-hitting ballclub, to one of more versatility. Improved speed and defense has enabled them to go from being a home run-hitting team, to a team that can manufacture runs.
Ironically, this was the type of team Baker envisioned when he was their manager. In fact, during last year's World Series, I commented that the Angels looked more like the National League team than the Giants. The Giants relied on home runs to win games, while the Angels hit, ran, stole bases and did everything and anything they needed to manufacture runs.
Another element that makes the Giants' success surprising, is their less than exceptional starting pitching rotation. Aside from Jason Schmidt, who has been phenomenal, the rest of their starters are young, inexperienced, and have suffered periodic arm injuries.
Rookie Jerome Williams has been key, giving the Giants a second starter from the right side behind Schmidt. Kirk Rueter is a good pitcher but he doesn't take his team deep into games. The Giants have even started bullpen pitchers -- Jim Brower has now won three starts and Chad Zerbe, before going on the 15-day disabled list, has started as well.
These elements combined with the lack of offensive consistency outside of Barry Bonds, Marquis Grissom and Ray Durham, make you realize what a fantastic job manager Felipe Alou has done. Alou is clearly the difference in this ballclub.
I have always been a big Alou fan and hold him in very high esteem. In fact, in my book "Baseball For Dummies," he's No. 1 on my Top 10 managers list. Alou is a quiet leader, but a very aggressive manager.
It's interesting that he has never before had a team that has gone into the season thinking they could win the World Series, but he always seems to make the right personnel decisions to get the most out of his players.
For example, last week Alou brought up Alberto Castillo against Colorado, who in turn, hit a grand slam that aided in an 8-4 victory and a four-game sweep of the Rockies. He also uses Pedro Feliz at first and at third base, and it seems like every time he's in there, he gets a big hit.
Meanwhile, Benito Santiago, has done a great job adapting to the middle of the lineup behind Bonds. No matter what anyone says, whether you like him or not, Bonds has been the difference offensively for the Giants. If you take Bonds off this team, they're below .500.
Alou has not had the production or the consistency he anticipated from Edgardo Alfonzo at third base, J.T. Snow at first, and Jose Cruz in right field, so he spreads the field and relies on getting the most out of the players who are producing -- that's what a manager is supposed to do.
Welcome The Class of 2003
Every year, when I return from the Baseball Hall of Fame Induction Ceremonies, I bring with me a renewed sense of what the game is all about.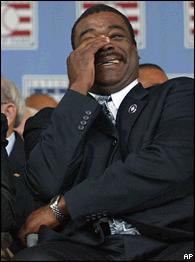 Eddie Murray couldn't help but laugh at Bob Uecker's acceptance speech.
Cooperstown, with all of its charm and mystique provides the perfect backdrop for the ceremonies. Its old-school appeal brings you back to the days when games were played on small fields instead of multimillion dollar stadiums, but I know the game is still the same.
Just walking around, you get a real sense of Babe Ruth, Jackie Robinson and other former greats who have passed on. They are so much a part of the landscape.
I find that I'm nostalgic for my playing days. I remember how much fun I had playing baseball from the time I was four-years-old to the day I retired -- it makes me want to play the game again tomorrow.
The weekend is a much-needed break from pennant races; trade deadlines, market values and other question marks that surround the game today. It's an opportunity to get back to the true essence of the sport and why the game is played.
Contrary to what too many people believe, players don't play for the money. Sure, nowadays money is a byproduct, but the players would not be out there day after day if they didn't have a true love and deep passion for the game.
This year's inductees, Gary Carter and Eddie Murray, were no exception.
Prior to the ceremony, there was some controversy because Carter wanted the Mets logo, instead of the Expos logo, to don the cap on his induction plaque. But once he got to Cooperstown, he realized that it didn't really matter. The only thing that mattered to Carter was that he was being inducted into the greatest, most exclusive fraternity in the world.
It was good to see fans have an opportunity to appreciate the real Eddie Murray, who had a bum wrap during his playing days because he shied away from the media. People are finally discovering that Murray was not only a great ball player, but a great person as well.
I had the distinct honor and pleasure of presenting Ford C. Frick Award winner (broadcast excellence) Bob Uecker for induction. It was no big surprise that Bob stole the show. To both the fans and the players, he is truly "Mr. Baseball."
And I would be remiss not to mention Hal McCoy, who was presented with the J.G. Taylor Spink Award for meritorious sportswriting.
The high emotions from the weekend have once again renewed my love of the game, and heightened my awareness of the effects that the game of baseball has on so many lives. I'm completely energized for the second half of the season, and already am looking forward to seeing more talent inducted into the Hall of Fame in 2004.
An analyst for ESPN's Sunday Night Baseball, Hall of Fame second baseman Joe Morgan won back-to-back World Series and MVP awards with the Reds in 1975 and '76. He was the MVP of the 1972 All-Star Game.
SPONSORED HEADLINES
MORE MLB HEADLINES
MOST SENT STORIES ON ESPN.COM
EDITORS' PICKS
Rob Manfred has now graduated to baseball's biggest stage as its new commissioner.
Jerry Crasnick »

Nobody loved playing the game more than Ernie Banks.
Tim Kurkjian »

As Bud Selig prepares to leave office, what will his legacy be?
Gallery »