Mariners nearly solid from top to bottom
From solid pitching to solid defense to a solid batting order, the Mariners display few faults.
Originally Published:
May 29, 2003
By
Rob Neyer
| ESPN.com
Don't look now, but the Seattle Mariners have the best record in the American League. How? Well, like most teams that have the best record in a team sport, it's been a team effort.
Hitting: The Mariners have scored 276 runs, fifth-most in the league and only six fewer than the Texas Rangers have scored. This, even though the M's play in a great pitcher's park (the Rangers don't). Essentially, the Mariners have been the third- or fourth-best hitting team in the American League this year.
Pitching: The Mariners have a great bullpen and a good rotation, with the pitching staff currently sporting a 3.85 ERA, third-best in the league. Bringing the M's home ballpark into consideration, it's safe to say they've got one of the five best pitching staffs in the league.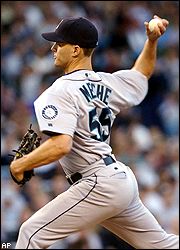 Defense: Subjectively, we look at the Mariners and see that nearly everybody on the field is regarded as good or excellent with the glove. We also see three outfielders with center-field speed. Objectively, the Mariners rank third in the American League in "defensive efficiency," which means only two teams (Oakland and Minnesota, two other teams with good defensive reputations) have turned a higher percentage of balls in play into outs.
So there's no one thing. What's perhaps a little surprising is that the Mariners are doing what they're doing with almost exactly the same players who finished third in 2002. There are, to be sure, some new faces. Randy Winn took over in left field, and he's been ... well, he's been Randy Winn. Decent batting average, a few walks, not a lot of power. The M's made some moves to strengthen their bench -- supposedly a huge weakness last season -- but neither John Mabry nor Greg Colbrunn has done much yet, and Willie Bloomquist is a utility infielder who hits like one (holdover and supposed super-sub Mark McLemore -- all 38 years of him -- hasn't started hitting yet, either).
Or maybe it's not so surprising that the Mariners are doing what they're doing with almost exactly the same players who finished third in 2002. After all, the 2002 Mariners were one of the best third-place teams we've seen in quite some time. They won 93 games, capping a three-season run that included exactly 300 victories, which is more victories than anybody else won from 2000 through 2002 (the Athletics are No. 2, with 296).
This is simply an excellent team, and far from a fluke. Carlos Guillen is playing over his head (825 OPS, fourth-best on the team) and Ben Davis has five homers in 79 at-bats, but otherwise there's not a lot that's going to change. Ichiro's hitting .300 but apparently isn't a superstar after all, Bret Boone's doing almost exactly what he did in 2001, John Olerud's still John Olerud (though he should show more power than he has), and Jeff Cirillo continues to solidify his status as one of the biggest busts in the history of organized sports in this quadrant of the galaxy.
In fact -- and I mean no disrespect -- Seattle's hitters have been, for the most part, not particularly interesting. The pitching's a different story, though. Entering this season, the M's three best pitchers were supposed to be Jamie Moyer, Joel Pineiro, and Freddy Garcia. Instead, the M's three pitchers have been Moyer, Gil Meche, and Ryan Franklin.
Actually, that's not really fair to Pineiro, who's pitched in some tough luck. Or maybe Franklin's pitched in some good luck. Either way, it's true that Franklin's been a nice surprise and Pineiro's been something of a disappointment. But the big story is that Meche has been very good, and Garcia has been just barely adequate (which is to say, he's been almost as good as Franklin). I think it's likely that Meche will get a little worse and Garcia will get a little better, which will be just fine for the M's.
Seattle's best reliever has been Shigetoshi Hasegawa, who's allowed just one run in nearly 28 innings. He's not that good, of course, but he doesn't have to be. Even with a lesser Hasegawa, he, Jeff Nelson, Arthur Rhodes, and closer Kazuhiro Sasaki make the Mariners extremely tough after the sixth inning. If the Red Sox had Seattle's bullpen, they'd win 110 games.
Weaknesses? No. 2 on the list is Edgar Martinez's body. He's still a wonderful hitter, but he's also 40 years old. He spent two weeks on the DL in 2001 and two months on the DL in 2002, and the lineup doesn't look nearly as good when he's not in it. I don't think the Mariners' season hinges on Martinez's availability -- it's not like he's Barry Bonds -- but he is the best hitter they've got.
No. 3 is just a guess, but I'm going to suggest that the Mariners' second-biggest weakness is "late July." As in, when late July rolls around the M's won't do anything to make themselves better. In 2002, when August dawned the Mariners were in first place, with a two-game lead over the Angels and a five-game lead over the Athletics. By August 24th they were in third place, and that's where they finished. Over the last two months of the season, the M's went 27-27 while the Angels were going 36-20 (!) and the A's were going 42-12 (double !). The combination -- the Mariners slumping while their competitors go nuts -- isn't going to happen again. But if you're an M's fan, you have to hope that "Stand Pat" Gillick doesn't stand pat this season, and instead decides to treat Jeff Cirillo's contract as a sunk cost.
Because right now, there's only one huge weakness on this team. And he's playing third base almost every day.
Senior writer Rob Neyer writes four columns per week during the baseball season. His new book, "Rob Neyer's Big Book of Baseball Lineups," has just been published by Fireside. For more information, visit Rob's Web site.
EDITORS' PICKS
Derek Jeter homered and the Yanks notched a walk-off win.
NYY 3, TOR 2

What the heck happened to the A's and the Red Sox?
Jayson Stark »

Can the Dodgers protect their NL West lead?
Mark Saxon »