For short-term fix, McKeon passes test of time
Sure, Jack McKeon is a managerial retread. But turning around the Marlins proves he knows what he's doing.
Originally Published:
August 11, 2003
By
Rob Neyer
| ESPN.com
"We didn't lose. We just ran out of time."

-- attributed to various basketball and football coaches
Baseball's different; you can't run out of time. Not in a game.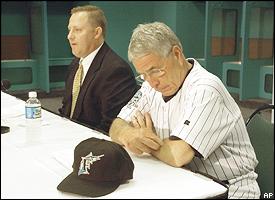 Marlins GM Larry Beinfest handed the managerial reins to Jack McKeon on May 11.
You can run out of time in a career, though. And it might be said of Jack McKeon that he won't not manage a World Series winner; he's just going to run out of time.
McKeon's currently managing in his 13th season. That's not a lot of seasons, really, but McKeon probably doesn't have a lot of seasons left. See, he's 72 years old, and managing has traditionally been a middle-aged man's game. I know that Americans are staying active and healthy longer than ever before, but we've not yet reached the point where 72 is considered anything but ... well, old. Jack McKeon is an old man.
Which isn't to say he's not still one hell of a manager. McKeon's managing his fifth team, and every team he's managed has improved under his guidance.
In 1973 -- yes, 30 years ago, before many of you were born -- McKeon took over as manager of the Kansas City Royals. The Royals had finished 76-78 in 1972, but under McKeon improved to 88-74 and finished only six games behind the Oakland A's, who wound up winning the World Series. (McKeon's Royals did drop to 77-85 in 1974, and he was fired in July of '75, with the Royals at 50-46).
In 1977, McKeon took over as manager of the A's, a team almost completely denuded of good players by its owner. When McKeon was fired on June 10, the A's were 26-27. That doesn't look so good ... until you see how McKeon's replacement, Bobby Winkles, fared: 37-71.

Winkles remained on the job in 1978, and after 39 games the A's were sitting in first place with a 24-15 mark ... when Winkles quit. McKeon was re-hired, and the A's went into the tank, finishing the season at 69-93 (including 45-78 under McKeon).
In 1988, the Padres were 16-30 when Padres general manager Jack McKeon fired manager Larry Bowa, and hired Jack McKeon. And the rest of the way? Manager McKeon's Padres went 67-48, storming all the way to third place. In 1989, with McKeon still managing, the Padres finished 89-73, only three games out of first place. They did drop off in 1990, and at the All-Star break the general manager (McKeon) fired the manager (McKeon). The Padres didn't do any better under the new manager, Greg Riddoch (but they did improve some in 1991).
In 1997, the Cincinnati Reds fired manager Ray Knight, and hired Jack McKeon. After going 43-56 under Knight, the Reds went 33-30 under McKeon. The Reds backslid to 77-85 in 1998 -- actually, one game better than their overall record in '97 -- but in 1999 the Reds went 96-67 and fell one victory short of winning the wild card (and getting McKeon into the postseason for the first time as a manager).

The Reds finished second again in 2000, but their record fell to 85-77 and McKeon was fired in favor of Bob Boone (who managed the Reds to a sterling 66-96 mark in 2001).
And now, 2003. In the same season that Bob Boone was fired in Cincinnati, Jack McKeon was hired in Miami. Before McKeon took over on May 11, the Marlins were 16-22. Since McKeon took over, the Marlins have gone 48-32 and wrestled their way into serious wild-card contention (right now, they're a half-game behind the leading Phillies).

How does McKeon do it?

I don't think there's any magical formula, and it's certainly true that most teams do better when a new manager is appointed.

Why? Two obvious reasons.

One, managers are generally fired when a team is thought to be under-performing, and most under-performing teams will turn around no matter who's managing.

And two, when a new manager is hired, often he's hired specifically because he's got a different style than the old manager. And it's quite likely that players respond, at least initially, to a different style.

Still, when somebody does something not once, not twice, but five times, you have to wonder if maybe there's actually something there. And this makes five times for Jack McKeon.

Marlins owner Jeffrey Loria has often been maligned, and with good reason. It's not obvious how much credit he deserves for hiring McKeon, because the last time he hired a retread manager (Jeff Torborg), it didn't exactly work brilliantly. But you do have to give Loria and Marlins president David Samson credit for something: this time, they hired the right retread.

Senior writer Rob Neyer writes four columns per week during the baseball season. His new book, "Rob Neyer's Big Book of Baseball Lineups," has just been published by Fireside. For more information about the book, visit Rob's Web site.
SPONSORED HEADLINES
MORE MLB HEADLINES
MOST SENT STORIES ON ESPN.COM
EDITORS' PICKS
With spring training quickly approaching, where may James Shields still fit?
Buster Olney

Think the NFL has greater parity than MLB? Think again.
Jayson Stark »

Ron Roenicke and Don Mattingly are among managers already on the hot seat.
Jim Bowden