Coaches on outside looking in
Coaches presently can't be considered for election into the Hall of Fame. It may be time for that to change.
Originally Published:
April 19, 2004
By
Rob Neyer
| ESPN.com
Today I'm revisiting last Thursday's column on the notion that pitching coaches should be considered for the Hall of Fame ...
You mention Leo Mazzone and Johnny Sain ... but whatever happened to Mel Stottlemyre? He was first a pitching coach for the Mets and is now in his ninth year with the Yankees. Have you forgotten he's only won five World Series as a pitching coach, and is one of the most highly regarded coaches in the game.
Jeez, it must be awful to be a New York baseball fan, and have the media ignore you all the time. It's a wonder you can even keep track of what the local teams are doing!
Kidding aside, that message was from a Yankees fan who has, for many years, been peppering me with nasty notes any time he feels I've displayed less than the proper deference for his favorite team. (It got so obnoxious that I finally configured my e-mail to automatically delete anything he sent, but apparently he's changed addresses.)
I looked at Stottlemyre. Frankly, his record is not quite as impressive as I thought it would be. What you might want to consider -- or not, if you're not interested in the truth -- is that he's literally spent his entire career with teams that played in pitchers' parks, which makes the team ERA's somewhat less impressive than they look.
Stottlemyre worked for the Mets for 10 seasons, 1984 through 1993; Shea Stadium was a pitcher's park. He worked for the Astros in 1994 and '95; the Astrodome was a pitchers' park. He's worked for the Yankees since 1996; the Stadium is a pitchers' park. No, none of them were/are extreme pitcher's parks. My point is that Stottlemyre's staff ERAs simply aren't quite as impressive as they look to the naked eye.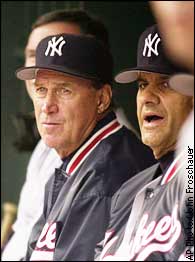 Mel Stottlemyre, left, has been a part of five World Series titles as a pitching coach.
If you adjust for their home ballparks, Stottlemyre's pitchers have been roughly 6 percent better than league average. That's very good. If you consider just the Mets and Astros -- which is to say, if you leave Steinbrenner's millions out of the equation -- Stottlemyre's pitchers were three percent better than league average. That's good, too.
I don't mean to disparage Stottlemyre's skills. It's not easy to hold the same job for more than 20 years if you're less than competent. But if I'm nominating pitching coaches for the Hall of Fame, he's just not at the top of the list.
Rob,

I enjoyed your column on pitching coaches as candidates for the Hall of Fame. In addition to your picks, I'd nominate George Bamberger, particularly for his work with the Orioles (18 20-game winners and four Cy Young Award winners in nine years), and Roger Craig for the teaching and development of the split-fingered fastball. I think innovation should count for something, too.

Do any other innovators spring to mind?

-- Gordon Gray
Great note, Gordon. You raise a couple of interesting questions.
First, about Bamberger and Craig ... As you know, neither of them meet the 15-year standard that I established for a Hall of Fame pitching coach. I came up with that standard because no manager has been elected with fewer than 16 seasons as a manager. But what about someone who coached pitchers for 10 seasons and managed for 10 seasons? That could be enough for a Hall of Fame resume, couldn't it?
First, how well did they do as pitching coaches? I'll add Bamberger and Craig to the table from last week ...

           Years  AERA  "Big"
Sain         17    103    16
Mazzone      15    117    19
St'myre      15    106    15
Bamberger    10    112    18
Craig        13     96     4

Just to refresh everybody's memories,
"AERA" is Adjusted ERA. Mazzone's 117 AERA means his staffs have been 17 percent better than league average, after adjusting for the ballparks.
"Big" is "big seasons," with the definition depending on the years. For some pitching coaches, "Big" includes 20-win seasons, for some it includes 19- or 18-win seasons. The standards are somewhat arbitrary and thus don't really pass sabermetrical muster, but this is my column and maybe later I'll figure out something better.

Anyway, Bamberger's record is indeed impressive, especially that last column: 18 20-game winners in only 10 seasons. Again, though, nobody's been elected to the Hall of Fame after a 10-season managerial career, so it seems unlikely that somebody would be elected after 10 seasons as a pitching coach. And Bamberger's managerial career? Five full seasons, parts of two others. Two excellent seasons (93-69 and 95-66), three sixth-place seasons. Career winning percentage below .500. There's just not enough here to make a good Hall of Fame argument, at least not by the standards I've devised.

And Craig? He was the pitching coach for some pretty awful Padres teams, and overall his staffs were actually worse than league average. Just as damning, he coached only four big winners (Randy Jones, Dan Petry, and Jack Morris twice). Craig managed for nine full seasons, and his teams won two division titles and one National League pennant. Overall, his teams won 738 games and lost 737.

All of which is to say, Roger Craig is not a Hall of Fame pitching coach, he's not a Hall of Fame manager, and he's not a Hall of Fame pioneer. But if you want to argue that he is a Hall of Fame pitching coach/manager/pioneer, I wouldn't say you're crazy.

It's a slippery slope, though. If you start considering individuals for their "overall contribution to baseball" -- which is mandated in the Hall of Fame's official rules -- then Roger Craig is by no means the top candidate, and wouldn't be even if coaches were eligible (they're specifically not mentioned in the rules). In terms of "overall contribution," the top candidates are Dusty Baker and Gil Hodges, both of whom were very good players and successful managers (Hodges was the slightly better player, Baker the better manager). Oh, and Mel Stottlemyre would be in the mix, too; in addition to his 20 seasons as a successful pitching coach, he was an outstanding pitcher for roughly a decade.

But yes, I do believe that Craig's role in popularizing the splitter should be considered. And I would take it a step further. What if a pitching coach teaches a pitcher something, and that pitcher winds up winning 300 games? Should the pitching coach get some of the credit for that pitcher's career? Yes, some. And that's where Johnny Sain gets a small push. He tutored Jim Kaat early in Kaat's career, and he also tutored Leo Mazzone, who tutored Tom Glavine and John Smoltz, etc. Speaking of Mazzone ...
Rob,

I completely agree with your column about Leo Mazzone and the Hall of Fame. (OK, I'm biased, I've been watching the Braves since I was a toddler.)

I don't think anyone else could have gotten as much out of the staff over such a long period as Mazzone. I just wish Steve Avery wouldn't have ended up with arm trouble, because he looked like he had crazy upside.

-- Mike
All true. Since you mention him, though, shouldn't we at least ask if Mazzone bears any responsibility for Avery's arm trouble? What separated Avery from John Smoltz and Tom Glavine wasn't talent, but health, and perhaps it's worth noting that neither Smoltz nor Glavine pitched as many innings as Avery did, at a very young age. I'm not going to blame Avery's early demise on Mazzone, and Mazzone does deserve some credit for the good seasons that Avery did have. But Mazzone spends a lot of time talking about how his throwing program keeps pitchers healthy, and Avery wasn't healthy for long.
As I mentioned earlier, at this point coaches aren't even eligible for Hall of Fame consideration. The Committee on Baseball Veterans rules are clear about this: candidates must be selected from those whose careers "entailed involvement" as major league players and/or managers and/or executives and/or umpires. No mention of coaches at all. So we're a long, long way from even considering them, officially.
Which is fair, I think, because we don't have any idea if even the best pitching coaches are worthy. I've been quoting Adjusted ERA and 20-win seasons because I think that's where the discussion starts, just as the discussion of managers starts with winning percentages and championships. But maybe that's putting the cart before the horse. Maybe first we need to somehow figure out how much difference a pitching coach can actually make. And the best way to do that, I think, is to look (for example) at every pitcher who's worked for Leo Mazzone. Did he improve after coming under Mazzone's tutelage? Did he stay healthy? What happened after he left Mazzone? Most fundamentally, approximately how much difference did he make in the standings?
It's a big project, which is why I haven't done it. But before we can seriously argue that Leo Mazzone or Johnny Sain or any other pitching coach deserves a Hall of Fame plaque, it has to be done.
Senior writer Rob Neyer writes three columns per week during baseball's offseason. This spring, Fireside will publish Rob's next book, "The Neyer/James Guide to Pitchers" (co-written with Bill James); for more information, visit Rob's Web site. Also, click here to send a question for possible use on ESPNEWS.
EDITORS' PICKS
Giants-Royals

Sit back and enjoy the improbable 2014 World Series.
Jerry Crasnick »

Who will win the 2014 World Series: Royals or Giants?
Hot Button »