With Prior, Cubs in good hands
If he remains healthy, the return of Mark Prior should provide the spark the Cubs need to win the NL Central.
Originally Published:
June 4, 2004
By
Rob Neyer
| ESPN.com
Finally. Everybody's favorite Cy Young candidate three months ago is finally going to pitch in a game that matters. I don't know about you, but baseball just wasn't as interesting without Mark Prior.
He's great for us, of course. But how great is he for the Cubs?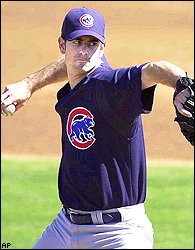 Mark Prior was 2-1 with a 2.14 ERA in five starts during the month of June last season.
Barring a lengthy stint on the disabled list, Prior should start roughly 20 games for the Cubs this season. In 2003, he started 30 games and was roughly five games better than the average National League starting pitcher. We'll give him another game because average National League starters aren't just hanging around on the corner waiting to be signed, and that makes Prior worth six "extra" wins over 30 starts.
Ergo, over 20 starts he'll be worth four wins, which might not seem like much but really is. According to The Baseball Encyclopedia, in 2003 only three National League pitchers were more than four wins better than average: Prior (4.9), Eric Gagne (4.9) and Kevin Brown (4.1). Think about it like this ... if you take a .500 team and add four players as valuable as Mark Prior, you might win 100 games.
So yeah, four or five wins is actually quite a lot. But will Prior's wins ... and remember, we're assuming that 1) he's healthy, and 2) he pitches like the Cy Young candidate he was in 2003 ... will Prior's wins have the Cubs in first place on the last day of the season?
They've got some work to do, that's for sure. It's one thing to be in fourth place, and it's another to be 4½ games behind the team in first place. But when you're in fourth and you're four-and-a-half out, you have to be worried.
Am I bearish on the Cubs? No, but I'm not bullish, either. Call me cubbish.
On the plus side:
Beginning June 14, you can read Rob Neyer's column four times a week as part of ESPN Insider. You will find Rob's insights at MLB Insider, as well as peppered throughout ESPN.com's baseball coverage.

This spring, Fireside will publish Rob's next book, "The Neyer/James Guide to Pitchers" (co-written with Bill James). Get more information on Rob's home page, and sign up now to become an Insider.
SPONSORED HEADLINES
MORE MLB HEADLINES
MOST SENT STORIES ON ESPN.COM