Commentary
Did Gibson hit one out of Yankee Stadium?
Originally Published:
May 19, 2008
By
Rob Neyer
| ESPN.com
While writing my latest book, I generally steered clear of stories about the old Negro Leagues. Not because I don't love all those old stories. Rather, it was partly because I didn't know where to start -- there are so many wonderful stories about the Negro Leagues -- and partly because the research, at least in the back of my mind, was terribly daunting. We don't have complete Negro League schedules, or statistics, or box scores. At least not where they're accessible.
[+] Enlarge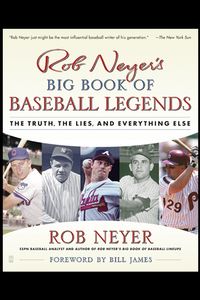 Courtsey Simon & Schuster
Click here
for information on how to purchase the book.
But if there's a single famous event in Negro Leagues history, it's the home run that Josh Gibson supposedly hit completely out of Yankee Stadium, which would perhaps make him the only man to accomplish the feat. From James A. Riley's opus, "The Biographical Encyclopedia of the Negro Baseball Leagues":
Gibson was idolized by black youngsters, and in every ballpark they would point to a spot in the remotest part of the outfield and say, "Josh hit one over there." He is even credited with hitting a fair ball out of Yankee Stadium, and his prodigious homers have taken their place in baseball lore.
Indeed, and Gibson hit a lot of them. But his most famous home run came in 1930. Gibson's Homestead Grays were in the midst of a championship series against the New York Lincoln Giants. With the clubs squaring off in a best-of-11 series, the Grays won four of the first six, at which point everyone traveled to New York for two doubleheaders at Yankee Stadium. Gibson was only 18 years old, and wouldn't turn 19 until December. Nevertheless, on Sept. 27, Gibson hit what biographer John Holway describes as "perhaps the longest home run ever hit in the House that Ruth Built."
But how far did it really travel? According to Mark Ribowsky, another Gibson biographer, there were only two published accounts of Gibson's titanic home run:
It took the Amsterdam News seven paragraphs to get around to Gibson's titanic shot of the day before, with its brief mention of Gibson's home run flying 460 feet into the left field bleachers and the addendum that the blast outdistanced any other hit at Yankee Stadium "by any player, white or colored, all season."
Meanwhile, the Pittsburgh Courier didn't get around to Gibson's homer until the 17th paragraph, agreeing that it was the longest hit in Yankee Stadium that season and describing it as a 430-foot blast into the left-field bleachers. John Holway later interviewed two Lincoln players, Bill Holland and catcher Larry Brown, and both claimed to have seen the ball land inside the ballpark. In 1938, Gibson himself said, "I hit the ball on a line into the bullpen in deep left field." In his book about Gibson and Satchel Paige, Holway concludes, "[W]e can assume that the ball probably did not go over the roof but instead went over the corner of the third tier [of upper-deck seats]."
[+] Enlarge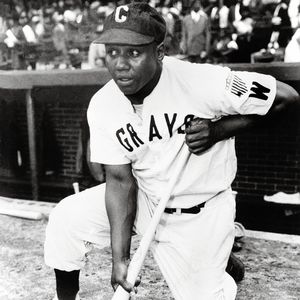 Getty ImagesJosh Gibson never got a chance to play in the majors, but he's considered one of the greatest sluggers ever.
That's not the end of the story, though. The Chicago American Giants' Jack Marshall claimed that Gibson hit one out of Yankee Stadium in 1934 against the Philadelphia Stars. Holway tracked down this story, too. Apparently, this home run came against the New York Black Yankees rather than the Stars, and two Yankees did remember the blast. But both men saw the ball land in the left-field bleachers beyond the bullpen (which in those days was a long, long way from the plate). It seems likely that if Gibson really had hit the ball completely out of the ballpark, somebody at the time would have written about it, or Gibson would have later bragged about it. But it also seems likely that Gibson's 1930 home run (and perhaps the 1934 homer) ranks as
one
of the longest ever hit at Yankee Stadium, along with two blasts hit by Frank Howard (one of the strongest hitters ever), and a famous homer by Mickey Mantle in 1963 that came within a few inches of leaving the stadium well beyond right field. Teammate Buck Leonard later said, "Nobody hit the ball as far as Gibson. I didn't see the one he is supposed to have hit out of Yankee Stadium. But I saw him hit a ball one night in the Polo Grounds that went between the upper deck and lower deck and out of the stadium. Later the night watchman came in and asked, 'Who hit the damn ball out there?' He said it landed on the El. It must have gone 600 feet." Buck O'Neil loved to talk about the first time he
heard
Josh Gibson hitting. In his long lifetime, O'Neil said, he heard that sound only two other times: when he heard Babe Ruth hitting, and when he heard Bo Jackson hitting. The story about Gibson hitting a ball clean
out
of Yankee Stadium is pretty good, whether it's literally true or not. But I prefer this one from Robert W. Peterson's "Only the Ball Was White" …
One day during the 1930s the Pittsburgh Crawfords were playing at Forbes Field in Pittsburgh, where their young catcher, Josh Gibson, hit the ball so high and so far that no one saw it come down. After scanning the sky carefully for a few minutes, the umpire deliberated and ruled it a home run. The next day the Crawfords were playing in Philadelphia, when suddenly a ball dropped out of the heavens and was caught by the startled center fielder on the opposing club. The umpire made the only possible ruling. Pointing to Gibson he shouted, "Yer out -- yesterday in Pittsburgh!"
At some point the anecdotal evidence simply becomes overwhelming, even if we know some of the anecdotes are less than 100 percent "true." I doubt that Josh Gibson ever hit a baseball completely out of old Yankee Stadium. But I don't doubt for a minute that Gibson could hit a ball just about as far as anybody.
Rob Neyer writes for ESPN Insider and regularly updates his blog for ESPN.com. You can reach him via rob.neyer@dig.com.
SPONSORED HEADLINES
MORE MLB HEADLINES
MOST SENT STORIES ON ESPN.COM