Devilishly effective pitch
Chad Gaudin started throwing a slider in Little League, and the Devil Rays' reliever has been perfecting it ever since.
Originally Published:
April 20, 2004
By
Buster Olney
| ESPN The Magazine
The failure to tame the slider has doomed the careers of hundreds and thousands of pitchers, who got lost in their long journey to control and command the subtle pitch. Their hands might have been too small, or they could never quite get the arm angle right, or they just couldn't put enough torque into the spin.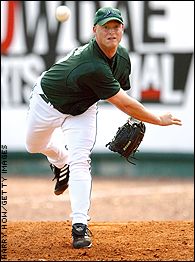 Chad Gaudin uses a curveball grip to throw his slider, which he learned in Little League.
Then there is Chad Gaudin, a 21-year-old right-hander for the Tampa Bay Devil Rays. Slider Master.
Gaudin was in Little League when a coach named Johnny Reynolds showed him the grip for the curveball. OK. Got it.
Then when Gaudin was in high school, his summer league coach, Chris Westcott, suggested he lower his arm angle when he threw with the curveball grip, to make the ball break laterally. Sure, no problem; yeah, looks good.
And now, a few years later, the right-hander is in the majors, using the same curveball grip he learned in Little League, throwing from a higher arm angle, unleashing a nasty slider that veers like a Wiffleball and getting out hitters with All-Star résumé. "It's real comfortable for me," he said the other day. "If I had to work on any pitch, that would be the last pitch that I would have to make an adjustment with."
If the bases were loaded and he had to throw a strike, Gaudin said, he would be more at ease throwing his slider than a fastball. It just feels right.
It's apparent from the way Tampa Bay manager Lou Piniella has used him that Piniella feels right about Gaudin. This season, Piniella has summoned him into the game three times to face right-handed hitters with runners on base: Alex Rodriguez twice, and Miguel Tejada.
A-Rod flied out in his first at-bat against Gaudin, on March 31, stranding two runners. On April 6, Gaudin entered the game with Kenny Lofton on first, and Rodriguez popped out. After left-handed hitting Jason Giambi singled, Gary Sheffield grounded out.
The next day, more of the same: Derek Jeter singled to open an inning against Gaudin, but Rodriguez bounced into a double play. Giambi doubled, before Sheffield grounded out. On April 11, Gaudin enticed Tejada to bounce into a fielder's choice, stranding two runners.
Gaudin has inherited five runners, and none have scored. He's pitched five innings, and has allowed no runs. Right-handed batters are 1-for-10 against him. "He could have a very long career if he maintains that slider," said an American League scout who saw Gaudin in spring training. "He's going to get a lot of right-handed hitters (out) with that thing."
Maintaining the slider has never been an issue for him. After Westcott suggested he drop down, Gaudin tinkered and practiced and learned to throw the pitch for strikes. The slider that he threw at Crescent City Baptist High School, in Harahan, La., actually had more break than his current version, Gaudin says; he would throw it at right-handed hitters, or even slightly behind them, and it would break on a flat, horizontal plane -- and the high school batters were helpless, of course.
Gaudin's Top Sliders in Baseball
1. Randy Johnson: "Looks like it comes from first base, real tight and sharp, fools a lot of hitters."

2. Jeff Nelson: "Breaks a hell of a lot, can throw it for strikes any time he wants; it's worked for him, that's for sure."

3. David Cone (retired).

4. John Smoltz: "He throws it 95,000 mph. How you can throw it that hard -- it's a gift."
Gaudin, raised in Louisiana, was drafted in the 34th round by the Devil Rays, the 1,009th player overall, lasting that long because of his modest size: He is listed at 5-foot-11, 165 pounds, in a sport where scouts prefer extra-large pitchers. He signed with the Devil Rays and was asked to raise his arm angle, to keep his slider from being too flat, to give it a sharper break. After a week or two of working with the new trajectory, Gaudin recalled, he felt comfortable with the slider again.
He was playing in an instructional league game against the Blue Jays and aimed his slider at a right-handed batter. As the ball neared home plate, the hitter dropped to the ground, to avoid being hit -- and the slider broke over the plate for a strike. Gaudin turned away from the plate to stifle his laughter, something that is considered bad form -- but all of the infielders and outfielders behind him were laughing.
Gaudin spun another slider at the batter, who dropped again -- only to see the ball break for another strike.
Gaudin was pitching in Class A last July, moved up to Double-A and threw a seven-inning no-hitter for Orlando. After being called up to the big leagues at the end of the year, he made three starts and 12 relief appearances for Tampa Bay, going 2-0 with a 3.60 ERA.
Nobody has outlined Gaudin's role to him, not that he needs any explanation. "I'll do whatever it takes," he said. "Middle relief, set-up, starter, whatever it may be."
There will always be a place for a Slider Master.
Buster Olney is a senior writer for ESPN The Magazine.
Senior Writer, ESPN The Magazine
Senior writer ESPN Magazine/ESPN.com
Analyst/reporter ESPN television
Author of "The Last Night of the Yankee Dynasty"
EDITORS' PICKS
Lloyd McClendon is 'carrying the torch' as MLB's only black manager.
Jerry Crasnick »

Josh Hamilton had a drug relapse involving the use of cocaine and alcohol.
Story »

The SportsCenter spring training tour has been all over Florida and Arizona.
Tour schedule »

MOST SENT STORIES ON ESPN.COM