All hustle, all the time
The ESPN.com All-Hustle Team includes Jason Varitek, whose mindset epitomizes how the game should be played.
Originally Published:
May 5, 2004
By
Buster Olney
| ESPN The Magazine
Some executives and scouts were polled to determine the game's best hustlers -- players who go all-out, all the time. This is the consensus ESPN.com All-Hustle Team:
| | |
| --- | --- |
| | |
| | Helton |
FIRST BASE:
Todd Helton, Colorado: "Into the game on every pitch," said a GM. Honorable mention: Doug Mientkiewicz, Minnesota; Darin Erstad, Anaheim.
SECOND BASE:
Fernando Vina, Detroit. Anyone who got run over by Albert Belle and survives has to be tough. Honorable mention: Marcus Giles, Atlanta; Orlando Hudson, Toronto.
THIRD BASE:
Scott Rolen, St. Louis. A unanimous choice. "I don't know why Larry Bowa would have had a problem with anything he does," said one scout. Honorable mention: Alex Rodriguez, Yankees; Mike Lowell, Florida.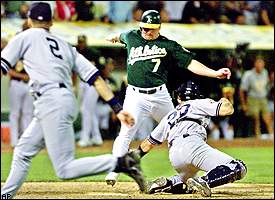 Derek Jeter (2) makes one of the great hustle plays of all time in the 2001 Division Series.
SHORTSTOP:
Derek Jeter, Yankees. "I've probably seen him play at every level since he signed out of high school," said one executive, "and I've never seen him not run as hard as he could to first base. He does it every time." Honorable mention: David Eckstein, Anaheim; Miguel Tejada, Baltimore.
OUTFIELD:
Ichiro Suzuki, Seattle. Consistently among the fastest down the line. Plays the game the right way.
Juan Pierre, Florida. "He's fast, but you never see him at anything less than full-speed," said a scout.
Andruw Jones, Atlanta. "He's so smooth that he can fool you, because he makes everything look easy," said a GM. "But you never, ever, seen him hold back from going after a ball in the outfield. Never."
Honorable mention: Mike Cameron, Mets; Torii Hunter, Minnesota; Dave Roberts, Los Angeles; Larry Bigbie, Baltimore. Bernie Williams, Yankees; Rocco Baldelli, Tampa Bay; Steve Finley, Arizona; Scott Podsednik, Milwaukee.
| | |
| --- | --- |
| | |
| | Varitek |
CATCHER:
Jason Varitek, Boston. "The epitome of what a leader is, with the way he plays and the way he goes about the game," said a rival GM. Honorable mention: Jorge Posada, Yankees; Paul Lo Duca, Los Angeles.
UTILITY:
Craig Counsell, Milwaukee. "That guy doesn't know anything other than playing as hard as he can," said one GM.
PITCHER:
Dontrelle Willis, Florida. "You cannot play with more passion for the game than that guy has," said an executive. Honorable mention: Tim Hudson, Oakland.
Buster Olney is a senior writer for ESPN The Magazine.
Senior Writer, ESPN The Magazine
Senior writer ESPN Magazine/ESPN.com
Analyst/reporter ESPN television
Author of "The Last Night of the Yankee Dynasty"
EDITORS' PICKS
Martin Prado was a big pickup for the Marlins.
Buster Olney

James Shields believes the Padres are contenders.
Watch

Will a high contact rate be a problem for Stephen Strasburg going forward?
Tony Belngino

MOST SENT STORIES ON ESPN.COM