Twins find ideal role for Silva
Carlos Silva's perfect start has gone largely unnoticed, except in Minnesota where he's thrived as a starter.
Originally Published:
May 14, 2004
By
Buster Olney
| ESPN The Magazine
The Minnesota Twins wanted to move Eric Milton's $9 million salary last fall and as they began talking to the Phillies about a deal for the veteran lefty, they quickly asked about Carlos Silva. He was perfect for a lower middle-class team like the Twins: young at 24 years old, cheap at $340,000 annually, and poised to contribute after throwing his heavy sinker for a couple of years in middle relief in Philadelphia.
The Twins wanted Silva. They just weren't exactly sure what they were going to do with him. "Nobody at the time of the trade," said Minnesota GM Terry Ryan, "could've told you he would be a successful-type starter."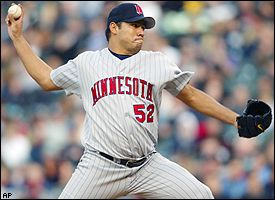 Carlos Silva is among the shaky starters in the Twins' rotation.
But Twins manager Ron Gardenhire tried Silva in the rotation this spring, following up on an idea originally kicked around in the Phillies' organization last year, and Silva is 5-0. He is a primary reason why Minnesota leads the AL Central despite significant turnover since last year and a rash of early season injuries. Milton is 3-0 with a 4.36 ERA for the Phillies.
"That's the way you'd want a deal to work out, for both sides," said Ed Wade, the Philadelphia GM. "We're not completely surprised with the success (Silva) has had."
Last summer, Phillies pitching coach Joe Kerrigan raised the possibility of shifting Silva from the bullpen to the rotation, recalling how a pitcher with a nasty sinker like Silva's had successfully made that shift for Kerrigan before. Derek Lowe had been the Red Sox's closer, pitching inconsistently, but then had immediately thrived after becoming a starter.
Silva, like Lowe, gives up a lot of hits, pounding the strike zone with his sinker. But because his fastball moves so much, "you're not going to get a lot of great contact facing him," Wade said.
For the Phillies, however, test-driving a new starter in the midst of a pennant race would have been an enormous gamble; Philadelphia already was stacked with young starters and needed experience and predictability. As they recast their staff for 2004 and prepared to open a new ballpark, they again looked for experience.
Gardenhire knows Kerrigan and Phillies manager Larry Bowa, and once the trade for Silva and utility infielder Nick Punto was complete, he asked them about Silva, and was encouraged to try him in the rotation.
Silva worked as a starter in winter ball, preparing for the possibility; in his time in Philadelphia, he had been mentored by Jose Mesa, learning about how to work daily, about how to prepare to pitch. If Silva ever got a chance to be a starter again, Ryan thought, he was going to make sure he would take advantage of it. It is a matter of time and place, said Wade, a matter of stepping into the right situation at the right time.
Silva has worked in a couple of other pitches, a changeup and breaking ball, and he is not purely a groundball pitcher. His ground-ball to flyball ratio of 1.27 this season is about average, nothing like Lowe, whose ratio has been higher than 3 to 1 at times. But Silva is a contact pitcher: He throws strikes, the batters put the ball in play, and the Twins defense does the work.
He has walked only eight batters in 46.1 innings this season, allowing 53 hits, and averaged just 3.88 strikeouts per nine innings. He allowed one earned run in seven innings in his most recent start, a no-decision against Seattle on Tuesday.
"Carlos is going to give up a lot of hits," said Wade, "but if he can have command and be efficient in the strike zone, he'll be fine."
Buster Olney is a senior writer for ESPN The Magazine.
Senior Writer, ESPN The Magazine
Senior writer ESPN Magazine/ESPN.com
Analyst/reporter ESPN television
Author of "The Last Night of the Yankee Dynasty"
SPONSORED HEADLINES
MORE MLB HEADLINES
MOST SENT STORIES ON ESPN.COM
EDITORS' PICKS
Corey Kluber and six others should get contract extensions.
Bowden

The Rangers are among those hoping for a 2015 do-over.
Olney

Is Yasiel Puig among the worst baserunners ever?
Schoenfield »