Jeter on path to mediocrity
While Derek Jeter is the face of the Yankees' winning ways, he's personally regressing as a hitter.
Originally Published:
May 18, 2004
By
Buster Olney
| ESPN The Magazine
Early in Derek Jeter's career, Tim Raines predicted the Yankees' shortstop would evolve into a power hitter of enormous production. He certainly has the strength, Raines noted, mentioning how Jeter could hit titanic home runs to straightaway center field, and he makes consistent contact. With a little experience, Raines suggested, Jeter might average 30 to 40 homers a year.
Raines backed off that prediction the next spring -- completely. The problem is, Raines explained, is that Jeter loves to hit too much.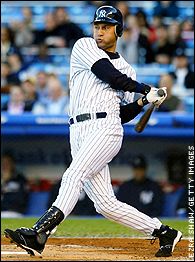 Derek Jeter is batting just .195 with two home runs in 36 games this season.
It's an instinct that probably rooted within Jeter when he was a boy: See the ball, hit the ball. Attack. Be aggressive. He learned to smack line drives to all fields, fighting off inside pitches and banging them to right field, an extraordinary skill for a right-handed hitter.
And Jeter continues to be the same type of hitter he was when he established himself with the Yankees in 1996. See the ball, hit the ball. Attack. Be aggressive. He loves to hit, swinging confidently, the approach that made him an All-Star.
What he did not do as a rookie in '96, when he hit .314, and what he does not do now, when he's hitting .195, is stalk pitchers in the ball-strike count. He does not wait for the count to ripen into his favor; he is not apt to see many 2-0, 2-1, 3-1 counts, when the hitter can lay back and wait to ambush a pitch in a particular part of the strike zone. That's what many great hitters do.
That's what Barry Bonds does. Somewhere along the way, Bonds conquered that instinct for hitting -- the love for swinging the bat -- and will wait for pitchers to throw strikes. Other players marvel at Bonds' discipline; no matter long it's been since a pitcher actually threw him a strike, no matter how good he's feeling at the plate, Bonds has tamed that desire to swing. If the pitch is out of the strike zone, Bonds will almost never swing.
Jeter does not have that discipline. He's had 159 at-bats this season, 54 of which -- about a third -- have been resolved within the first two pitches. He has 10 walks. By comparison, the Royals' Carlos Beltran has had 24 at-bats of two or fewer pitches among 131 at-bats, less than 18 percent.
As a hitter, Jeter has not evolved in the way Bonds or even Yankees teammate Jorge Posada have -- they've learned to corner pitchers with the count, and jump them when they fall behind.
When pitchers work to Bonds, they know they must operate precisely, as if driving a Hummer on a mountain ledge. Pitching to Jeter, by comparison, is like steering a dune buggy across the Sahara. Lots of room to maneuver.
Jeter will swing at pitches low and inside, low and outside, up and in. Pitchers know this. He loves to swing, and he gets his hits. Jeter has racked up 190 or more hits six times, and by the time he reaches his 30th birthday in June, Jeter will approach 1,650 hits for his career.
Jeter also had 99 or more strikeouts in seven seasons, and his on-base percentage has mostly ranged between .370 and .400. With the exception of 1999, when Jeter drew 91 walks, he has accumulated about 45 to 75 walks per season.
Jeter's at-bats tend to get more focused in the postseason; his plate discipline improves as he picks and chooses from pitch to pitch. During the regular season, however, he is what he is, and what he probably will always be, without evolution. He's an aggressive hitter who swings away, a hitter whose offensive valleys -- like that in which he currently resides -- will be made deeper because of his lack of discipline.
His greatest gift is that he loves to hit. That's also his biggest problem now.
Buster Olney is a senior writer for ESPN The Magazine. His book, "The Last Night of the Yankee Dynasty," will be released later this summer, and can be pre-ordered through HarperCollins.com.
Senior Writer, ESPN The Magazine
Senior writer ESPN Magazine/ESPN.com
Analyst/reporter ESPN television
Author of "The Last Night of the Yankee Dynasty"
SPONSORED HEADLINES
MORE MLB HEADLINES
MOST SENT STORIES ON ESPN.COM
EDITORS' PICKS
With spring training quickly approaching, where may James Shields still fit?
Buster Olney

Think the NFL has greater parity than MLB? Think again.
Jayson Stark »

Ron Roenicke and Don Mattingly are among managers already on the hot seat.
Jim Bowden