Mets must gamble to 'win now'
Originally Published:
December 1, 2004
By
Buster Olney
| ESPN The Magazine
So who are the New York Mets, anyway?
You might think they are a rebuilding team, because the starters on the left side of their infield have combined for as many years as Roger Clemens (42). And as good as David Wright looked in 2004 and as good as Jose Reyes might be some day, it's never easy to contend with youngsters. The Mets' projected second baseman for 2005 still needs to learn how to play his new position. The Mets have a first-year manager, and typically, newcomers like Willie Randolph are brought in to teach young and developing teams.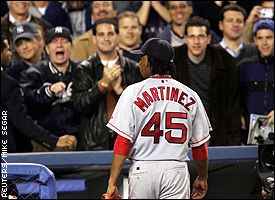 Pedro Martinez hasn't exactly endeared himself to New Yorkers.
But maybe you don't think they are a rebuilding team. Maybe you think they still have a couple of turns on the downward spiral. The Mets still haven't figured out what to do with Mike Piazza, a Hall of Fame catcher who stopped playing like a Hall of Famer a couple of years ago. Their left fielder is Cliff Floyd, a lumbering left fielder who ranks among the players most poorly suited for their home park. Their ace pitcher is Tom Glavine, who may reach 300 victories but may not be around by the time the Mets are a good team again.
But maybe you are Omar Minaya, the new caretaker of the Mets' baseball operations. Maybe you think the Mets are ready to contend. Now.
That's the only sound rationale for making a three-year, $38.5 million offer to 33-year-old Pedro Martinez this week: Minaya is apparently dedicating himself to transforming the Mets from a debacle into a contender in the next four months. The Mets cannot possibly do this without taking gambles, and if they envision themselves as NL East champions in 2005, then Martinez is the best gamble they can take.
A more careful, conservative assessment of the Mets -- something that should have been the modus operandi last July, and into this winter -- is that this is a franchise in need of reconstruction. The Mets were beginning to build, with Wright and Reyes, and Scott Kazmir was on the way. But Kazmir was dealt, the Mets paid twice for Kris Benson -- first with prospects and then a top-of-the-market contract -- and Victor Zambrano is now penciled into the rotation.
And you know what? If the Mets actually outbid the Red Sox and sign Martinez -- by bumping up the annual salary they are offering or by including a reasonable vesting option for a fourth year -- then the team could have a pretty good rotation, in what is a decidedly mediocre division.
No. 1: Martinez, who went 16-9 with a 3.90 ERA last year and would benefit tremendously from the shift from the AL to the NL. The 100 pitches he is good for in his starts would translate into six or seven innings with the Mets, rather than five-to-six.
| | |
| --- | --- |
| | |
| | Benson |
| | |
| --- | --- |
| | |
| | Glavine |
No. 2: Glavine.
No. 3: Benson, who is slowly maturing into a solid major-league pitcher.
No. 4: Steve Trachsel, a hard-working grinder who may never be dominant but will almost always be competitive.
And No. 5: Zambrano, who has good stuff when he's healthy.
Yes, there would still be holes in middle relief, a need for a decision on Piazza, a spot for a run-producing corner outfielder. And even if the rotation is theoretically upgraded, the potential for disaster is very high. Glavine is as risky as any pitcher almost 40 years old. There's a chance that Benson's wife, Anna, will be in the tabloids more than the pitcher. Zambrano's had elbow problems.
And anybody who saw Pedro Martinez pitch the last few years knows he's simply nowhere near the type of pitcher that he was in 1999 or early in 2000. His velocity sometimes dips into the mid-80s, he tends to struggle in cold weather, and he reportedly has a tear in his shoulder. The Red Sox have so many concerns about Martinez that, as the Boston Globe reported Wednesday, they have no interest in adding a fourth year to their offer. If Martinez threw a shutout on Opening Day for the Mets and then walked off the mound in his second start holding his shoulder, never to pitch again at Shea Stadium, few baseball officials would be completely surprised.
There are red flags all over the place on this proposed alliance with Martinez, not the least of which is his reputation as a difficult clubhouse presence (some members of the Red Sox say that manager Terry Francona often overlooked Martinez's transgressions simply because he realized that to confront Martinez and ask him to step into line would be to invite even greater problems).
But you are Omar Minaya and you are ready to take chances. Your team is trying to re-establish itself, preparing to create its own television network in '06. That's why you're negotiating for the likes of Sammy Sosa (a big name which makes no sense whatsoever), even challenging George Steinbrenner for control of the winter's back pages. If you think you can contend next summer, then maybe you take the next step and make damn sure you get the best available free-agent pitcher -- Pedro Martinez.
Buster Olney is a senior writer for ESPN The Magazine. His book, "The Last Night of the Yankee Dynasty," is a New York Times best seller and can be ordered through HarperCollins.com.
Senior Writer, ESPN The Magazine
Senior writer ESPN Magazine/ESPN.com
Analyst/reporter ESPN television
Author of "The Last Night of the Yankee Dynasty"
EDITORS' PICKS
Ranking the World Series players, 1-50.
Jim Bowden

Buster Olney breaks down 10 keys matchups in the World Series.
Story

How can the Giants beat Herrera, Davis and Holland?
Blog »