Practice makes perfect
While Ichiro is a slap-hitting machine, he's also incredibly accurate when throwing the ball.
Originally Published:
February 4, 2005
By
Buster Olney
| ESPN The Magazine
It was an event once seen in every ballpark before virtually every game, something that scouts built their lives around. A coach for every team was assigned to specifically prepare for this well-coordinated operation, circling through the clubhouse about 45 minutes before the first pitch and checking with players to make sure everybody was ready to go.
Within the baseball universe, it's called Taking Infield: A coach standing near home plate spends about 10 minutes hitting grounders and fly balls to players in all positions other than pitcher. The infielders glove and throw slickly, gliding to cover their bases and whirling and whipping the ball to fellow infielders. The outfielders pursue fly balls and ground balls and throw to every base other than first; this is what scouts loved the most, for the opportunity to gauge the most accurate outfield arms, the best throwing mechanics.
The consensus among some scouts and executives is that Mariners right fielder Ichiro Suzuki currently has the most accurate arm in the majors, and that Yankees left fielder Hideki Matsui has the quickest release. And it's probably not a coincidence that two players who spent most of their professional lives in Japan are considered the masters of these skills in the majors. Odds are that they've simply practiced throws from the outfield a lot more.
Major league outfielders here throw before games, warming up with a teammate before taking fly balls and grounders hit by a coach stationed on the left field or right field foul line. But outfielders usually don't recreate throws to the bases from the same angles of plays that occur in games; imagine a basketball player shooting only from the top of the key prior to games, before trying to shoot from the corners during actual play. And generally, scouts agree, the outfielders here don't seem to throw as much as they once did, when teams took infield.
Within the last decade, pre-game infield has become nearly extinct, disappearing steadily but almost inexplicably. "It was just one of those things that broke teams apart," e-mailed Bobby Valentine, manager of the Chiba Lotte Marines and a former manager of the Mets and Rangers. "The young guys would take it every day and superstars would not."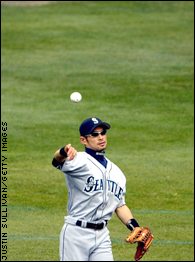 Ichiro had 12 outfield assists last season.
In Japan, however, all players practice making throws from their positions regularly. "We take infield and outfield practice every day," Valentine wrote. Matt Franco, a former Met and Brave, played for Valentine in Japan and noted the change, telling Valentine "that he was with the Braves for two years and never once took infield."
Gary Denbo, a former hitting coach of the Yankees and currently a coach with the Nippon Ham Fighters, also believes that Japanese outfielders throw more accurately. "The Japanese coaches and players focus more on the footwork prior to the catch and throwing mechanics more than most American clubs," Denbo e-mailed. "The Japanese teams also take infield every day prior to the game. It's a matter of attention to detail, as far as I'm concerned."
And Ichiro is precise in everything he does, always moving into position to set his feet before catching the ball and throwing. "He has a powerful arm," says one NL scout, "but the thing you have to respect about him is that every throw is right on the mark. Every throw to second base gets there on the fly or on one hop, every throw through the cut-off man is where it should be.
"It doesn't matter where he's throwing from -- the wall, the foul line, the gaps. You see other guys with stronger throwing arms, like Vlad (Guerrero), but they'll be off target sometimes. He isn't. He and Larry Walker, to me, are the most accurate."
Matsui does not have a powerful arm, and he does not intimidate runners. But he does impact decisions by runners and first and third base coaches because of how quickly he releases the ball -- rapidly transferring the ball from his glove to his bare hand and throwing in one impossibly smooth motion, an outfielder's version of Three Card Monty. It was a skill he honed in Japan.
| | | |
| --- | --- | --- |
| | " | It doesn't matter where he's throwing from -- the wall, the foul line, the gaps. You see other guys with stronger throwing arms, like Vlad (Guerrero), but they'll be off target sometimes. He isn't. " |
| | | — An NL scout on Ichiro |
"The constant practice," Valentine e-mailed, "makes the transfer of the ball from glove to hand much quicker."
Some of the milliseconds lost because of his average arm strength are made up with his quick throws to the cut-off men. During a game at Yankee Stadium on May 14, 2003, Matsui and Derek Jeter nearly combined to throw out Anaheim's Scott Spiezio at home on a relay when Spiezio tagged up at third on a fly ball. Yankees manager Joe Torre said at the time that it was a play he had never seen before.
"The practice is to get the ball quicker," Valentine e-mailed, "and to keep your balance and momentum going through the ball. If you keep your dynamic balance, if you stay online, you will be more accurate and the transfer of energy will occur."
These are mechanics major league outfielders practice less than they once did.
Buster Olney is a senior writer for ESPN The Magazine. His book, "The Last Night of the Yankee Dynasty," is a New York Times best seller and can be ordered through HarperCollins.com.
Senior Writer, ESPN The Magazine
Senior writer ESPN Magazine/ESPN.com
Analyst/reporter ESPN television
Author of "The Last Night of the Yankee Dynasty"
SPONSORED HEADLINES
MORE MLB HEADLINES
MOST SENT STORIES ON ESPN.COM
Majestic Youth New York Yankees Ichiro Suzuki #31 Navy T-Shirt Shop »