Palmeiro's silence condemning
Rafael Palmeiro's suspension for steroid use is something that will forever taint his image.
Originally Published:
August 1, 2005
By
Buster Olney
| ESPN The Magazine
Rafael Palmeiro jabbed his finger at the congressmen on March 17 and insisted he did not use steroids, much like Bill Clinton at the moment the former president said he did not have relations with that woman, Ms. Lewinsky.
Turns out the parallels might go deeper than that. Turns out Palmeiro might not have been telling the truth, either.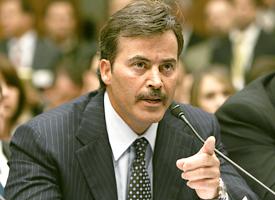 APRafael Palmeiro strongly stated in Washington back in March that he never used steroids.
In a statement released Monday through the Orioles, Palmeiro denied taking steroids. "I am here to make it very clear that I have never intentionally used steroids," he said. "Never. Ever. Period."
Then, on a conference call, he read his statement before declining to answer the many unanswered questions about his case: What he tested positive for; when he tested positive; when his case went before the arbitrator; how the whole thing could've taken place. "I would love to tell what happened to me, so everyone would understand," he said.
To that I respond: Tell your whole story, Raff. Tell us how, when, why, what, everything. Until then, I'm not buying a word of what you say.
You can't talk because of a confidentiality agreement? Please. A total smoke screen. The confidentiality stuff is built into this to protect him. Bud Selig can't talk about his case. Don Fehr can't talk about his case. Nothing is preventing Rafael Palmeiro from talking about his case other than Rafael Palmeiro.
This is the same as if a client said he couldn't talk about his case because of lawyer-client privilege. It's an embarrassing way to avoid the issue, and it was particularly shameless because Palmeiro also insisted that he wants to help kids and educate everybody on the issue. Thanks so much.
(Along the same lines: Now that the BALCO case is resolved, we'd love to hear from Jason Giambi about his steroid use. Remember how he said the ongoing court proceeding was the reason -- wink-wink -- he couldn't talk about steroids? Or he could simply come out and say he can't talk about it because of his existing contract, rather than referring to his civic responsibility.)
But even if Palmeiro dodged the questions Monday, he'll never escape the black cloud of steroids that will chase him right into his retirement. He's the most prominent player tested under baseball's new drug-testing policy to be connected directly to steroids -- through a suspension, not leaked grand-jury testimony published in a newspaper.
| | |
| --- | --- |
| | Tell your whole story, Raff. Tell us how, when, why, what, everything. Until then, I'm not buying a word of what you say. |
It'll almost certainly cost him a first-ballot induction into the Hall of Fame and will affect his chances of ever getting in. I'll vote for him because there aren't any absolute methods for separating the cheaters from players who were clean. How can you justify not voting for Palmeiro because of steroid use while casting ballots for one of the many stars who I absolutely believe used steroids (without empirical evidence)?
No, I'll vote for Palmeiro, gritting my teeth, and others probably will too, and someday he might be inducted. Maybe, standing on that podium at Cooperstown, that'll be the time he'll decide to tell us what really happened. Until he tells the whole truth, I don't want to hear anything he's got to say.
Buster Olney is a senior writer for ESPN The Magazine. His book, "The Last Night of the Yankee Dynasty," has been released in paperback and can be ordered through HarperCollins.com.
Senior Writer, ESPN The Magazine
Senior writer ESPN Magazine/ESPN.com
Analyst/reporter ESPN television
Author of "The Last Night of the Yankee Dynasty"
SPONSORED HEADLINES
MORE MLB HEADLINES
MOST SENT STORIES ON ESPN.COM
Palmeiro Tests Positive
Orioles slugger Rafael Palmeiro was suspended 10 days for violating baseball's steroid testing policy. Story • Documents on way to House
• Congress might intervene
• Union might file grievance
• O's cancel Palmeiro ceremony
• Stanozolol easily detected
• Congress to get results
• Perjury charge for Palmeiro?
• Steroid reportedly revealed
• Crasnick: Polling voters

• Stark: Give him a Hall pass
• Wojciechowski: Say what?
• Olney: Raffy tainted forever
• Keown: Legacy shot
• Ratto: Jose got it right
• Canseco comments

• Vote: Hall of Famer?
• PTI: Fame or shame?

• 2005 steroid violators
• Palmeiro speaks out

• Legal trouble?

• Perjury charges rare
• Potent steroid used

• Who's to blame?

• Palmeiro's 3,000th hit
• Baseball's steroid testing policy
• Canseco on Raffy

• Palmeiro: Era tainted
• Hearing statements