Commentary
Don't underestimate Torre's impact on Yankees
Originally Published:
October 18, 2007
By
Buster Olney
| ESPN The Magazine
Joe Torre never spent hours poring over statistics or videotape like a lot of young managers do these days. He wasn't a workaholic type who obsessed about getting to work earlier than his peers. He would have a nice lunch, and then he would shave cleanly after games -- wins or losses -- as he prepared for a late dinner at a restaurant.
It has never been his style to simmer in the aftermath of success or failure, after all. In an era when managers seem to put in more hours than first-year lawyers or hospital residents, Torre might've put in the fewest office hours of any manager in the game.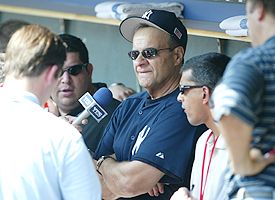 John Grieshop/MLB Photos/Getty ImagesSo much of what Joe Torre does well won't be fully defined and appreciated until after he's gone.
But Torre could delve deeper into the heart of his clubhouse in a 30-second conversation with a player than some managers can in a whole season. He could make the intense
Paul O'Neill
laugh dolefully at himself, or ask
David Cone
or
Mike Mussina
for a suggestion, or stop a slumping youngster at his door with a shout:
Hey, kid, how you doing?
When Scott Brosius went to him, late in the season in 1999, and told him that he needed to go see his dying father, Torre did not hem or haw or hesitate or fret about violating a century of old-school baseball protocol. Rather, he told Brosius to go home, to be with his dad. When he removed 45-year-old
Roger Clemens
in the third inning of Game 3 of the Division Series with a fatherly pat on the cheek, it was not the gesture of a manager commiserating with a star who had had a bad night. It was Torre acknowledging, for Clemens' sake, that he knows that Clemens tried, that he knows that for six seasons, Clemens always tried, always cared. Torre's voice cracked when he spoke late Monday night, but not referring to his own situation -- he seemed resigned to his fate -- but when he mentioned his Yankees' effort and their passion. He was not above playing favorites, of course, and some players felt the dark glower of his stare. He wasn't a Pollyanna who liked everybody no matter what. He didn't care for
David Wells
, or
Jeff Nelson
, and some of his relievers felt he mistreated them with the workload he foisted upon them. He hung out outfielder Chad Curtis publicly during the 1999 World Series, after Curtis refused to talk with NBC reporter Jim Gray, and even after teammates exonerated Curtis and told Torre that the outfielder had done what they all had agreed to do, Torre never set the record straight. On the other hand, Torre vehemently defended Clemens after the bat-throwing incident in the 2000 World Series, in a way that he did not defend Curtis.
Torre Coverage
ESPN will have live coverage Friday of Joe Torre's 2 p.m. press conference from Rye, N.Y., plus the latest news on the Yankees' manager search:
• SportsCenter Special (ESPN, 1-3 p.m. ET)
But mostly, his players, including Curtis, sensed that he cared deeply about them as people, and was never a fairweather manager who took their slumps as personal affronts, like many managers and coaches tend to do. He treated them like men. Torre brilliantly managed George Steinbrenner and the New York media in the same way: He recognized the implicit threat that each force represented, and while he understood that neither could be ignored nor bullied, he never surrendered his dignity to either along the way. Unlike some of those who preceded him as Yankees manager, he would not hide from Steinbrenner in the worst of times, taking the initiative to pick up the phone and call the owner, to be accountable, to commiserate, and above all else, to defuse, as best he could, any growing storm. But he would also hold his ground when necessary, sometimes using a well-honed cutting comment, with just the right amount of sarcasm, to knock Steinbrenner back on his heels a bit, to remind him that he -- Torre -- had played and managed for almost 40 years and that Steinbrenner had not. Yankees staff members who were in the room for organizational meetings were awed by how adept Torre could be in dealing with Steinbrenner, in making it clear that some of his craziest ideas were horrible, exploiting Steinbrenner's own insecurity about his baseball knowledge, without inciting a confrontation. He treated reporters as equals and generally did not play favorites. He answered their questions as honestly and respectfully as possible, without openly currying favor -- and in that way, favor was curried naturally. As a beat reporter who covered the Yankees for four years, I had the same kind of relationship that most of the reporters had with him -- he dealt with me fairly, at arm's length. The joke among the beat reporters was that while Torre certainly knew the names of the individual reporters and would offer a smile and a nod, years would pass before he referred to them by name, if ever. In the summer of 2000, the year after Torre was diagnosed with and treated for prostate cancer, the Metro desk at my paper, The New York Times, got a tip through the source at the mayor's office that Torre's cancer had returned. After his usual pregame meeting with reporters that day, in Detroit, I pulled Torre aside and asked him if this was true. It was not, and I could see in his face how taken aback he was by the question. Nothing about this ever appeared in the paper, of course.
While many managers can crunch numbers and know the game, it remains to be seen whether anyone can usher the Yankees through the gantlet of crises the way that Torre has.
The next day, he called me into his office alone, and with controlled anger, told me he thought my question was extraordinarily inappropriate, and beneath the tradition and dignity of The New York Times. He was livid, at the paper, at me. And after I left his office, he never mentioned the issue again, and never treated me any differently than he had before -- professionally, courteously, openly, and at arm's length. He was never warm with me, and yet, when my wife bumped into Torre and his wife at an event and introduced herself, he could not have been more gracious and gregarious with her. Other managers will work harder than Torre, put in more time. His successor might handle the Yankees' pitching staff better than Torre, and moving forward, the team could benefit from statistical analysis in a way that it hasn't over the last 12 years. The lineups and lineup choices might be more informed. But while many managers can crunch numbers and know the game, it remains to be seen whether anyone can usher the Yankees through the gantlet of crises the way that Torre has. The organization naturally veers toward chaos, because of the insatiable owner and media and fan base, and Torre mostly steered around all that, turning and deflecting. I always will believe that during the 1996-2001 dynasty,
Mariano Rivera
was the only uniformed member of the organization more important to the Yankees' success than Torre. They could not have won so much without him, and it remains to be seen if any Yankee manager can ever be as successful or as adept as Joe Torre.
Buster Olney is a senior writer for ESPN The Magazine. He updates his Insider blog each morning on ESPN.com.
Senior Writer, ESPN The Magazine
Senior writer ESPN Magazine/ESPN.com
Analyst/reporter ESPN television
Author of "The Last Night of the Yankee Dynasty"
YANKEES IN TRANSITION

Joe Torre's 12-year tenure with the Yankees came to an end after he turned down a one-year, $5 million offer to return as their manager. Joe Girardi has agreed to a three-year contract to be Torre's successor.


News
•
Dodgers' Little resigns; no word on Torre
•
Yankees hire Girardi to manage
|
Changes
•
Mattingly still wants to manage
•
Reports: Torre could head to Dodgers
•
Report: Hank Steinbrenner fires back at Torre
•
Torre: Pay cut, incentives doomed deal
•
Torre turns down offer to return as skipper
•
Shock, sadness greet Torre's departure
•
Possible Torre successor hired to manage K.C.
Analysis
•
Kreidler: Torre, A-Rod would sure help L.A.
•
Law: Girardi is perfect choice

•
Neyer: Girardi was obvious choice

•
Gammons: Yankees will survive

•
Torre, A-Rod could help some team win
•
Nelson: Torre changing his stripes
•
Klapisch: Will FAs follow Torre out of Bronx?
•
Neyer: Torre headed for Cooperstown

•
Olney: Torre led pinstripes with class
•
Olney: How it ended for Torre
•
Olney: Torre survived a dozen seasons
SportsNation
•
Rank the all-time managers
•
What's next for Yankees?
Audio
•
Jayson Stark on SportsBash:

•
Michael Kay Show: Bowa, Gammons, O'Neill
•
Jim Leyritz: It's Series or bust

•
Dusty Baker: Torre did right thing

•
Michael Kay: Yanks' offer was fair

Photo Gallery
•
A Bronx legend

MOST SENT STORIES ON ESPN.COM