Bonds is second-best at best
Updated:
August 26, 2004, 3:52 PM ET
By
Ray Ratto
| Special to ESPN.com
With all his numbers and all his presence and all the flop sweat he induces in others, Barry Lamar Bonds is NOT going to be the National League's Most Valuable Player, and here's why.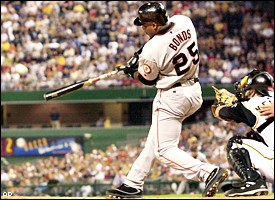 APThere haven't been many opportunities for Barry Bonds to swing his bat again this season.
Because.
That's it. Just because. Sure, that's a third grader's answer, but hey, this is the free part of the Internet. How much analysis do you actually want to pay for?
In fact, there are three compelling reasons why he won't get his fourth straight souvenir keychain from the 32 MVP voters of the Baseball Writers Association of America.
Jose Alberto (Albert) Pujols.
Scott Bruce (Scott Bruce?) Rolen.
The rest of the St. Louis Cardinals, from Walt Jocketty and Tony La Russa on down.

Those three reasons lead to a fourth -- people are looking for someone else to vote for, and both Pujols and Rolen are very viable candidates indeed.

And before we get any further along with this, let us also share with you a reason that really isn't one -- BALCO.

There is no BALCO backlash here, because the conventional wisdom shouts with one voice that the American League MVP is Gary Sheffield, who is as much a part of the BALCO story as Bonds. In short, whatever else a non-Bonds vote might be, it isn't a BALCO vote.

No, let's focus instead on the two other candidates and the one thing they have in common.

The best team in baseball.

The Cardinals have been laughing at the rest of the National League almost from its start, a measure of how complete a team Walt Jocketty has built. Indeedy doo, by focusing on Pujols and Rolen, we are probably shorting Jim Edmonds here, but why convolute things by throwing in extraneous worthy candidates?

This association with the best team is typically, and rightfully, very helpful to MVP candidates, because value is defined by what you do to make your team as good as it can be, and there isn't a lot of head room between where the Cardinals are and how much they can improve. That's why Todd Helton hasn't gotten any MVP trophies yet.

And Bonds ... well, he's coming with his typically ridiculous numbers, and a team with a decent but not overwhelming shot at October.

And yes, let's talk numbers. Bonds not only leads baseball in most of your telling statistics (on-base percentage, slugging percentage, OPS and most of your other miscellaneous what-is-that-an-acronym-for numbers), he also has the best and worst stat ever.

Those zany walks.

Through Wednesday's action, he had nearly twice as many walks as the wildest pitchers in the major leagues, Victor Zambrano and Brandon Webb. He had more than twice as many as the American League leader, Jorge Posada, and about 80 more than second-place stroller Lance Berkman. He has just passed the three-mile mark in walks this year.

All that walking is a tribute to Bonds' ability to make his games revolve around him, but it makes for damned bad television. You can't make good highlights, or even decent cutaways, out of Bonds' typical at-bat, which goes like this:

Ball one, low.

Ball two, up and away.

Strike one, called.

Ball three, low.

Bonds takes off his breadboard-sized elbow pad.

Ball four, down and away.

Bonds looks imperious yet disgusted and walks to first.

Oo-eee, that's good viewing.

Now the last time Bonds didn't win the trophy, 2000, the guy who did, Jeff Kent, drafted Bonds well enough to put up his own career numbers. And in truth, Bonds benefited from Kent's presence behind him as well, and we know this because he walked only 117 times, and only 22 times intentionally.

In addition, Kent hit what will be about 50 points higher, with about 15 more homers and 30 more RBI than the parade of hitters (mostly Edgardo Alfonzo, J.T. Snow, Michael Tucker and A.J. Pierzynski) Felipe Alou has put behind Bonds this season. That, plus the new fashionable nature of pitching around Bonds at all costs, has left the left fielder with about 60 percent as many swings at Pujols and Rolen.

But you can't just pro-rate seasons. You can only vote on what is, and while Bonds presence in a game is still breathtaking, he is still not playing for the Cardinals (and one can only guess how long he and La Russa could co-exist, with the over-under being about six weeks), and voters are going to conclude that being a great player on the Cardinals counts for more than being a great player on the second-best team in the NL West.

Just a hunch, this is, but as hunches go, it's a damned fine one.

The only things Bonds can do now to get our attention is to (A.) hit his 700th homer, which he'll likely do sometime in the last two weeks of the year and (B.) hit it in conjunction with putting the Giants into the wild-card spot.

Otherwise, our well-honed sense of wanting to get ahead of a coronation will get the best of us again. Because, this year, and until the postseason starts, it's just better being a Cardinal. Nearly any Cardinal, as far as that goes.

Ray Ratto is a columnist with the San Francisco Chronicle and a regular contributor to ESPN.com
SPONSORED HEADLINES
MORE MLB HEADLINES
MOST SENT STORIES ON ESPN.COM