Johnson, Schilling remain top pitching combo
This just in: Randy Johnson and Curt Schilling still form the most dynamic pitching duo in baseball.
Originally Published:
March 10, 2003
By
Phil Rogers
| Special to ESPN.com
Which is the strongest 1-2 punch in the majors? Oh, man, if only trigonometry was this easy.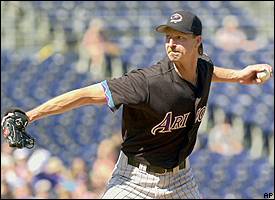 Would Johnson consent to a Dodgers deal?
While there are some intriguing challengers to consider, both old (such as Oakland's tandem of
Barry Zito
and
Mark Mulder
) and new (the White Sox duo of
Mark Buehrle
and
Bartolo Colon
), the answer is, to borrow a phrase from David Byrne, "The same as it ever was ... the same as it ever was ... the same as it is ever was."
But in an effort to pull readers further into this discussion, we'll give a new reason why Arizona oldsters Randy Johnson and Curt Schilling once again top this list: Johnson will be even better in 2003.
Think about that.
The guy has won four consecutive Cy Youngs, compiled a .679 winning percentage and has as many 300-strikeout seasons as anyone ever ... yet the season in which he turns 40 will be his best yet?
"I know this is going to sound crazy, but the guy looks even better than normal,'' said one scout who has been following the Cactus League. "The scariest thing is this -- the hitters can see it, too. There aren't many guys who want to face him, even in spring training.''
Following some offseason consultation with Tom House, the instructor who helped Nolan Ryan pitch effectively until age 46, Johnson has been an absolute animal this spring. In three outings, he has allowed three hits over nine innings, striking out 11. So much for getting the kinks out.
Johnson is throwing harder than ever, consistently hitting 98 mph on scouts' radar guns. He credits his work with House, who suggested a minor adjustment that allows the 6-foot-10 Johnson to release the ball even closer to home plate than before.
"He showed me I could get six or seven inches out of my height in my delivery,'' Johnson said. "I didn't believe him, but we were doing tests in my throwing, and I was doing that.''
Johnson also worked with physical therapist Derek Stevenson over the winter, refining his conditioning program. He underwent testing in a hyperbaric chamber as he studied ways to bounce back better between starts. He is considering reducing the throwing he does between starts to preserve his body.
Johnson is close to signing a contract extension that will keep him with the Diamondbacks through 2005. That would mean at least two more seasons working alongside Schilling, whose contract runs through '04.
Check out their combined numbers from last season (except for career winning percentage):
1. RANDY JOHNSON AND CURT SCHILLING, DIAMONDBACKS
2002 W-L
ERA
IP
K
Career W%
Cy Youngs
47-12
2.77
519 1/3
650
.639
5
This is not exactly a dream scenario for other teams in the National League West. Johnson and Schilling were 47-12 with a 2.77 ERA over 70 starts last season. They had 650 strikeouts in 519 1/3 innings -- an average of 11.3 per nine innings. Those numbers are nuts.
Health is the one question about these guys, and it's based only on the calendar. Johnson has made at least 34 starts each of the past five seasons. Schilling has made 83 consecutive starts since joining the Diamondbacks in 2000.
If those guys did slip, here are the tandems most likely to rise past them to the top:
2. BARRY ZITO AND MARK MULDER, A'S
2002 W-L
ERA
IP
K
Career W%
Cy Youngs
42-12
3.09
436 2/3
341
.696
1
If cool counted for extra credit, these guys would go right past Johnson and Schilling to the head of the class.
Oakland's two bachelor lefties are almost there based solely on talent. They combined to go 42-12 last year and have a combined career winning percentage of almost .700. They've won 80 games combined the past two years, an average of 20 each per season.
It's hard to believe that 25-year-old Mulder is the old man of this combo. Along with Tim Hudson, the Athletics' dominating trio is signed to stay together for three more seasons. And Art Howe really wanted to go to the Mets?
3. PEDRO MARTINEZ AND DEREK LOWE, RED SOX
2002 W-L
ERA
IP
K
Career W%
Cy Youngs
41-12
2.43
419
366
.652
3
Like Johnson and Schilling, both members of the Boston tandem were 20-game winners in 2002. Both exceeded expectations -- Pedro because questions about his health persisted into May; and Lowe because it was his first as a starter since 1997, the season Seattle GM Woody Woodward traded him along with catcher
Jason Varitek
for (gulp) Heathcliff Slocumb.
No 1-2 combination was more efficient than Martinez and Lowe last year. They combined for a 2.43 ERA -- impressive anywhere, but astonishing when based at Fenway Park.
Martinez no longer can just pump a 95-mph fastball, but he frustrated hitters as well as anyone. He held them to a .198 average last season, and they were only marginally more successful against Lowe (.211).
If there's a concern entering 2003, it's how badly Lowe will miss the fielding of departed second baseman Rey Sanchez. He makes his living with a sinker that gets beat on the ground, and the rebuilt right side of Boston's infield is suspect.
4. BARTOLO COLON AND MARK BUEHRLE, WHITE SOX
2002 W-L
ERA
IP
K
Career W%
Cy Youngs
39-20
3.26
472 1/3
283
.639
0
Colon, who last year joined Hank Borowy as the only pitcher to win 10 games in both leagues during the same season, could mean more to his new team than any player who switched uniforms. After all, while Buehrle went 19-12, the White Sox's other starters were a woeful 42-52 with a 6.13 ERA last year.
Some scouts thought Colon looked overweight during winter ball, but the Sox have had no complaints this spring. He hasn't yet dialed up his 98-mph fastball but has held hitters to two hits in his first seven spring innings. Catcher Sandy Alomar Jr., an old friend of Colon's from Cleveland, credits a vastly improved changeup that Colon has been throwing in fastball counts.
Buehrle went to his first All-Star Game last season, and he doesn't expect it to be his last. He was recently offered a five-year, $27 million contract but turned it down, preferring to take his chances in arbitration and free agency. That's a huge gamble that says a lot about how good the 23-year-old Buehrle thinks he can become. He fully expects to join Colon as a 20-game winner this season.
5. WADE MILLER AND ROY OSWALT, ASTROS
2002 W-L
ERA
IP
K
Career W%
Cy Youngs
34-13
3.12
397 2/3
352
.693
0
Houston's duo is not unsung any longer. Neither of these guys has had a 20-win season, but that's going to change soon, provided they maintain their health. After all, these guys have a .693 combined career winning percentage, led by
Roy Oswalt
's 33-12 record.
The former U.S. Olympian went at least six innings in 31 of 34 starts last season and finished the year strong, winning 10 games with a 2.63 ERA after the All-Star break. He appears ready to pick up where he left off.
Wade Miller ended 2002 on an even bigger roll, going 11-1 with a 2.00 ERA after the All-Star break. He has some of the smoothest heat in the big leagues, hitting 96 mph without appearing to break a sweat. He and Oswalt will pitch at 26 and 25, respectively, this season and could work together for at least four more years, provided Drayton McLane's finances don't make Gerry Hunsicker choose between them.
Honorable Mentions

GREG MADDUX AND RUSS ORTIZ, BRAVES
2002 W-L
ERA
IP
K
Career W%
Cy Youngs
30-16
3.13
413 2/3
255
.634
4
Greg Maddux
is in rebound mode after falling just short of 200 innings for the first time since 1987. He enters the season with 273 victories, looking to put himself in position to win his 300th in 2004.
Russ Ortiz
has the best stuff of the Braves' new starters, but
Paul Byrd
or
Mike Hampton
could move to the top of the rotation alongside Maddux.
KEVIN MILLWOOD AND RANDY WOLF, PHILLIES
2002 W-L
ERA
IP
K
Career W%
Cy Youngs
29-17
3.22
427 2/3
350
.574
0
Kevin Millwood
has changed teams for the first time in his career, but he will find at least one similarity between the Phillies and his old Braves.
Randy Wolf
, who hung up a 2.10 ERA after the All-Star break last year, is well on his way toward becoming a facsimile of
Tom Glavine
, whose leadership helped Millwood survive questions about his health and performance. Combined, Millwood and Wolf were 19-6 after the All-Star break last year.
Vicente Padilla
is another front-of-the-rotation option for the Phillies.
JASON SCHMIDT AND KIRK RUETER, GIANTS
2002 W-L
ERA
IP
K
Career W%
Cy Youngs
27-16
3.33
389
272
.578
0
Like Millwood,
Jason Schmidt
got his groove back in 2002 after being limited by injuries in 2000 and '01.
Kirk Rueter
is like the neighbor you don't think about until you need him. He has had six straight winning seasons for the Giants but hasn't won more than 16 games.
JAMIE MOYER AND FREDDY GARCIA, MARINERS
2002 W-L
ERA
IP
K
Career W%
Cy Youngs
29-18
3.84
454 1/3
328
.593
0
Just as he was about to establish himself as one of the American League's best starters,
Freddy Garcia
fell apart in the second half of 2002. His problems didn't appear physical, leaving the Mariners hopeful that all he needed was a fresh start. Unfortunately, his poor showing this spring has heightened concern.
Jamie Moyer
, who turned 40 in November, signed a three-year contract extension in December. That might seem risky, but Pat Gillick isn't known for his sentimentality. The fact is Moyer was better than ever last season, making 34 starts and turning in a career-low 3.32 ERA.
ODALIS PEREZ AND HIDEO NOMO, DODGERS
2002 W-L
ERA
IP
K
Career W%
Cy Youngs
31-16
3.38
442 2/3
348
.543
0
Rookie GM Dan Evans struck gold with
Odalis Perez
and
Hideo Nomo
, who were workhorses in their first seasons with the Dodgers. If they can keep this up, it will lessen the heat on
Kevin Brown
to regain the dominance that landed him his monster contract, which will pay him $15 million a year through 2005.
The Senior Division

TOM GLAVINE AND AL LEITER, METS
2002 W-L
ERA
IP
K
Career W%
Cy Youngs
31-24
3.20
429
299
.602
2
Glavine bears huge responsibility to help the Mets overthrow his old friends. He has the mindset to hold up to the task and has not begun to show signs of aging. Yet he and
Al Leiter
will be watched closely as they pitch at age 37 this season. Leiter is a big-game pitcher but not a workhorse. He should benefit from having Glavine on hand to help him carry the load. The Mets kept him off the free-agent market but with only a two-year extension.
ROGER CLEMENS AND MIKE MUSSINA, YANKEES
2002 W-L
ERA
IP
K
Career W%
Cy Youngs
31-16
4.18
395 2/3
374
.652
6
These warriors have won 475 games while maintaining a combined .652 winning percentage. This is probably the last ride for
Roger Clemens
, who needs only seven wins to reach 300. Look for him to have an explosive start or two, and don't rule out the no-hitter that has eluded him for 473 career starts.
Mike Mussina
has won 19 games twice and 18 three times in his career but hasn't had the 20-win, Cy Young-type season that long has been projected for him. He will become the senior member of the rotation if
Andy Pettitte
follows Clemens out the door after the season.
The New Breed

KERRY WOOD AND MARK PRIOR, CUBS
2002 W-L
ERA
IP
K
Career W%
Cy Youngs
18-17
3.54
330 1/3
364
.586
0
These guys are listed in terms of tenure, but it may be more accurate to rate
Mark Prior
ahead of
Kerry Wood
. Prior, the 22-year-old from USC, enters his first full season with a rare combination of maturity and electric stuff. The Cubs limited his workload during his rookie season and probably won't let him go far beyond 200 innings this time around. The powerful Wood has never been more dominant than he was last May, when he gave up four hits or fewer in five consecutive starts. He crossed an important threshold by not missing a start in 2002 and is poised to join the ranks of the truly elite starters.
A.J. BURNETT AND JOSH BECKETT, MARLINS
2002 W-L
ERA
IP
K
Career W%
Cy Youngs
18-16
3.58
312
316
.494
0
The Marlins believe they are capable of being the National League's big surprise if these guys hold up for a full season. Pitching coach Brad Arnsberg helped
A.J. Burnett
free up his delivery in spring training, and he dialed his velocity up to the high-90s consistently, being clocked as high as 101 on his four-seam fastball. Five shutouts and several other high-pitch count outings took a toll, however, as he was sidelined with a bone bruise in August.
Josh Beckett
's rookie season was sabotaged by persistent blisters on his middle finger. There's little that would make Florida manager Jeff Torborg happier than 30-33 starts from Beckett.
KRIS BENSON AND KIP WELLS, PIRATES
2002 W-L
ERA
IP
K
Career W%
Cy Youngs
21-20
4.03
328 2/3
213
.481
0
Don't judge
Kris Benson
by his numbers. He returned from Tommy John surgery last season and got better and better as the year went along, going 9-2 with a 3.57 ERA in his last 17 starts.
Kip Wells
, a first-rounder who was inconsistent with the White Sox, established himself after moving to the NL. His confidence and aggressiveness soared, but he still wound up with a losing record. Either of these guys could win 18 games with a little more run support.
Phil Rogers is the national baseball writer for the Chicago Tribune, which has a web site at www.chicagosports.com.
EDITORS' PICKS
Out 6-8 weeks

Daniel Norris, the Blue Jays' No. 1 prospect, lives in a van.
Saslow »

The odds are against Masahiro Tanaka overcoming his UCL injury.
Mike Petriello

MOST SENT STORIES ON ESPN.COM