South side gets serious
Nothing fires up Ozzie Guillen and White Sox fans more than beating Chicago's darlings -- the Cubs.
Originally Published:
June 25, 2004
By
Phil Rogers
| Special to ESPN.com
CHICAGO -- In the beginning -- of interleague play in Chicago, that is -- there was Ozzie Guillen.
Back when the White Sox met the Cubs for the first time ever in the regular season, Guillen played shortstop and hit second for the Sox. He didn't do a whole lot to make his presence felt in that 1997 series at Comiskey Park, going 2-for-11 with a pair of his vintage slap singles, but you can bet he made his presence known.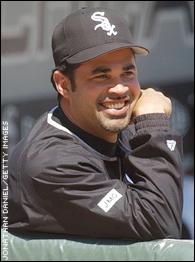 Ozzie Guillen is in his second season as the White Sox's manager.
While the annual series eventually plays out as a class war, with the White Sox trying to strike a blow for the common man while the elitest Cubs seem mostly annoyed at having to compete against their neighbors, it always begins as a party.
And few people in Chicago baseball have been at the center of more parties than Guillen, who wears his emotions on his sleeve and runs his mouth at a mile a minute.
We can't wait to see what will happen when the White Sox play the Cubs with Guillen as their manager. You can count on some one-liners when he's surrounded by reporters before Friday's series opener at the park formerly known as Comiskey as well as hugs all around behind the batting cage.
Guillen played alongside Sammy Sosa with the Sox and shared a clubhouse with Derrek Lee and Todd Hollandsworth last year in Florida. In fact, as the Marlins' third-base coach he got into it with fans at Wrigley Field by acting like he was choking himself after Florida's eight-run eighth inning in Game 6 of the League Championship Series.
That's Ozzie. He can't help but stir things up.
Guillen, unlike his recent predecessors as manager, is a perfect spokesman for the Southsiders. He understands the frustration of White Sox fans, who revel in being extremely critical of their managers and players while showing disgust at the way others fawn over the Cubs, who have often found themselves near the bottom of the National League.
Most now think of Chicago as a Cubs' town, which it is. But it was not always so.
Before Jerry Reinsdorf's ownership group purchased the White Sox and the Tribune Co. bought the Cubs, the city seemed pretty well split. In the old days, the team that won the most games usually drew the most fans. That's no longer the case. The classic example of the current mindset came in 2000, when a 65-97 Cubs team outdrew a Sox team that won 95 games, most in the American League.
Guillen, who inherited his job from Jerry Manuel as Chicago was still celebrating the Cubs' trip to the Championship Series, is living through Cubs' hysteria for the second time. His Rookie of the Year season with the White Sox came in 1985. The city was still basking in the afterglow of the summer of '84, when Ryne Sandberg, Rick Sutcliffe, Harry Caray and cable television made it cool to be a Cub.
When Guillen speaks about the differences between following the White Sox and the Cubs, he iks not echoing some party line. He is speaking from his experience, from his heart. That's why it will be so interesting to see how he handles next weekend's visit to Wrigley Field.
Nothing fires up Sox fans more than beating the Cubs.
Mike Caruso may have been over his head in his tenure as a White Sox shortstop (he was Guillen's replacement, actually) but he once hit a game-winning homer at Wrigley. That means he'll never be forgotten.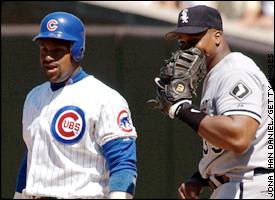 Windy City legends Sammy Sosa, left, and Frank Thomas square off this weekend.
The Sox lead the series 20-16, doing no worse than a split since 1999. That's a fair reflection of their relative talent over this time span, as the White Sox have generally had better teams. But there's also the question of zealousness.
For Reinsdorf and his front office, the city series is a focus of the schedule. It guarantees three sellouts a year at a ballpark that too often has more empty seats than occupied ones. That's why one of the reasons Reinsdorf has successfully lobbied Bud Selig to keep interleague play between rivals as a home-and-home affair.
If it was up to Cubs president Andy MacPhail, it would be fine if it went back to the original concept of one three-game series a year, with home field rotating between parks. The annual visit by White Sox fans brings little besides extra security concerns for the Cubs.
For awhile it appeared this might be the first city series with both of Chicago's teams in first place. That possibility vanished on Wednesday, when the White Sox and Cubs fell two games behind Minnesota and St. Louis, respectively, but it's probably just as well. It appears both teams are good enough to survive the long haul.
Guillen knows beating the Cubs is important to White Sox fans but he's got a higher calling. His job is not only to get them into the playoffs but to win a series or two something the franchise hasn't done since the Black Sox conspired to fix the 1919 World Series.
Because Guillen declined to rearrange his rotation, Mark Buehrle won't work against the Cubs this weekend. He'll have Jon Garland, Scott Schoeneweis and Esteban Loaiza facing Mark Prior, Carlos Zambrano and Greg Maddux.
"We have to take this as another game,'' Guillen said. "I know how important this is for the fans and for everybody in the city. But to me it's more important to keep my pitchers ready to go for the rest of the season. I know the way the fans are thinking about these games. But at the same time, they have to understand our points in the clubhouse. Sometimes things don't work the way they want them to.''
That's a mature viewpoint. Something tells us Ozzie won't be quite so boring when he can look across the field and see the team that has become Chicago's darling.
Phil Rogers is the national baseball writer for the Chicago Tribune, which has a Web site at www.chicagosports.com.
EDITORS' PICKS
Braves' T-shirts read, "Hello, my name is ..."
Jayson Stark »

Schoenfield has 10 things he's excited to watch this spring.
Story »

Christopher Crawford's top 50 fantasy prospects for 2015.
Story

MOST SENT STORIES ON ESPN.COM