Departures significant for Cardinals
Mark Mulder is a key addition, but overall, the Cardinals have downgraded their talent this offseason.
Originally Published:
January 7, 2005
By
Phil Rogers
| Special to ESPN.com
The St. Louis Cardinals aren't the New York Yankees, but they're a lot closer to being them than they are to being the Arizona Diamondbacks or the New York Mets.
This is a proud organization that has won 16 pennants, the second-highest total in the major leagues. It is much more about substance than style.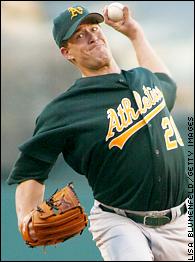 Getty ImagesMark Mulder started the All-Star Game for the AL last season, but pitched poorly down the stretch.
When the Cardinals make a move, they are looking for a lot more than splash. They are looking at giving themselves a better chance to win the World Series.
Yet this winter of subtraction and addition has been a confusing one in St. Louis. The Cardinals got much positive feedback from their trade for Mark Mulder -- as did the Braves for taking their bite of Oakland's Big Three with Tim Hudson -- but have they improved the team that got swept by Boston last October?
That's barely debatable. The reality is free agency has diminished St. Louis more than one high-impact trade can offset.
The only way to argue that they can make another run at 100 wins next year is to factor in a full season of Larry Walker, who provided a huge boost after arriving from Colorado in early August. But Walker isn't exactly the second coming of Cal Ripken Jr. He's played 145 games once in 15 seasons, with 125 the annual over-and-under number.
Why call the Cards diminished after adding an ace?
Here are five reasons:
1. The loss of Edgar Renteria downgrades the most important position on the field, shortstop. General manager Walt Jocketty was so stung by Renteria's surprising departure that he gave the non-tendered David Eckstein a three-year contract.
| | |
| --- | --- |
| | |
| | Eckstein |
| | |
| --- | --- |
| | |
| | Renteria |
In the short run, a motivated Eckstein could catch the fancy of Cardinals fans. But peskiness rarely beats tremendous talent, which is what Renteria has.
While Eckstein's specialty is getting on base, his career OBP (.347) is exactly one point higher than Renteria's, who has him in just about every other category. Maybe that's why Renteria has a 33-1 edge in intentional walks.
The point here isn't to diss Eckstein; it's to acknowledge that Renteria leaves St. Louis as the NL's top shortstop. Oh, and one other thing. He's younger than Eckstein, who must play the game in such an all-out style that he'll start losing steps sooner than a gifted player like Renteria.
(I started to make this about the entire middle infield, pointing out that second base was a question mark after Tony Womack's signing with the Yankees. But the Cards could get lucky with Mark Grudzielanek and/or Roberto Alomar, just like they did with Womack in the first place, and the loss of Renteria needs no extra weight).
2. It took something to get something. Mulder, who won 17 games last year (we'll assume he's going to be fine, despite the alarming jump in his ERA last season), replaces World Series Game 1 starter Woody Williams on the payroll and cost the Cardinals pitchers Dan Haren and Kiko Calero, who went to Oakland in the trade. Both Haren and Calero were effective parts of the Cardinals' bullpen in October.
Haren had value as the sixth starter in 2004, doing a solid job when Chris Carpenter suffered nerve damage in his right bicep. The Mulder trade would have been a lot better for the Cardinals had it not included Haren.
3. For the first time since 2000, the Cardinals' pitchers are going to be working with a different primary catcher. Mike Matheny, a long-time favorite of manager Tony La Russa, signed with San Francisco after Jocketty decided 22-year-old Yadier Molina -- the youngest of the three catching Molina brothers -- will be ready to handle a big-league staff.
While Molina handled a bat slightly better than the 34-year-old Matheny last season, it's a huge risk to turn over the role of helping pitching coach Dave Duncan prepare pitchers to someone so green. He is highly regarded for his receiving and game-calling skills but has played only 192 games above the Midwest League, which is low-A ball. Big-league pitchers aren't fond of catchers receiving on-the-job training.
Jocketty failed to sign a quality backup, bringing in Einar Diaz (whose catchers' ERAs for the last three years have been 5.89, 5.47 and 5.17) to compete with 4-A players Cody McKay and Mike Mahoney.
| | |
| --- | --- |
| | |
| | Myers |
| | |
| --- | --- |
| | |
| | Kline |
4. Bullpen fixture Steve Kline has been replaced with the itinerant Mike Myers, whose value seems to lie in his always being available for a team desperate for a second lefty. Kline clashed with La Russa during his four seasons in St. Louis, but that didn't stop him from being an extremely valuable workhorse.
Kline pitched in almost half the games the Cardinals have played since 2001, averaging 75 appearances per season. His ERAs were 1.79, 3.82, 3.39 and 1.80. Myers has played for four teams in this time, putting up ERAs of 4.60, 5.70, 4.38 and 3.60. The only way Kline's departure won't be a bad thing is if Rick Ankiel can establish himself. He was last seen returning from winter ball with a twinge in his elbow.
5. While La Russa was excited about the health of Carpenter last spring, he approaches this season unsure what to expect from both Carpenter and Matt Morris. Carpenter's late-season injury was not considered serious, but raised a caution flag about a guy who has made 30-plus starts only once in his career. Morris, another free agent, agreed to a one-year contract after having shoulder surgery and could be out until June.
While neither Carpenter nor Morris held up for all of last season, they combined to go 30-15 and made 60 starts. The questions about their status, along with Williams signing with San Diego, increases the burden that will be felt by Mulder.
For the first time in his career, he will be held to a higher standard than anyone else on the staff in which he pitches. Even if he delivers, it is going to be hard for the Cardinals to duplicate their 2004 dominance.
Phil Rogers is the national baseball writer for the Chicago Tribune, which has a Web site at www.chicagosports.com.
SPONSORED HEADLINES
MORE MLB HEADLINES
MOST SENT STORIES ON ESPN.COM
Rico St. Louis Cardinals Laser Tag Plate Shop »