Everything new as Thome begins life as a Phillie
Not only is Jim Thome beginning anew with the Phillies, but he's also switching over to the National League.
Originally Published:
March 27, 2003
By
Jayson Stark
| ESPN.com
CLEARWATER, Fla. -- They're not expecting much from Jim Thome this year in Philadelphia.
Only 50 or 60 home runs. A couple of hundred RBI. And if he has a minute in his spare time, maybe he could run for mayor, fix the crack in the Liberty Bell and get the Eagles to the Super Bowl.
Well, Jim Thome aims to please. He's that kind of guy. But an ESPN.com investigation has revealed he has two minor hurdles to leap before he can collect his MVP award, Nobel Peace prize and cheesesteak-shaped key to the city:
1) We've learned exclusively that (gasp) he's human.
And 2) he's switching leagues.
That human-being stuff -- that can be tricky enough. But add in the extra complication of having to leave the only team (Cleveland) and only league (American) he has ever played in, and who knows what kind of challenge this guy is facing.
Fortunately, Jim Thome claims to like this sort of thing.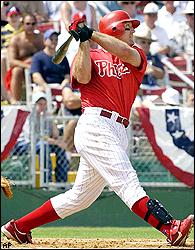 Jim Thome hit a career high 52 home runs last season while with the Indians.
"Everything in life is a challenge," Thome said, on the eve of the most important season of his career. "You should try and challenge yourself. I believe that. I get that from my wife. She's always telling me, 'Challenge yourself.' Just like when she says, 'Hey, change this diaper. ... Challenge yourself.' "
If Thome doesn't shrink from what's inside the diaper, he isn't likely to shrink from what's inside those National League ballparks. But despite all the people who tell you -- and him -- that switching leagues isn't that tough anymore, the facts say otherwise.
We zeroed in on six current National League regulars who spent at least five straight seasons in the American League, then moved to the NL between 2000 and 2002. It's a pretty darned illustrious group: Ken Griffey Jr., Roberto Alomar, Mo Vaughn, Jim Edmonds, Tino Martinez and Shawn Green.
We looked at their last full season in the AL (discounting a missed 2001 season for Vaughn and an injury-plagued 1999 season for Edmonds). Then we compared it with their first full season in the NL. Here's what we found:
The batting average of all six went down -- by an average of 28 points.
Only Edmonds went up in homers, RBI and runs scored.
The other five averaged 12 fewer home runs in their first NL season.
The other five drove in an average of 34 fewer runs.
The other five scored an average of 30 fewer runs.

That's not a drop-off. That's a cliff dive. And there's no simple explanation.

So we tried to identify four essential factors that would account for that steep a plunge -- and looked at how Thome figures to cope with those, uh, challenges.

New pitchers
There was a time, of course, when switching leagues meant facing all new pitchers. But that time isn't this time.

Thanks to the massive roster turbulence of our era, plus interleague play, plus two trips to the World Series, it's amazing how many National League pitchers Thome already has faced.

In fact, we brought him a list of the four top starters on each of the NL East teams. Of the 16 names on the list, he'd faced all but one -- Atlanta's Russ Ortiz.
From AL to NL
Going from the National League to the American League can be tougher than it seems. Look at the following six league switchers:
PLAYER
(Yrs. in AL)
YR./TEAM
AVG./HR/RBI/R
Roberto Alomar
(11 years)
'01 Cle
'02 NYM
.336/20/100/113
.266/11/53/73
*Mo Vaughn
(10 years)
'00 Ana
'02 NYM
.272/36/117/93
.259/26/72/67
Ken Griffey Jr.
(11 years)
'99 Sea
'00 Cin
.285/48/134/123
.271/40/118/100
*Jim Edmonds
(6 years)
'98 Ana
'00 Stl
.307/25/91/115
.295/42/108/129
Tino Martinez
(10 years)
'01 NYY
'02 Stl
.280/34/113/89
.262/21/75/63
Shawn Green
(5 years)
'99 Tor
'00 Los
.309/42/123/134
.269/24/99/98
* -- missed one season before switching leagues
But there are still plenty of pitchers he wouldn't know from Old Hoss Radbourn. And every one of them represents a new experience, a new entry to file away in the scouting video in his brain.
"Probably the biggest thing," said Phillies hitting coach Greg Gross, "is all the middle relievers he may not have seen. And the left-handers he hasn't seen -- the left-handed starters and the left-handed guys in the bullpen. Those are the kind of guys he'll be looking for information on."
Fortunately, Thome lives in an age where that information is a lot easier to find than Osama bin Laden.
"The thing that really helped me," said his teammate, David Bell, who switched from the AL to the NL himself last year, "is just watching as much video as I could on the pitchers I hadn't seen. Before every series, I would have our video guy give me two DVDs -- one with the starters in that series, one with the relievers. It's something I'm glad I did. I'll do it the rest of my career."
But Thome was already in the habit of watching videos -- and not just the latest Schwarzenegger flicks. He has never been big on watching replays of his own swing. But watching pitchers was one of his favorite pastimes long before he ever left Cleveland.
"Not to give away a lot of secrets," he said. "But the main thing is to learn if the guy has any patterns, or if he's got different arm angles. I just know the equipment in today's game is awesome, and the reason they have it is for us to use it and take advantage of it. That's as much a part of your preparation now as taking ground balls and extra BP."
But Thome has other advantages besides videotape that could make this easier. For one thing, he's such a baseball animal, it seems like he's talking hitting from the moment he pours his cereal in the morning until he clicks off the lights at night.
"You know what he does?" said Phillies coach John Vukovich. "He doesn't just talk. He listens -- maybe just as much, if not more than he talks. He tries to absorb everything everybody says. Then he'll use what fits and discard what doesn't."
Thome also is a watcher, a guy who says: "I used to love to watch Manny Ramirez hit with men in scoring position. I used to love to watch Albert Belle and Kirby Puckett and Torii Hunter. I like to watch good players play. You can learn things just from watching -- where a guy holds his hands, how he hits the breaking ball, how he approaches hitting when he's got two strikes."
He may be a more accomplished hitter than the players around him in Philadelphia. But that doesn't mean, said manager Larry Bowa, that he can't "learn from watching what pitchers try to do to Bobby Abreu. Bobby may not hit 40 or 50 home runs. But Bobby's one of the best left-handed hitters in the league. So Jim can always ask a guy like Bobby what a pitcher does to try to get him out."
Thome and Pat Burrell also have bonded fast. The conventional wisdom has been that Burrell can learn from Thome. But Thome thinks he can also learn from Burrell.
"He's left-handed, and I'm right-handed, but we're up there basically trying to do the same thing," Burrell said. "We talk situations, counts, what I know about a guy because I've been in the National League -- and vice-versa."
"He makes everybody here better," Gross said. "He makes Pat better. He makes Mike Lieberthal better. Hopefully, we can make him a little better, too."
Style of play
There are a lot of myths about the differences between the National League and American League. You know them well.
How those American League games last about 12 hours. (Wrong. Both leagues had exactly the same time of game last year -- 2:52.)
How the Turf and big ballparks in the National League mean teams run more in the NL. (Wrong. There is more classic AstroTurf in the AL now than in the NL. Most of the new NL parks have been hitters' parks. And the average NL team stole just one more base a month than the average AL team.)
Biggest offseason deals
Players who signed the largest free-agent contracts this past offseason:
Player/Team
Numbers
Jim Thome,
Phillies
$85M (6 years)
Tom Glavine,
Mets
$35M (3 years)
Jose Contreras,
Yankees
$32M (4 years)
Cliff Floyd,
Mets
$26M (4 years)
Edgardo Alfonzo,
Giants
$26M (4 years)
*Frank Thomas,
White Sox
$22.5M (4 years)
Hideki Matsui,
Yankees
$21M (3 years)
Ray Durham,
Giants
$20.1M (3 years)
David Bell,
Phillies
$17M (4 years)
*Jamie Moyer,
Mariners
$15.5M (3 years)
* -- resigned
How the AL strike zone is the size of a donut hole, while the NL strike zone is the size of Eric Gregg. (Wrong. Both leagues use the same umpires now, so there's absolutely no pattern.)

But that doesn't mean that all the differences between the leagues have melted faster than the polar ice cap.

"They really do throw more fastballs in the National League," said Phillies pitching coach Joe Kerrigan. "I was away (in Boston) five years. Then I came back last year and watched the National League from the booth (as a Phillies postgame TV analyst), and it was amazing.

"I charted 80 games last year -- every pitch. And I know that some games, you saw 75 to 80 percent fastballs. Over there (in the AL), you might see it the other way."

Some people aren't so sure about that. But Kerrigan says: "I can show you the charts." And Bell backs that up.

"There is a different pitching philosophy in the National League," he said. "It actually surprised me, because there are so many pitchers who change leagues now. But you really do see more fastballs in the National League. They really do try to get ahead early in the count with fastballs than they do in the other league."

Thome says he has heard that -- but he still needs to see it with his own eyes to believe that's how he'll be pitched.

"I know, in the American League, that even if the count's 1-and-0, you're still going to see changeups and breaking balls," he said. "Or if it's 0-and-0, and there are guys in scoring position, I know I'm going to see breaking stuff -- not that that won't happen here."

Thome isn't so sure that a middle-of-the-order power plant like himself will ever get fastballs to hit in big situations or fastball counts. But he also knows he's streaky. And when he's in one of those streaks, it doesn't matter much what they throw him.

"The thing I've seen is that he's got a good idea what his strengths are as a hitter," said Vukovich. "I think his history speaks for himself. All the big power guys have their hot and cold streaks. And when those guys get hot, I don't care who's throwing. They hit whatever is thrown up there."

Comfort zone
When you turn on your TV every night in the summer, the view from the center-field camera looks just about the same -- whether the game is in Pittsburgh or San Diego or Philadelphia. But for a player switching leagues, everything isn't the same.

Every trip to a new ballpark is a new adventure -- and Thome has never played a game in half of the National League's 16 parks. Every new city represents a new hotel, a new routine, a trip to a stadium he's never taken before.

We are, after all, talking about human beings. And after 10 years in one place, all the rhythms of Jim Thome's life are different now. We sometimes underestimate what kind of effect that can have -- on anybody.

"I know the most difficult challenges for me in uprooting and changing teams are the effect it has on my family -- my wife, my kids, all of us," said the Yankees' Todd Zeile, baseball's ultimate team-changing, league-changing expert -- after switching teams nine times since 1985. "You get removed from your comfort zone, not just in your surroundings or in your schedule, but just in day-to-day life."

But that baseball comfort zone changes, too -- even for a guy like Thome, who got to pick where he wanted to play and has had since Thanksgiving to focus on that.

"I know guys think they went to visit this place and they knew this was where they wanted to go and some of that assimilation makes it easier," Zeile said. "But when April 1 comes and you're going to the park in unfamiliar surroundings, it's still an adjustment. There's some of that new-kid-at-school feeling.

"You're looking to find somebody you can hang with, somebody you have some comfort level with. You've gotten used to going to lunch on the road with the same guy or group of guys for 90 days a year. Now that's changed. Relationships have to be formed. It takes time to find that comfort level."

But Thome is such an open, easy-going guy, he seems as if he found that comfort level about 20 minutes after he walked through the clubhouse door.

"He's blended in quicker than anyone could imagine," Vukovich said. "If you didn't know he hadn't been here, you'd think he'd been here for years."

What Thome seems most anxious about is getting used to ballparks he has never played in or hit in, because every park these days has its own special nuance. And nothing is automatic when everything is new.

"For example," Thome said, "I know that when I'm hitting in Boston, if I hit a line drive off the wall, I probably won't stretch that into a double. Guys tell me that at the Vet, there's a little wall down the line where the ball can hit it and bounce back out. And there are lots of little things like that I'll probably have to learn as I go."

Pressure
There's one more quality that Thome has in common with men like Griffey, Alomar and Edmonds. They're not exactly utility guys who get six at-bats a week.

They're the men in the microscope, the men whose evenings on the diamond get analyzed a lot more closely than everybody else's.

So when you throw in all the other challenges of switching leagues, the pressure to switch and still be great makes it extra tough for men like this to live up to expectations. Especially in Philadelphia, where it's possible he could get booed for taking strike one on Opening Day.

"These are guys who are coming there as the big thing, for the team, for the city," Zeile said. "So there's added pressure just to live up to the contract. I go back to that new-kid-at-school thing. When you change schools, you want to show your stuff a little bit. You can't appear intimidated. You can't appear unconfident. You want to make friends right away. You want to blend in.

"So sometimes, it can be hard to maintain that confidence factor. The funny thing is that a lot of times, when guys get criticized, it's for lack of production. But it's almost always because they want to do too much, not because they're not caring. Guys want to come over and do better than they did before. Which is almost impossible. You just need to be the same guy. You don't need to be Super Jim Thome."

But at least Thome seems well aware of all these challenges -- big and small.

"I know how difficult it is -- No. 1, just to hit," he said. "In any league. And I also understand there's going to have to be a lot of studying done. I know you can't just go from one league to the other and say, 'I was a good hitter in that league, so I'll automatically be a good hitter in the other league.' You still have to do your homework."

So he has his assignment book. He's ready for his new school. And he has heard the rumors that in Philadelphia they grade harder than in Cleveland.

"But I try to look at it all as a positive," he said. "I'm like that new kid going to kindergarten not knowing what's ahead. I look at it as a very exciting situation. Everything in life is a challenge. You shouldn't be afraid to challenge yourself."

He's ready for the diapers. He's ready for Greg Maddux. He's ready for Philadelphia. He thinks. Now all he has to do is prove it. So if Jim Thome really likes challenges, hey, the fun is just beginning.

Jayson Stark is a senior writer for ESPN.com.
Senior Writer, ESPN.com
Senior writer for ESPN.com
21 years at the Philadelphia Inquirer
Author of three baseball books
SPONSORED HEADLINES
MORE MLB HEADLINES
MOST SENT STORIES ON ESPN.COM
EDITORS' PICKS
The Angels beat the A's in 10 innings.
Recap »

Some teams are giving their top starters more rest.
Schoenfield »

Yusmeiro Petit pulled off a pretty cool achievement.
Schoenfield »