Home Run Derby had plenty of star power
This year's Home Run Derby proves you don't need big swatters like Barry and Sammy to put on a good show.
Originally Published:
July 15, 2003
By
Jayson Stark
| ESPN.com
CHICAGO -- Big Mac was no doubt lying on a California beach somewhere. Junior? He doesn't do the All-Star thing anymore.
Sammy -- uh, don't ask. And Barry, well, he's a grownup now, so we can't make him be a Home Run Derbyite if he doesn't feel like being a Home Run Derbyite. And don't you forget it.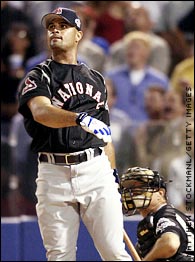 Getty ImagesBaseball continues to flourish despite all of its problems.
So there we all were Monday night, 47,619 people hanging out at a whole different kind of Home Run Derby.
A Derby with no magic names. A Derby in a ballpark with no Green Monsters, no mascot sliding boards, no majestic Rocky Mountain peaks for those 700-foot Derby homers to slam into on their way to Mars.
Boy. Could Bud Selig's administration stand yet one more All-Star crisis? Or was this destined to be the night a Derby home run sailed clear out of U.S. Cellular Field, knocked over a racing sausage 70 miles up the expressway and then ricocheted through Selig's living-room window, destroying his prized collection of owner's-meetings minutes?
OK, so we admit it. Things seemed bleak. But maybe the commish's luck is about to turn. Because what looked for about an hour like the worst Home Run Derby in the history of prime time suddenly found a way to salvage itself. And here are the heroes who saved their sport's most allegedly entertaining showcase:
JASON GIAMBI -- He didn't win this Derby. He just leaped out of the cast of Baywatch to yank its head out of the surf. Just when there appeared to be a threat of an entire ballpark full of people nodding off simultaneously, Giambi erupted to finish the first round by crunching 10 home runs in 12 swings.

In all, he mashed 23 home runs in 43 volcanic hacks. And even if he didn't make it out of the second round, he anointed himself the new King of the Derby. He's bopped 67 Derby home runs the last three years. Four more some time between now and 2012, and he'll break Junior Griffey's career Derby record. And please, don't ask how we even know what that is.
Home Run Derby winners
2003 -- Garret Anderson, Anaheim Angels (U.S. Cellular Field)

2002 -- Jason Giambi, New York Yankees (Miller Park)

2001 -- Luis Gonzalez, Arizona Diamondbacks (Safeco Field)

2000 -- Sammy Sosa, Chicago Cubs (Turner Field)

1999 -- Ken Griffey Jr., Seattle Mariners (Fenway Park)

1998 -- Ken Griffey Jr., Seattle Mariners (Coors Field)

1997 -- Tino Martinez, New York Yankees (Jacobs Field)

1996 -- Barry Bonds, San Francisco Giants (Veterans Stadium)

1995 -- Frank Thomas, Chicago White Sox (The Ballpark in Arlington)

1994 -- Ken Griffey Jr., Seattle Mariners (Three Rivers Stadium)

1993 -- Juan Gonzalez, Texas Rangers (Camden Yards)

1992 -- Mark McGwire, Oakland Athletics (Jack Murphy Stadium)

1991 -- Cal Ripken, Baltimore Orioles (SkyDome)

1990 -- Ryne Sandberg, Chicago Cubs (Wrigley Field)

ALBERT PUJOLS -- Somehow, Pujols didn't win this Derby, either. He just did something better. He was this year's official Best Derby Memory. Matched up with King Giambi in the second round, he needed to do something superhuman. So he did.

He set a new single-round record, slashing 14 homers in his first 20 swings -- and hit them to every part of Chicago except the top floor of the Sears Tower: six to left field, six to right field and two to center field. So what if he lost in the finals by one stinking homer? This may have been the night Albert Pujols proved to America he really is our greatest active pure hitter.
GARRET ANDERSON -- The record books will show he was the champ. We're still not sure how. Giambi (23 homers) hit more home runs in the first two rounds than Anderson hit in three rounds (22). But in the head-to-head format, all he had to do was hit more than the guy he was matched up with. So what if it seemed like half of them landed in the first row? In the end, Garret Anderson also found a way to use his moment in the Derby sun to remind us all he's one of the most under appreciated bat artists alive.
BRET BOONE -- After kicking off his day by accusing Bud Selig of being baseball's No. 1 problem, Boone went out of his way to make Bud feel better Monday night -- by getting shut out in a Home Run Derby.

Should anyone besides us be interested in keeping track of this sort of thing, Boone was the 14th man in Derby history to go 0-for-a Derby. But he was just the second since 1997. The other was Troy Glaus in 2001 -- whom Boone recalled "making fun of" afterward.

Glaus wasn't around Monday to return the abuse. But Boone's little brother Aaron, an NL All-Star, was. "He told me I stunk," Boone reported. "And my son told me I stunk. And I haven't even dealt with the wife yet." Or the commish, for that matter.
RICH DONNELLY -- Whaddaya mean, who? Rich Donnelly might not have hit in the Home Run Derby. But he did something just as heroic.

The Brewers' affable third-base coach had already headed home for the All-Star break Monday and was driving with his wife to have lunch in West Virginia -- when his cell phone rang. It was Brewers PR man Jon Greenberg, informing him that Richie Sexson had just been selected to compete in this Derby. So Donnelly turned around, headed right for the Pittsburgh airport and jetted into Derby Land, all to throw 11 pitches.

"I mowed the lawn," Donnelly said. "Then I washed my dog -- Salary Cap. Then I went out to have lunch in my shorts, and I ended up here. I'm wearing Lloyd McClendon's glove, Larry Rothschild's shoes, Gene Clines' pants and Chicago White Sox underwear. I don't have a toothbrush. I don't have a room. I'm just here for Richie."

Then they handed Donnelly an All-Star jersey and a Brewers All-Star cap. And he announced: "This is great. I'll wear it home. Hey, I have to wear it home. I don't have no clothes." Unfortunately, this uplifting story ended with Sexson hitting just one home run. But this was real life, folks. The endings can't always be poetry.
ICHIRO SUZUKI -- Ichiro didn't win this Derby, either. Matter of fact, he didn't even enter it. But there was a time a few days ago, when all the big names were dropping out of the Derby field, when his Mariners teammates decided that Ichiro could be the perfect Man Who Saved The Derby.

"If he were in it," Boone said, "he'd be my pick to win it. He just has the knack in BP to stand there and hit ball after ball after ball out. And you can't believe where he hits them."

But this perfect plot line had one minor hitch: Ichiro himself had zero interest. "Many people asked me," he said. "I kept saying, 'No-no-no.' I run away from that." But Boone was still determined to get Ichiro involved in this Derby somehow or other. So they devised a little ceremony in which Ichiro brought Boone's bat to the plate Monday night, then tapped the bat and hugged Boone for luck.

Boone then went out and took 10 mighty hacks, hit zero home runs and decided to bag all future ceremonies involving his teammate from beyond the Pacific. "Yeah, that didn't work," Boone announced. "He told me after I hit zero, 'I'm bad luck.' "

Now outside of all those fun little plot lines, this was not a Derby that will ever be remembered alongside Big Mac vs. Griffey in '99 at Fenway. But it had its moments.

And the best of them was the second-round duel between Pujols and Giambi. Pujols had hit only four homers in the first round -- eight fewer than Giambi -- surviving to advance only because of a tiebreaker (most regular-season homers). But he sure didn't need any technicalities in Round 2.
| | | |
| --- | --- | --- |
| | " | I was tired, man. That's a lot of swings. I'm afraid tomorrow to see how my shoulders are. I don't think I ever took that many hacks in my life. " |
| | | Albert Pujols |
He hit three home runs in his first four swings, five in his first eight, 11 in his first 16 and 14 in his first 20.
Homer No. 7 was a 454-foot monster three-quarters of the way up the seats in deep left-center. Homer No. 8 landed one section further and several rows back, and it was estimated at 478 feet. Homer No. 10 slammed off the black batter's eye in dead center, a few inches below a row of bushes. Homer No. 13 carried 421 feet the other way, descending deep into the bleachers in right-center.
By then, people had stopped oohing and aahing, and were just on their feet saluting. And Pujols earned it.
"That was just ridiculous," chuckled Marlins third baseman Mike Lowell, who stayed to watch every blast. "He wasn't just out there trying to pull them like most guys do. He was going opposite way, dead center, all over. That was some kind of show."
By the time Pujols had finished putting a 14 on the board, Giambi was almost laughing himself, knowing he needed to merely put up the biggest round in the history of the Derby to win.
"That wasn't a fun thought," Giambi admitted. "But I figured hey, that's what it's about. If I win, I set the record. And if I don't, hey, what the hell. Go out, swing from my shoe tops and see how far I can hit them and how many I can hit."
With only two outs to go, Giambi still trailed, 14-4. But then he threw a lightning bolt into the evening by homering on his next six swings.
"I said, `Uh-oh,' " Pujols said. "`Here he comes.'"
But Giambi finally ran out of steam and finished with 11. It was the highest two-round total by anybody in the history of the Derby. And it still just sent him home.
Pujols, by then, was about ready to go home himself. "I was tired, man," he said. "That's a lot of swings. I'm afraid tomorrow to see how my shoulders are. I don't think I ever took that many hacks in my life."
But he had another round to go, against Anderson -- who had come through the first round with seven homers and then beat Jim Edmonds, 6-4, in the second round. Anderson didn't loom as the favorite. But he got himself on a roll, hit nine balls out in a span of 12 cuts and put the pressure on Pujols. Or so everyone else thought.
"I thought nine was kind of easy for him," Anderson laughed.
Ah, but not that easy. Pujols started slowly himself. With just four outs to go, he was behind, 9-4. But then he ripped off four home runs in his next five swings, meaning he needed just one more to tie and two more to win.
"I thought I had it," Pujols said. "I think maybe I thought I had it too easy after I hit No. 8 with only seven outs."
But there would be no No. 9. His final attempt was a curling laser beam down the right-field line. But it had too much topspin, plunked off the base of the wall and ended these festivities -- for another year.
No Barry. No Mac. No Junior. No Sammy. But no disgrace, either.
"You know what?" Giambi said. "It's for the fans, and the fans still love it. They just want to see how many we can hit and how far we can hit them. So that's what we try and give them."
And the commish thanks them, too, from the bottom of his heart.
Jayson Stark is a senior writer for ESPN.com.
Senior Writer, ESPN.com
Senior writer for ESPN.com
21 years at the Philadelphia Inquirer
Author of three baseball books
SPONSORED HEADLINES
MORE MLB HEADLINES
MOST SENT STORIES ON ESPN.COM
EDITORS' PICKS
These players are vital to their team's success.
Blog

Ranking baseball's 30 farm systems for 2015.
Keith Law