Expos pulled in many directions regarding future
Where the Expos will call home next season is becoming a mystery wrapped in a riddle inside an enigma.
Originally Published:
August 21, 2003
By
Jayson Stark
| ESPN.com
In less than two weeks, the commissioner's office has to submit a 2004 schedule to the players' union for approval. And the good news for the Montreal-San Juan-Washington-Alexandria-Portland-Monterrey Expos is, they'll be on there someplace.
They'll be allowed to play 162 completely official games. They'll still be in the National League. Every game will count. And if they're especially well-behaved, the Hall of Fame promises not to white out the Expos logo on Gary Carter's plaque.
But as for your other questions, sorry, don't ask.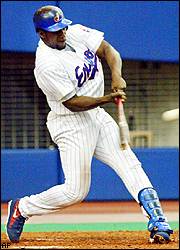 Don't ask if they'll find a new permanent home by Labor Day, Christmas, Ground Hog's Day or next April Fools Day, because just about nobody will like that answer.
Don't ask if their temporary home next year will be in Montreal, San Juan, RFK Stadium or some combination of all of the above -- because about the only thing certain is that it can't be Portland, Ore., for purely logistical reasons (not a good fit for the NL East).
Don't ask if Vladimir Guerrero will be on the team, because that's a pitch even Vladdie himself wouldn't take a swing at right now.
Don't even ask if Youppi! will be spreading his own unique brand of Expos merriment, because that question saddens us all too profoundly for words.
In other words, as has been the case for 20 months now -- since Bud Selig Inc. took control of this lost-in-limbo franchise -- the Expos are clearly going to remain stuck in baseball's quicksand for at least one more water-treading season.
"I don't know what to say, other than that everything is still under consideration," said baseball's COO, Bob Dupuy. "We haven't ruled out a permanent solution. We haven't disqualified any location. But we're up against some significant issues when it comes to the schedule. ... So all I can promise is that we'll do what we have to do given the circumstances."
What they have to do and what they would like to do could well be two different things, of course. But that's another reality that hasn't changed much in 20 months. So with no firm answers, all we can do is get out our own Ouija Board and forecast what we'd guess will happen:
Next year's home
Three weeks ago, we wouldn't have bet you a smoked-meat sandwich that this team would ever play another game in Montreal after 2003. But now we're not so sure.
In fact, if we were going to bet right this minute, we would bet on another season similar to this one, with 50 to 60 games in Montreal, 20 to 30 in San Juan and a slightly more workable travel schedule to make it more palatable to everyone involved.
True, the union announced it would not accept another split schedule. True, the Expos players voted to play all 81 games in San Juan. But upon further review, the Summer in San Juan package began looking less and less attractive with every glance.
For one thing, a team based in San Juan would wind up flying thousands of miles more than any team has ever traveled, with the possible exception of the Apollo 12 team. That would translate to an extra 2½ hours in the air for virtually every trip in and out of San Juan. And even if you subtract those pesky Montreal customs issues, that's not a great option.
Then there's weather. During the average baseball season, San Juan gets 32 inches of rainfall. Which would be 32 more inches than lovable Stade Olympique in Montreal, barring another roof mishap. So if the Expos play 81 games in San Juan, they could set records for longest rain delays, most day-night doubleheaders and drownings in the dugouts. Not good.
And there are other issues, too. Moving out of Montreal means packing up an entire office, transporting massive quantities of files and records and equipment, and essentially turning this into an office on wheels until the Expos find a real home. That's no way to run a franchise, either.
So all kinds of options are being studied, from nearly every angle. But there seems to be an increasing openness on all sides to try another Montreal-San Juan platoon. But this time, baseball would attempt to prepare the schedule with more attention to the travel ramifications, as opposed to figuring all that out later and sticking the Expos with another three-week, seven-city, five-time-zone Road Trip From Hell.
The final destination
As we can see on this very site, from David Hallstrom's exhaustive study of all potential homes for the Expos, it ought to be obvious to everybody that this team should wind up in Washington or Northern Virginia.
Then again, it's also obvious that that ought to happen the sooner, the better. But the hangups just keep on coming.
| | | |
| --- | --- | --- |
| | | From a purely baseball standpoint, there might be legitimate urgency to getting (the Expos) a permanent forwarding address. But this is a sport that moves slower than Calvin Pickering in the best of times. When actual business complications enter the mix, MLB has a way of proving it's the downshifting champion of the world. |
The Washington group appears to be ahead of the Northern Virginia group in most areas. But the D.C. politicians and the MLB relocation committee continue to play hardball with each other. And nobody is blinking.
At least Washington is at a stage where baseball knows it will build a ballpark if it's awarded a team. And "will" beats "might" or "could."
But the baseball folks are concerned about the relatively high percentage of the construction costs that would fall on the Expos' new ownership group. (Only the Giants' and Tigers' owners would top it, as currently constituted.) And the DC politicos are getting worn down by baseball's slow pace, threatening to withdraw the whole package if it doesn't get a team right now this minute.
So it's possible this tension could actually get messier, not better, in the next year. And that's a frightening prospect that could open all sorts of possibilities -- almost none of them good.
Meanwhile, baseball still hasn't figured out what to do about placating the Orioles and Peter Angelos, even though the D.C. group keeps presenting studies that show only a "minimal" impact on the Orioles.
And don't forget that lingering lawsuit by the one-time limited partners of former Expos owner Jeffrey Loria. If this team gets sold for big bucks, they want to get paid off, too -- by somebody.
So from a purely baseball standpoint, there might be legitimate urgency to getting this team a permanent forwarding address. But this is a sport that moves slower than Calvin Pickering in the best of times. When actual business complications enter the mix, MLB has a way of proving it's the downshifting champion of the world.
What happens to Guerrero?
For two years, the men who have run the Expos have done an incredible job of making the best of a lousy situation. But the stakes are about to rise.
At least the Expos of 2002 and 2003 had maybe The Best Player In The History Of The Franchise in the lineup. But whether the 2004 Expos will still have Vladimir Guerrero is verrrry dubious.
Amazingly, GM Omar Minaya still thinks he can sign Guerrero. He knows Guerrero is a creature of comfort who would prefer to stay with a heavily Spanish-speaking team full of guys he has been around for years. And the GM has a close relationship with Guerrero's mother, whose influence shouldn't be underestimated.
But will all of those positives be undone by the three zillion negatives swirling around the future of the franchise?
Will Minaya even be there, for one thing? He already has been talked about as a candidate for GM jobs with the Reds and Mets. And he has no assurances about his future with the Expos if -- OK, make that when -- they move. So his departure could take that trump card out of the Expos' deck.
And even if Guerrero were willing to overlook all the uncertainty about where the team will play and who will own it, will MLB be long-sighted enough to budget money to sign Guerrero now in the hope it would pay off in a bigger purchase price later?
The Expos, we keep hearing, have been told that MLB will at least consider approving a contract for Guerrero if the price is right. But we've also heard Bud Selig say, at least three times, that "a lot of clubs are in the Expos' predicament, (that) can't afford to sign their own players." So that sure sounds like it's laying the groundwork for a perfectly scripted alibi if Guerrero moves on.
If he does -- knowing that it's his preference to stay -- that departure would rank as the biggest tragedy in all of this. And baseball would deserve to have that tragedy be reflected in a reduced purchase price when this deal eventually does go down.
And despite all of these dangling mini-crises, the deal will go down. Some day. Trust us. Just don't ask when. Or what, why or how, either.
Jayson Stark is a senior writer for ESPN.com.
Senior Writer, ESPN.com
Senior writer for ESPN.com
21 years at the Philadelphia Inquirer
Author of two baseball books
SPONSORED HEADLINES
MORE MLB HEADLINES
MOST SENT STORIES ON ESPN.COM
EDITORS' PICKS
Who'll be the team that ultimately hauls in David Price?
Jayson Stark »

Roy Halladay made a good call by choosing to retire a Blue Jay.
Glanville »

It's just right for Torre, La Russa and Cox to go in Hall together.
Crasnick »

FANMATS Washington Nationals Runner Floor Mat Shop »