Baseball's ownership bad for Vlad, Expos
There's one big problem with Vladimir Guerrero's free agency: Baseball still owns the Expos.
Updated:
November 24, 2003, 2:38 PM ET
By
Jayson Stark
| ESPN.com
In any year, in any market, in any era, on any planet, Vladimir Guerrero would be slightly more than just your average free agent, roaming the baseball wilderness looking for work.
But especially this year.
Too bad that this year, it's for all the wrong reasons.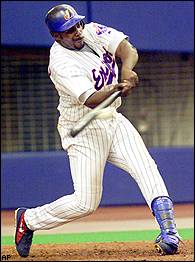 Vladmir Guerrero hit 30 home runs or more in five straight seasons, until last year when he missed 50 games.
This year, the reason we should all be eyeing Guerrero's free agency so closely isn't just because he can hit 40 home runs and steal 40 bases. It isn't just because he owns a higher career batting average (.323) than Roberto Clemente. It isn't just because he's already the leading home-run hitter in the history of his franchise even though he's the same age as
Scott Podsednik
(27).
It's because the team Guerrero has spent his whole career playing for (the Montreal-San Juan-Washington-Virginia-Portland-Monterrey Expos) is still trying to sign him -- and that team is still owned by Major League Baseball.
You don't think that's a problem? Well, here's why it sure looks like a problem, no matter how hard everyone involved may try to avoid one:
The Expos' ability to sign Guerrero is directly tied to their payroll -- which is calculated, at least in part, by the good folks at Major League Baseball.
The amount of that payroll is directly affected by the negotiations to play a chunk of the Expos' schedule in San Juan -- negotiations that were conducted by (right you are) Major League Baseball.
Any contract Guerrero eventually is offered would be the largest contract in Expos' history -- meaning it would have to be approved by MLB-appointed team president Tony Tavares. Which would certainly suggest, at the very least, that it needs approval in some form by Major League Baseball.
And who is funding the operations of the team trying to sign this guy? The other 29 teams who, ostensibly, are also trying to sign him.

So of all the tangled webs baseball has woven with its ownership of this team, this one is the all-timer. In other words, just when you think the conflicts and contradictions of this Expos-MLB partnership can't possibly get any messier, along comes the next embarrassing entanglement.

"It's like a whirlpool," says one baseball man who once worked for the Expos, "that has turned into a cesspool."

Major League Baseball doesn't see it that way, of course. MLB's chief operating officer, Bob DuPuy, has told us repeatedly that no one would even notice that MLB owned the Expos if people like us didn't keep pointing it out.

And the commissioner himself, Bud Selig, says the folks who run the Expos -- Tavares, GM Omar Minaya and manager Frank Robinson -- "have been as independent as they could possibly be."

Well, Tavares, Minaya and Robinson have done a tremendous job, given their bizarre ground rules. But the question people keep asking this winter is: How independent can they possibly be when they're mixed up in a negotiation like this one?

Selig insists we're making way too much out of this. The issues we've raised about the Guerrero negotiations, the commish says, "are true of any club."

"If they want to sign Guerrero," Selig says, "they have to make a baseball decision, based on revenues, based on other things they have to weigh. And that's true of all 30 clubs." Well, yes. But no. Because the other 29 clubs don't have their budget set by Major League Baseball.

And the other 29 clubs aren't caught in MLB-induced limbo, waiting interminably to be freed from their homeless shelter so they can move on to a permanent home.

And the other 29 clubs aren't simultaneously funding a team they're also competing against.

So no matter how hard everyone -- from Selig on down -- may aspire to make the operations of the Expos look as normal as possible, the reality is: That can't be done. This will always look bad, as long as MLB owns and operates the team.

Nevertheless, Selig disputes any notion that the Expos need to consult with him, DuPuy or anyone else if they want to re-sign their biggest star.
| | | |
| --- | --- | --- |
| | " | (Expos president Tony Tavares) has got to do what he thinks is in the best interests of that club. He knows their revenues. He knows what he has to do. So does he have to call me about a situation like this? No. They've made a lot of trades and a lot of moves, to be honest with you, that I didn't even know about until I heard them on ESPN. " |
| | | — Commissioner Bud Selig |
"That's a decision that Frank and Omar and Tony have to make," Selig says. "I don't think anything precludes that."

Even a $15-million-a-year contract? Absolutely, Selig says. He insists Tavares would not need his, or anyone's, approval to make that deal.

"I've told him, 'Unless it's something critical, I don't want to hear from you,' " the commish says.

And what's his definition of "something critical?"

"Something relative to baseball and the franchise itself," Selig says. "If they're having a problem with their lease in Montreal or some sort of legal problem -- something of that nature."

But not a contract -- any kind of contract, he says. Even, potentially, the biggest contract any free agent will sign all winter.

"Quite frankly, I talk to them less than I talk to a lot of other clubs," Selig says. "Tony has got to do what he thinks is in the best interests of that club. He knows their revenues. He knows what he has to do. So does he have to call me about a situation like this? No. They've made a lot of trades and a lot of moves, to be honest with you, that I didn't even know about until I heard them on ESPN."

Which is the way it ought to be. Obviously. But in a winter in which words like "collusion" and "conspiracy" are already starting to spill off many agents' tongues, is there any way for MLB to be above suspicion in a negotiation as visible as this one?

Guerrero is, after all, not just the best player on this market. He's the free agent whose contract will set the market.

It doesn't matter if he winds up getting Sammy Sosa money ($18 million a year) from the Orioles or Angels, or takes Luis Gonzalez money ($10 million a year) to stay with the Expos. His deal will have a huge trickle-down effect on what Gary Sheffield, Pudge Rodriguez and all his free-agent friends will be offered.

And at a time when all teams are already suspected of consulting with MLB about all their free-agent offers, agents have posed this scenario:

Suppose the Expos have offered Guerrero five years, $75 million -- and then, say, the Orioles or some other team top that by offering six years, $92 million. If the Expos go back to MLB for approval to match or beat that offer, wouldn't that be a way of illegally communicating to every team exactly where the bidding stands?

Oh, that wouldn't happen, Selig insists. But if people are even suspicious that it might, doesn't that sum up how uncomfortable this whole arrangement has become?

"I've been very sensitive about these issues right from the start," Selig says. "But pragmatism dictates this (homeless limbo). There's no sense complaining about it."

Selig knows the solution as well as anybody, of course. It's as basic as a full-count fastball: Sell the team. Move the team. Once and for all.

But Selig says: "It isn't that easy. There are all kinds of stadium problems and all kinds of situations" that have forced baseball to postpone that sale for yet another year. Fine. But whatever the rationale, it also means Selig and MLB are stuck with trying to dodge all these ethical questions for yet another year.

"I admit this is far from perfect," the commish says. "So will I be happy when they find a permanent home? Yes. Nobody will be happier about that than me."

Yes, we're sure Selig will be ecstatic the day he can shampoo this mess out of his hair. He ought to be. But by the time that day comes, the fate of "The Greatest Expo Of Them All" will have been altered, in some way or other, by this regrettable arrangement.

And no matter how MLB spins or explains or rationalizes it, that's a crime not just against Vladimir Guerrero, but against baseball.

Curt Schillings Rumblings
When last we left the Curt Schilling market watch, leading indicators continued to point toward him winding up as a Yankee sometime this winter. But not anymore.

Free Agent Shopping Guide
With all those free agents out there running around, it can be hard to sort them all out. So we're here to help, by grouping them numerically:

FAs who won more games than Kevin Millwood
Millwood won 14. These five guys won more: Andy Pettitte (21), Sidney Ponson (17), Greg Maddux (16), David Wells (15) and Bartolo Colon (15).

FA starters with an ERA lower than Maddux's
Maddux's ERA (3.96) was his highest since his rookie year. Look who did better: Miguel Batista (3.54), Ponson (3.75), Brian Anderson (3.78), Colon (3.87).

FAs who pitched more innings than Pettitte
Pettitte worked 208 1/3 innings. But six free agents beat that: Colon (242), Millwood (222), Maddux (218 1/3), John Thomson (217), Ponson (216) and Wells (213). The only other 200-inning free agent: Jeff Suppan (204).

FAs who saved more games than Armando Benitez
Benitez heads into free agency off a 21-save season. Which was topped by this diverse group: Keith Foulke (43), Eddie Guardado (41), Tim Worrell (38), Ugueth Urbina (32), Mike Williams (28) and Jose Mesa (24).

FAs with 30 homers, 100 RBIs and .300 average
Just two men in this exclusive group: Javy Lopez (.328, 43 HR, 109 RBIs) and Gary Sheffield (.330, 39 HR, 132 RBIs).

FAs with a higher average than Shannon Stewart
Stewart batted .307. Besides Lopez and Sheffield, three other free agents who got 400 plate appearances topped that: Vladimir Guerrero (.330), Luis Castillo (.314) and Jose Guillen (.311).

FAs who outhomered Guerrero
Thanks to his back troubles, Guerrero hit only 25 home runs. That number was topped by Lopez, Sheffield and seven other free agents: Rafael Palmeiro (38), Jeromy Burnitz (31), Reggie Sanders (31), Guillen (31), Carl Everett (28), Miguel Tejada (27) and Tony Batista (26).

FAs in the .400-.500 club
Among free agents who made 400 trips to the plate, only two had a .400 on-base percentage and .500 slugging percentage: Sheffield (.419 OBP, .604 Slug.) and Guerrero (.426 OBP, .586 Slug.).

FAs who stole more bases than Luis Castillo
Because of ongoing hip problems, Castillo's steals dropped from 48 to 21. Still, only three free agents even beat that: Kenny Lofton (30), Eric Young (28) and (surprise) Raul Mondesi (22).
-- J.S.

According to various sources who have spoken with the Diamondbacks, Yankees and Phillies in the last week, the odds of Schilling landing in either New York or Philadelphia now seem minimal.

Arizona hasn't backed off its request for at least two young, front-line, major-league-ready players in return for Schilling and his $12-million contract. And neither team is biting.

One rumor had the Diamondbacks attempting to involve the Brewers and Phillies in a three-way deal. That one would have sent Schilling to Philadelphia, Richie Sexson to Arizona and two second-tier Phillies prospects, plus an Arizona pitcher (believed to be John Patterson), to Milwaukee. But the Brewers reportedly balked.

The Yankees, meanwhile, initially hoped that by testily backing off on Schilling, they could force the Diamondbacks to soften their demands for Nick Johnson and Alfonso Soriano. But now, says an official of one club that has been talking to the Yankees, "it may be too late. The Yankees aren't waiting around."

The Phillies, on the other hand, almost have to wait, because there are rumblings now that if Kevin Millwood doesn't get the five-to-seven-year deal Scott Boras reportedly is looking for, he'll accept arbitration if the Phillies offer it. That would tie Millwood to the Phillies for one year, probably in the range of $13 million. And that would leave no financial wiggle room for Schilling.

Every indication, in fact, is that the Phillies prefer a one-year arrangement for just about any starting pitcher they acquire, unless Bartolo Colon develops a sudden passion for cheesesteaks. With a loaded free-agent pitching class out there next winter, the Phillies would like to keep their options open. So even if they can agree on a trade for Schilling, they might not be interested in extending his contract.

Orioles Rumblings
One of the biggest myths of the offseason is that the Orioles have $40 million to toss at free agents. If you add up the salaries of players the Orioles are jettisoning -- Albert Belle, Tony Batista, Scott Erickson, Pat Hentgen, etc. -- you get a big number. But it's not as big as it looks -- because $10 million of Belle's $13 million this year was paid by insurance.

Nevertheless, the Orioles are the only team known to be actively chasing Guerrero and Miguel Tejada. Javy Lopez is high on their shopping list. They haven't ruled out Pudge Rodriguez. They're trying to convince Kaz Matsui to come visit Camden Yards. And they could trade for Derrek Lee any day now.

"Let's just say I know what they're looking for," Orioles GM Jim Beattie says of the Marlins. "We've got great young pitching. And that's big currency."
Then there's Mike Piazza. Despite recent denials of Piazza's interest in being an Oriole, friends of Piazza have been telling Rumblings and Grumblings for months that Piazza would be very interested in playing in Baltimore. But there seems to be virtually no chance the Orioles would have interest in him.

Beattie wouldn't address Piazza's potential availability because of tampering rules. But he did say: "The players we're earmarking are players who we think can grow with us. We want to be as good as we can be next year. But we're looking for guys who can be here for the next three, four, five years."

And according to our thesaurus, that's no synonym for: "35-year-old catcher who just missed half the season with a torn groin muscle."

Free-Agent Rumblings
As hard as Dwight Gooden and the rest of Gary Sheffield's coterie appear to be pushing Sheffield toward The Bronx, eh, not so fast.

Baseball people who have spoken with the Yankees say they're wary of reports that Sheffield is looking for three to five years at $15 million a year. For a 35-year-old bat, dangerous as Sheffield may be, the Yankees are said to be thinking more along the lines of two years, at between $10 million and $11 million a year. And that's an offer the Braves may be able to top.
When Kevin Millwood heaved his glove into the stands following his final start in Philadelphia, there appeared to be just about a zero chance he would ever wear a "P" on his cap again. But after the Phillies' delegation met with Boras at the general managers' meetings and said Millwood still was welcome back, Boras arranged a direct conversation between Millwood and GM Ed Wade. Wade now reports: "I don't think there are any extraneous issues (preventing Millwood from returning) that need to be dealt with." Whether the two sides can deal with Boras' money issues is another story.
Are the Braves interested in bringing Millwood back? According to sources who have communicated with the Braves, that depends almost entirely on whether they re-sign Sheffield. They've made him their No. 1 priority. But if he goes elsewhere, that leaves them more money to spend on starting pitching, because whatever bat or bats they bring in are guaranteed to make less than what it would take to pay Sheffield.
How many free agents are actually running around out there? Depends how you calculate it.

The "official" number of major leaguers who filed for free agency is down to 208. But in fact, there are at least twice that many free agents, when you add in A) released players who didn't have to file, B) minor-league free agents, and C) a group we refer to as the "Exaggerated Reports of their Demise" list.

Those are players you probably thought had retired -- but are actually still looking for work. Among names we've heard: Chuck Finley, Chuck Knoblauch, Greg Swindell, Frank Castillo, Jose Offerman and John Valentin.

Pete Rose Rumblings
November -- the month in which many predicted Bud Selig would reinstate Pete Rose -- is almost over. And still, all Selig is willing to say about Rose is the same three words he's been reiterating for months: "Nothing has changed."

Another source close to the issue concedes that "the timeline (for reinstatement) has been pushed around a little." But anyone who listens to Rose speak these days knows his reinstatement, at this point, still appears to be essentially a done deal.

Sources continue to indicate that the agreement will give the commissioner power to approve or veto any job Rose is offered in baseball -- including managing. But one longtime Rose observer wonders why, if Selig is so adamantly opposed to Rose being allowed to manage again, you hear No. 14 talking so confidently about doing so.

"Pete is very confident," the source says, "that A) he'll be back in, and B) he's going to manage at some point. He's not pushing for this just to get into the Hall of Fame. The Hall of Fame is only first base for a guy who knew how to score a run the way this guy did."

Cy Young Rumblings
After all the furor over two writers leaving Hideki Matsui off their rookie-of-the-year ballot, did anyone notice there were also two who left Eric Gagne off their National League Cy Young ballot?
2003 SEASON STATISTICS

GM
W
L
Sv
K
ERA
77
2
3
55
137
1.20
Gagne got 28 of the 32 first-place votes. But the Miami Herald's Clark Spencer put Jason Schmidt, Mark Prior and Russ Ortiz in the 1-2-3 spots on his ballot, over Gagne. And the Atlanta Journal-Constitution's Terence Moore went Prior-Schmidt-Ortiz.
Both Spencer and Moore told Rumblings they weren't trying to make a case that relievers shouldn't be eligible for the Cy Young. They just give heavy extra credits to starters who have great years with much heavier workloads.
"I do have a preference for starters over closers, primarily because I view the closer to be a specialist, much like the placekicker is in football," Spencer said. "While Gagne saved 55 games, he saved them for fellow pitchers -- many of them starters, I would presume -- who acquired the leads by working through the opposing order several times before turning the ball over to him to face three, four or five batters."
"I wouldn't call this a protest vote," Moore said. "I just think it's more of a starting pitcher's award than it is a reliever's award. It's almost like with the MVP, trying to decide whether it's the most 'valuable' or the most 'outstanding' player. It's not stated specifically, so it becomes objective. And in my mind, there should be an overwhelming emphasis on starting pitchers."
We actually agree with that emphasis. We just think Gagne had a season so dominating, you have to throw normal assumptions in the nearest dumpster. But if it means anything, virtually all of the other relief pitchers who won Cy Youngs had to fight the same battle.
Of the six previous closers who won Cy Youngs over the last quarter-century, only one -- Rollie Fingers in 1981 -- made it onto every ballot.
| | |
| --- | --- |
| | |
| | Kotsay |
More Rumblings and Grumblings

We can understand what A's GM Billy Beane sees in Mark Kotsay, if he's healthy. But NL scouts who watched Kotsay scuffle to hit .266, with seven homers, with a bulging disk in his back last season say the A's ought to check those MRIs verrrrry closely.

"However bad they think Terrence Long was, Kotsay wasn't much better," says one scout. "He played like he was running in quicksand last year. You could see his back was messed up. And he played like it."
Boof Bonser was once one of the Giants' most highly regarded pitching prospects. But after they included him in the deal with Minnesota that brought them A.J. Pierzynski, scouts we surveyed didn't rate him as a guy with much chance to come back and haunt the Giants.

"I liked his stuff better in high school, to be honest," one scout said. "I still think there's something good in there. But the guy has a long way to go to get polished enough to pitch in the big leagues. He's just a mediocre Triple-A pitcher right now. I don't think he has any feel for what he wants to do out there."
On the other hand, scouts who worked the Arizona Fall League were gushing about Merkin Valdez, the 21-year-old righthander the Giants got from Atlanta last winter in the Russ Ortiz trade.

"This guy's so long-armed, he could scratch his ankles when he walked," said one scout. "But he hit 98 on the gun and lit it up. This kid has a big arm."
We understand the complaints that a 15-day suspension for a two-time steroid offender may seem light. But whatever that sentence lacks in days served will be more than balanced by the national scorn that will be heaped on the first wave of players to be named as steroid abusers.

"People forget that these guys thrive on being in the public eye, on the accolades and the fans and the applause," says one prominent agent. "Well, we've all seen guys struggle just because they're getting booed. What's going to happen to these guys? They're the ones who will have to live with the personal humiliation. It will make people question their records forever."

Which leads us right into this week's big baseball headline from the brilliant online humor site, ironictimes.com:

COMMISSIONER SELIG ADDS INCENTIVE TO STEROID BAN
League with fewest All-Stars testing positive gets home-field advantage in World Series.

Jayson Stark is a senior writer for ESPN.com. Click here to send Jayson a question for possible use on ESPNEWS.
Senior Writer, ESPN.com
Senior writer for ESPN.com
21 years at the Philadelphia Inquirer
Author of three baseball books
EDITORS' PICKS
Lloyd McClendon is 'carrying the torch' as MLB's only black manager.
Jerry Crasnick »

Roy Silver is rooting harder for Josh Hamilton in life than in baseball.
Jayson Stark »

The SportsCenter spring training tour has been all over Florida and Arizona.
Tour schedule »

MOST SENT STORIES ON ESPN.COM