Wild winter induces spring fever
Most improved. Least recognizable. Best, worst signings. Calling it a crazy offseason is an understatement.
Originally Published:
February 19, 2004
By
Jayson Stark
| ESPN.com
CLEARWATER, Fla. -- It's hard to believe, but it's that time again. Finally.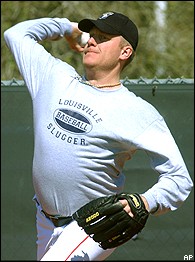 The biggest offseason addition might be Curt Schilling to the Sox.
No more A-Rod trade rumors. No more updates on how many helpings of turkey Curt Schilling served Theo Epstein on Thanksgiving. No more shoveling your way down the driveway to check the newspaper to see if Hiram Bocachica has signed yet.
Yeah, it's true. Another action-packed baseball offseason is finally in the rear-view mirror. (Even for Greg Maddux.) So peel off those parkas. Start clicking on your favorite cyberspace baseball page for that long-awaited first bulletin from Ho Ho Kam Park (and all those other beloved spring-training locales). And while you're waiting, let's take one final glance back at one of the craziest baseball offseasons ever.
MOST IMPROVED TEAMS (NL):
1. Phillies
2. Cubs
3. Astros
The Phillies jettisoned the only closer in history to save 20 games with an ERA over 6.50 (Jose Mesa). They replaced him with the most dominating left-handed closer of modern times (Billy Wagner). And amazingly, they didn't stop there. They signed elite setup man Tim Worrell. And by trading for Eric Milton and keeping Kevin Millwood, they became the answer to this trivia question: Name the only National League rotation in which all five prospective starters have winning records in their career.
MOST IMPROVED TEAMS (AL):
1. Angels
2. Red Sox
3. Yankees
It's amazing what 146 million bucks will buy . The Angels just finished hurtling through the biggest dropoff in wins (22) by any AL World Series champ since the 1912-13 Red Sox. Then, 146 million Arte Moreno dollars later, they had themselves the best player in baseball not named Rodriguez (Vladimir Guerrero), the best pitcher on the free-agent market (Bartolo Colon), a potential No. 2 starter (Kelvim Escobar) and a high-maintenance 31-homer man (Jose Guillen). Now all they have to do is convert those dollars spent into games won. Darn, there's always a catch.
MOST UNIMPROVED TEAMS (NL):
Best Free-Agent Signings
1. Andy Pettitte (Astros)
2. Vladimir Guerrero (Angels)
3. Kazuo Matsui (Mets)

Guerrero may have been the sexiest signing of the winter. Matsui gives the Mets a jolt of electrifying international star power. But Pettitte and the Astros get extra credit. The Astros got more than just a 20-game-winning left-hander. They got the bait that hooked them Roger Clemens. And the two of them have opened a window that gives this group of Astros one last shot to win it all.
1. Braves
2. Expos
3. Dodgers
For the last dozen years, the Braves have been the best-run franchise in any sport. But this was the winter John Schuerholz's smooth-running Ferrari got rear-ended by Time-Warner's bottom-line corporate-economic-mobile. So out the door went 104 homers and 321 RBI (via the no-longer-in-attendance Gary Sheffield, Javy Lopez and Vinny Castilla). Their esteemed replacements (J.D. Drew, Johnny Estrada and Mark DeRosa) combined for 31 homers (eight fewer than Sheffield) and 132 RBI (exactly as many as Sheffield) last year, even counting Estrada's Triple-A stats. Then there's the rotation, where the Braves are filling Greg Maddux's spot with 2002 non-tenderee John Thomson. If this team makes it 13 titles in a row, Bobby Cox shouldn't just get a manager-of-the-year trophy. He should get a statue.
MOST UNIMPROVED TEAMS (AL):
1. White Sox
2. Rangers
3. A's
The White Sox missing-persons list says it all: Bartolo Colon, Tom Gordon, Carl Everett, Roberto Alomar, Scott Sullivan and even their best utility man, Tony Graffanino. Meanwhile, their biggest offseason acquisition (reliever Shingo Takatsu) throws 85 miles an hour. Their manager (Ozzie Guillen) has never managed. Their best player (Magglio Ordonez) wants out. And they have a defensive hole up the middle you could drive 12 Hummers through. Amazingly, their division is so wide open, they could still win it.
LEAST RECOGNIZABLE TEAMS:
1. Pirates
2. Brewers
3. Tigers
OK, we dare you. Try naming that Pirates lineup. Brian Giles? Nope. Reggie Sanders? Sorry. We'll spot you Jason Kendall. Hey, did someone say Tike Redman? We'd like to see how many Pittsburgh residents could correctly identify Freddy Sanchez, Chris Stynes and Jason Bay if they showed up at their dining-room table about now.
Worst Free-Agent Signings
1. Kenny Lofton, Yankees (2 years, $6.2 million)
2. Braden Looper, Mets (2 years, $6.5 million)
3. Fernando Vina, Tigers (2 years, $6 million)

Lofton didn't sign in 2002 or 2003 until after spring training had already begun. But George Steinbrenner apparently wasn't taking notes. So the Boss made two dubious decisions -- that Lofton was A) a defensive upgrade over Bernie Williams and B) worth two guaranteed years at more than $3 million a year. So here he is. Oh, Lofton can still do some things. But one of them is exuding unhappiness. And you can bet he will if Joe Torre decides Williams is still his center fielder. Which could easily happen.
CHECKBOOK CHAMPS:
1. Yankees -- Took on a $112-million I.O.U. on A-Rod. Gave $70 million to 11 free agents. Traded for Javier Vazquez and signed him for four years, $45 million. Assumed the last $30 million on Kevin Brown's deal. (Grand total: $257 million, not even counting the $2 million they gave the Dodgers to take Jeff Weaver.)
2. Angels -- Committed $146.3 million to five free agents. So now all Arte Moreno has to do is dig up some more cash to sign Garret Anderson and Troy Glaus.
3. Orioles -- Their five big free agents will get $123 million to support their crabcake fixes.
For that $257 million, the Yankees could have A-Rod, Vazquez, Gary Sheffield and the best team a quarter-billion bucks can buy -- or more than 26 million pastramis on rye at the Stage Deli. Having eaten that pastrami, we're not sure A-Rod was the best buy.
BEST TRADES:
1. Red Sox get Curt Schilling from Arizona for four eminently replaceable parts, one turkey dinner and a lifetime membership in the Sons of Sam Horn.
2. Yankees get an actual starting pitcher under 30 (27-year-old Javier Vazquez) from Montreal for Nick Johnson and two guys destined to be less popular than Youppi (Juan Rivera and Randy Choate).
3. Cubs get Sammy Sosa's new lineup-protection assistant, Derrek Lee, from Florida for Hee Seop Choi, a player to be named later and Steve Bartman's Walkman.
3 TRADES THAT SUMMED UP THE WINTER:
1. How A-Rod Spent His Winter Vacation: Gets traded to Boston, oops no he wasn't, named captain of Rangers, pledges love for everybody in Texas except Dirk Nowitzki, then engineers trade to Yankees. So which lasted longer -- Roger Clemens' retirement, Britney's marriage or A-Rod's captaincy in Texas?
2. Michael Barrett gets traded from Montreal to Oakland for a player to be named later, then gets dealt again from the A's to the Cubs for another player to be named later, almost gets non-tendered in Chicago, then signs with the Cubs, whereupon Damian Miller becomes the player to be named later heading for Oakland.
3. Padres and Mariners salary-dump extravaganza: Jeff Cirillo winds up in San Diego after refusing to go to the Mets; Kevin Jarvis, Dave Hansen and Wikki Gonzalez wind up in Seattle.
BEST FREE AGENTS UNDER $2 MILLION:
Most Innovative Offseason Injuries
1. John Vander Wal (Reds) blows out his knee -- while shoveling snow.

2. Cubs GM Jim Hendry trips on a dustpan while carrying his son's birthday present down the stairs, needs reconstructive knee surgery and still tries to sign Greg Maddux from his hospital bed.

3. Phillie Phanatic gets headnapped.
1. Cubs get desperately needed left-handed bat in Todd Walker for one year, $1.75 million, just a few weeks after Walker had turned down a two-year, $8-million offer -- from the Cubs.
2. Giants get 200-inning machine Brett Tomko for $1.5 million -- $2.7 million less than they paid Marvin Benard last year to hit .197 and score five runs.
3. Red Sox convince Ellis Burks to sign for $750,000, about half what he'd been offered by Seattle.
BEST FREE AGENTS SIGNED TO MINOR-LEAGUE CONTRACTS:
1. Mark McLemore, Orioles (still a useful utility guy after all these years).
2. Fred McGriff, Devil Rays (you don't find many 500-homer men in the bargain bin).
3. Royce Clayton, Rockies (A-Rod he's not, but he WILL be their starting shortstop).
MOST OUTRAGEOUS CONTRACTS:
1. Tigers give Ivan Rodriguez four years, $40 million (or was that two years, $20 million?) even though no one else was still bidding.
2. Dodgers give Juan Encarnacion two years, $8 million even though he was about to be non-tendered.
3. Cardinals give two-year deal and $4.2 million to a pitcher (Julian Tavarez) who struck out 39 in 83 2/3 innings and has worked for five teams in five years.
MOST IMPORTANT INJURY COMEBACKS (NL):
1. Robb Nen, Giants
2. John Smoltz, Braves
3. Jason Schmidt, Giants
MOST IMPORTANT INJURY COMEBACKS (AL):
1. Jon Lieber, Yankees
2. Juan Gonzalez, Royals
3. Jermaine Dye, A's
MOST UNLIKELY NAMES ON SPRING-TRAINING ROSTERS:
Wildest Contract Clauses
1. Curt Schilling, Red Sox: 2007 option year vests if the Red Sox merely break with 86-year tradition and win any of the next three World Series.

2. Vinny Castilla, Rockies: Gets $500,000 of his $2.1-million salary this year, the rest in annual $100,000 installments between 2014 and 2029.

3. Kazuo Matsui, Mets: Gets a translator for himself and his wife, eight round-trip business-class tickets from Tokyo to New York, a $25,000 "relocation" fee, a $25,000 housing allowance, a free car, six tickets to every game (home and away) and a stipulation preventing him from being sent to the minor leagues for any reason except a rehab option.
1. Henry Rodriguez, Pirates (Hit last big-league homer four years ago. Since then: 1-for-28.)
2. Donovan Osborne, Yankees (Last big-league win: 1999.)
3. Rich Loiselle, Devil Rays (Three years since his last big-league pitch. Six years since he lost his job as closer for 1998 Pirates. Big-league ERA since 1999: 6.69.)
MOST INTRIGUING SPRING STORIES (NL):
1. Andy Pettitte and Roger Clemens tell World Series stories to the Astros.
2. Who kidnapped the Braves?
3. Mike Piazza tries on his first-base mitt in Port St. Lucie.
MOST INTRIGUING SPRING STORIES (AL):
1. Yankees-Red Sox, Yankees-Red Sox, 24/7 of Yankees-Red Sox.
2. Pudge Rodriguez wakes up in Lakeland and asks, "What am I doing here?"
3. Rookies under the microscope -- Are Joe Mauer (Twins) and Bobby Crosby (A's) ready for prime time?
Jayson Stark is a senior writer for ESPN.com. Click here to send Jayson a question for possible use on ESPNEWS.
Senior Writer, ESPN.com
Senior writer for ESPN.com
21 years at the Philadelphia Inquirer
Author of three baseball books
SPONSORED HEADLINES
MORE MLB HEADLINES
MOST SENT STORIES ON ESPN.COM
EDITORS' PICKS
David Schoenfield breaks down some of baseball's best dynasties.
Story »

The idea of eliminating defensive shifts is absurd.
Buster Olney

If A-Rod hits enough home runs to earn his bonuses, the Yanks should be more than happy to pay them.
Wallace Matthews