Could it be time to worry?
The Phillies, D-Backs, Mariners and Blue Jays have all struggled early on. Will they be able to right the course?
Originally Published:
April 15, 2004
By
Jayson Stark
| ESPN.com
It's time once again to play our favorite April game -- Reality or Illusion?
We look at those standings. We make sure we aren't looking at the newspaper upside-down. We wonder if this is all some goofy April Fools joke, or if everything about this sport really can change this fast.
We wonder most about some of these teams we expected to find somewhere near the top of those standings -- the Phillies, the Diamondbacks, the Mariners, the Blue Jays.
Were they just going through One of Those Things? Or is something about them broken -- maybe even to the point where Donald Trump won't be the only one this month to say, "You're fired!"?
Well, we've tried our best to sort it out, by polling a bunch of scouts who have been watching those four teams. We asked them -- and now we ask you: Reality or Illusion? You decide. ...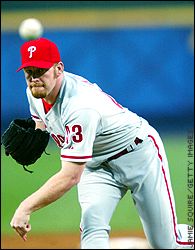 Randy Wolf is 0-1 with a 6.10 ERA in two starts so far this season.
Phillies
The cold facts: Their 1-6 start through Wednesday was their worst since 1987. ... Dating back to spring training, they'd gone 2-17 in their last 19 games before winning Thursday. ... Hadn't scored more than two runs in any of their first 70 innings. ... Incredibly, had scored 50 fewer runs than the Astros (66-16) through Wednesday. ... Before the seventh inning Thursday, their whole lineup had been outhomered by Henry Blanco, 3-2. ... Went into Thursday hitting .204 with men on base, .150 with men in scoring position. ... But opponents were hitting .303. ... Ray of hope: The 1977 Phillies started 1-6 -- and won 101 games.
Reality or April illusion?
We found more disbelief over this team's start than any of the four clubs on our list.
"That club should perform," said one NL scout. "I like the rotation. I thought (Billy) Wagner was the missing link in the bullpen. And when I go around the lineup, I like everybody they run out there. ... I'm mystified not to see this club go on a 10- or 12-game tear."
But this is hardly a team without flaws. And every one of those flaws has shown up so far.
Deep as the rotation is, there's no Schilling-esque dominator to win a game singlehandedly. And as good as the names in this offense look, they haven't found a way to make the pieces fit together. Meanwhile, their situational hitting has been mysteriously abysmal for two years.
"They're a boom-or-bust club offensively," said one advance scout. Another scout wondered about their lack of "that prototype leadoff guy." And scouts who have watched them see a palpable tension in the way their hitters approach big at-bats -- and wonder if that reflects the personality of their tightly wound manager, Lawrence R. Bowa.
Whether it does or not, this is a club with no excuse not to win its division. So while Bowa is not in imminent danger, remember that this is a team committed to all of its significant players for the next three to five years. And this is too important a season in the life of the franchise to expect that the men at the top could possibly sit back and let this season fall apart without making a change.
On the other hand, there is also so much talent here, there is no reason to think this outfit can possibly keep playing this lousy. So our panel's verdict: illusion.
Diamondbacks
The cold facts: Off to worst start (2-6) since their 1998 debut season. ... Pitching has been a disaster. That 7.75 team ERA through Wednesday was the worst in baseball. ... Last in the league in starters' ERA (6.95) -- and starters had a 9.91 ERA in five-game losing streak. ... Last in baseball in bullpen ERA (9.00). ... Outscored, 50-21, since they won the second and third games of the season. ... The Marlins, they're not. Until Danny Bautista swiped a base Thursday, Arizona had the only offense in baseball that hadn't attempted a stolen base. ... Ray of hope: Went through a similar stretch (1-6, outscored by 53-33) in 2001 after Randy Johnson and Curt Schilling won first two games of the year -- and still went on to win the World Series.
| | |
| --- | --- |
| | |
| | Mantei |
Reality or April illusion?
It's hard to remember a time when pitching was a worry on this team, but it is now. One scout described this whole set-up crew as "shaky." And closer Matt Mantei (14.71 ERA in spring training) hasn't quite been Eric Gagne Jr. himself.
In the rotation, Brandon Webb was the only starter who had won through Thursday. Randy Johnson's velocity is still down -- for him (topping at 94 mph), but his 13 whiffs in 13 innings tell us he isn't the problem. It's the 3-4-5 starters (Elmer Dessens, Casey Daigle, Steve Sparks) that have been their black hole so far (0-3, 11.57 ERA).
"If Randy is Randy every five days, they might be OK," said one scout. "And I like Webb. But that's about it on that staff."
Of course, Arizona's two big pickups were on the other side of the ball. But Roberto Alomar has been so disappointing that one scout -- a long-time Alomar admirer -- said, "He ought to retire." And Richie Sexson is still a force -- "but that's assuming he gets any pitches to hit," a scout said. "Given what's behind him, I can't imagine pitching much to him."
There were already rumblings that manager Bob Brenly was in trouble before the season, since he wasn't offered an extension and two of his coaches were axed over the winter. So as Brenly's seat grows warmer, our panel's verdict: reality.
Mariners
The cold facts: Worst eight-game start (1-7) in franchise history -- which isn't easy for a team that began life with 16 straight losing seasons. ... Starting pitchers were still winless eight games into the season for first time in team history. ... Starters had 6.60 ERA through eight games -- 27th in baseball. ... Relievers had 6.20 ERA through eight games -- 25th in baseball. ... Through Wednesday, Seattle was the only team in either league without a win (0-5) when the opposition starts a right-hander. ... Swept in one series all last year (in August). Swept in first series this year. ... Allowed 30 two-out runs in first eight games. ... Ray of hope: 2000 Mariners once went 13 straight games without a win by a starter -- and still made it to ALCS.
Reality or April illusion?
The biggest reason to think they'll be better is that, at some point, they will pitch better. The same five starters who finished second in the league to Oakland last year in starters' ERA are still going out there. And the health issues of Eddie Guardado and Rafael Soriano have screwed up the bullpen -- but both should be fine.
Nevertheless, one scout who has followed them says, "It's trouble in Emerald City. They're getting old in a hurry."
Once Scott Spiezio returns, this will be a lineup with just two starters under 30 -- Ichiro Suzuki (29) and Randy Winn (29 in June). And Seattle's two most important players -- Edgar Martinez and Jamie Moyer -- are both on the wrong side of 40.
Braves Rumblings
There's no equivalent, in any other sport, to a classic baseball at-bat that hangs there in the night, pitch after pitch, foul ball after foul ball, when a game in on the line. And there's not much doubt about the At-Bat of the Year so far:
| | |
| --- | --- |
| | |
| | Franco |
It came last Saturday night. Braves-Cubs. Julio Franco versus Kyle Farnsworth. Tie game. Eighth inning. Bases loaded. Two outs. It lasted 13 mesmerizing pitches -- after Farnsworth had jumped ahead, 0-2. Then Franco fouled off seven two-strike pitches, worked the count full and thumped a game-winning three-run double.
The Phillies' Gordon Lakey, a man who has been in scouting, for more than 30 years, called it "the best at-bat I've ever seen in all my years of scouting. And the only one that's close is George Brett's at-bat against Goose Goosage in 1980 (last game of the ALCS), just because it won the series for Kansas City.
"But when you start to think about this one -- a 13-pitch at-bat, with the bases loaded, with a 45-year-old-plus hitter facing a guy throwing 99 miles an hour with an 84-mph breaking ball. And then the guy almost hits the ball out of the ballpark to win the game. That was incredible. It would have been amazing if he did that at 35, or 25. But he's 45. Absolutely amazing."
Scouts who have watched the Braves through the spring and early April have consistently buzzed about how well Jaret Wright has thrown, now that he has mixed a hard two-seamer in with his 95-mph four-seam fastball.

The Braves have always specialized in rediscovering lost pitching souls like this. But Wright could rank as their all-timer, considering he was claimed on waivers after piling up an 8.37 ERA in San Diego last year.

"It's scary to think where I'd be now if I'd stayed in San Diego all year with my 8 ERA," Wright told Rumblings. "No way you could connect me with this locker right here. If I'd stayed there, where would I be. I wouldn't be here. I know that."

Wright opened Bobby Cox's eyes last September with a 2.00 ERA and nine strikeouts in nine innings of relief. That was enough to get him an $850,000 contract to return to Atlanta. And the rest is history -- in the making.
| | |
| --- | --- |
| | |
| | Smoltz |
As loyal reader Eric Orns reports, John Smoltz just gave up home runs in three straight appearances -- after allowing three in his previous 113 appearances. And scouts who have watched him so far say his surgically repaired elbow clearly isn't back to its old self.

"His velocity is down about 3 miles an hour, and his fastball isn't as lively as it was before," said one scout. "He's leaving some fastballs up, and they're relatively straight. He gave up a homer to Todd Hollandsworth on a split-finger that didn't do anything. So you see flashes of good stuff, of his old stuff. But you don't see it consistently like you used to."
But maybe this team's biggest worry is the area that was always its biggest strength -- defense. There have been changes at four of the eight positions (SS, 3B, CF, LF) -- and none have been defensive upgrades.
"The big problem is, they've lost Mike Cameron," said one scout. "And that's a huge problem at home (big outfield). There must have been five balls that dropped in the first three games that Cameron catches. Hard as Randy Winn tries, he's not Mike Cameron. And go around the field, and their defense is significantly weaker."
Bob Melvin won 93 games in his first season as manager. So he wouldn't figure to be in early danger. But any time the manager is a guy who wasn't hired by the current general manager, people will wonder. On the other hand, the talent here is better than the record. So our verdict is: more illusion than reality.
Blue Jays
The cold facts: Before Thursday's 11-run bustout, their highly touted offense had a .227 team batting average -- 27th in baseball. But the bottom three averages in the AL went: Yankees, Jays, Red Sox. So you know it's early. ... Toronto hitters had whiffed more than any AL team (8.25 per game) and had hit .164 with men in scoring position (after hitting .297 last year). ... Lineup was hitting .190 versus left-handers. ... Starters had a 6.25 ERA (24th in baseball) after eight games -- and were also winless after eight games for the first time in team history, until Roy Halladay put a stop to that with a shutout Thursday. ... At least the bullpen was second in the AL (to the Orioles) in relief ERA (2.96). ... Ray of hope: Went 10-18 last April -- but still won 86 games.
Reality or April illusion?
Getting wiped out three times at home by the Tigers will raise anybody's eyebrows. But this team didn't have a real impressive spring, either. So the early line among scouts who have seen Toronto is that it might not be as good as advertised.
"I went in there thinking they were going to have a decent club," said one scout. "I came away more disappointed than impressed."
This has been a tough stretch to evaluate, though, because everybody thought the Blue Jays' offense would be their biggest strength -- and it has often been M.I.A. (three runs or fewer in five of the first eight games). Meanwhile, the bullpen seemed like the biggest worry, but it's been the best area of the club. So go figure.
Still, no one doubts this team will hit. It did outscore the Yankees last year (not to mention 26 other teams). And Carlos Delgado is not going to hit .161 all year. And Vernon Wells won't hit .229, with zero homers.
It's still pitching that will decide if this team can contend. And despite all the changes in this staff since last year, our panel still doesn't like it much.
"(Roy) Halladay is nasty, and I like (Miguel) Batista," said one scout. "But (Ted) Lilly is just OK. And they've got a shaky 'pen -- on fast (Astro)Turf, with no defense."
One of their big rotation additions, Pat Hentgen, has barely gotten his fastball out of the low 80s. Last year's closer, Aquilino Lopez, got himself all fouled up this spring -- and hasn't recovered (nine baserunners in his first 4 1/3 IP). And manager Carlos Tosca has found himself playing that dreaded closer du jour game (with Justin Speier owning the only save).
"The thing I'd worry about," said one AL advance scout, "is that that's just not a very good defensive club. They don't catch the ball. And it's not a big strikeout staff."
Then again, this team was built to hit, and it will hit. And the farm system is loaded, so Toronto has chips either to deal or retool with. Which means this club is really hard to figure right now. So even though one scout said he thinks "that team has a chance to finish last," our verdict is: more illusion than reality.
Miscellaneous Rumblings

The Blue Jays have hinted that if they re-sign Carlos Delgado after this season, it might be for only about half the $17 million a year he has averaged in his current deal. But will that fly? Good question.

Delgado makes it clear he likes where he is and that "if I have the chance, I'll definitely stay." But that part about returning for half the money? Delgado couldn't help but hedge on that.

"I'm not even going to think about that," he told Rumblings. "We decided we're not going to talk until the end of the year. So it's one less thing I have to worry about until then. Obviously, I've got to look at all the different possibilities and all my options. Then I'll just take it from there."
Two AL officials say the Red Sox were about to sign Terry Mulholland this week before the Twins swooped in at the last minute. The Red Sox were looking for a left-handed upgrade on Bobby Jones. But the Twins, who had been happy with their bullpen when they left spring training, decided they needed more veteran stability.

So that led to the quick decision to bring in Mulholland and designate 26-year-old left-hander Brad Thomas for assignment. The Twins are now trying to trade Thomas, as opposed to allowing him to be claimed on waivers, as just happened with Sean Douglass and Michael Nakamura. Considering the shortage of left-handed pitchers with 94-mph fastballs, they can probably find a match, too.

"Somebody," said one NL executive, "has a chance to get lucky with that kid."
What's the most underrated rotation in baseball? It might be (guess who?) the Pirates.

"Kip Wells and Kris Benson have great stuff," said an AL executive. "And Ryan Vogelsong was throwing as well this spring as anyone in Florida. So that's a staff that can shut you down."
We've heard almost nothing but good things about Franklin Gutierrez, the outfield phenom the Indians got from the Dodgers for Milton Bradley. But one NL executive says he's no lock for stardom.

Cubs Rumblings

Two baseball men familiar with Mark Prior's medical condition say his problem isn't even in his elbow per se. It's in a bone near the elbow. So the Cubs are convinced this is nothing serious. Nevertheless, Prior has never had an arm issue before. So everybody is trying to be patient as he learns how to deal with it.
| | |
| --- | --- |
| | |
| | Prior |
There is still no timetable for Prior's return. But the date to watch is Memorial Day. Between then and July 1, the Cubs play 13 of their 17 games with Houston. So if Prior isn't back for that stretch, this will loom as a much bigger deal than it is now.
"You know the guy they miss as much as Prior, is (Mike) Remlinger," said one scout. "Andy Pratt looked scared out there: seven walks in one inning altogether, and I saw him almost throw two wild pitches on an intentional walk. So he can't be the go-to lefthander. And (Kent) Mercker has had back problems all spring. So they can almost cover Prior with all the starting pitching they've got. But they have no one to do what Remlinger did."
"He's a lot like Alex Escobar," the exec said. "He's very similar -- in talent and numbers. He has definite upside ability, and he can play center and right field. But he's a high-strikeout guy, so it won't always be pretty."
Two teams that are getting increasingly worried about their closers' drop in velocity -- the Cubs (Joe Borowski) and Astros (Octavio Dotel).

The difference is, it's easier for the Cubs to move Kyle Farnsworth or LaTroy Hawkins into the closer's role than it is for Houston to flop Dotel with Brad Lidge -- because Houston needs Dotel to close for the bullpen pecking order to work. It's hard, after the Billy Wagner deal, to imagine Dotel being able to deal mentally with returning to a setup role.

"I'm not sure what it is with this guy," said one NL executive of Dotel. "His traditional M.O. is to show up every year and pitch himself into shape. But if it costs his team some games while he's doing it this year, it might really tick some people off."
Two teams that already have That Look of clubs set up to have big years? The Marlins and Angels.

The Marlins, first off, continue to prove they might be the least-appreciated World Series champs since the 1987 Twins.

"They went into Chicago last year and beat Mark Prior and Kerry Wood," says one NL executive. "And I know a lot of people thought they got lucky. But you know what? They were the better team. And they're still damn good."

And the Angels, says one AL scout, are the modern-day incarnation of the 1995-97 Indians.

"They've got a good lineup, up and down," he said. "They mash. They play good defense. Their pitching is OK, but they do have (Bartolo) Colon. And (Troy) Percival is better at the end than (Jose) Mesa."

When an NL scout who has raved about the Angels was asked if they had one pivotal hole, he replied: "As long as they stay healthy, I don't see one."
Finally, to get a new ballpark built in any major American city these days, it takes more than dollars. It takes dreamers.

So next time you find yourself eyeballing the Phillies' beautiful new Citizens Bank Park, in person or on TV, remember the man who dreamed about it longest -- Phillies chairman Bill Giles.

He spent a decade drawing ballpark ideas on his deskpad, on pads of paper, even on cocktail napkins. And it never would have happened without him.

"I am a dreamer," Giles told Rumblings before the opener of the Phillies' new park. "And I've got a lot of ideas. And I dreamt about this place for a long time. And the first time I sat there in the press box, the day I got back from spring training, I just sat there alone, looking at the park, and tears came to my eyes. I'm a pretty modest guy. But I said, 'This probably would never have happened if not for me.' "

And, as a matter of fact, he's right.

Triviality
Question: Barry Bonds has hit at least 30 homers in every full season since he turned 30 years old. But he's actually one of four active players, currently 35 or older, who have done that. Can you name the other three?

Answer: Rafael Palmeiro (nine), Jeff Bagwell (six) and Sammy Sosa (five).

Jayson Stark is a senior writer for ESPN.com. Click here to send Jayson a question for possible use on ESPNEWS.
Senior Writer, ESPN.com
Senior writer for ESPN.com
21 years at the Philadelphia Inquirer
Author of three baseball books
SPONSORED HEADLINES
MORE MLB HEADLINES
MOST SENT STORIES ON ESPN.COM
EDITORS' PICKS
David Schoenfield breaks down some of baseball's best dynasties.
Story »

The idea of eliminating defensive shifts is absurd.
Buster Olney

If A-Rod hits enough home runs to earn his bonuses, the Yanks should be more than happy to pay them.
Wallace Matthews