Costly rental not for Rangers
The Rangers sit atop the AL West, but just lost a starter. What's John Hart to do? Wait patiently for the right deal.
Originally Published:
July 20, 2004
By
Jayson Stark
| ESPN.com
They were never built to be the '66 Orioles to begin with. But if the Texas Rangers can win the AL West with John Wasdin, Nick Regilio and R.A. Dickey in their rotation, Buck Showalter shouldn't merely be the manager of the year.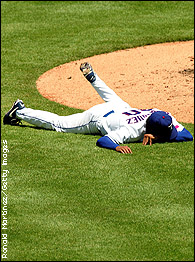 Ricardo Rodriguez's season ended after a liner broke his elbow.
Manager of the century is more like it.
The Rangers lost yet another starter this week, when the rapidly emerging Ricardo Rodriguez took a line drive off his pitching elbow. And "disaster" might be too mild a word to describe what that means for a team with the fourth-best record in baseball.
In an all-demand, no-supply trade market, it's hard enough to find one starting pitcher, let alone three. But that's the fun job facing GM John Hart at the moment.
Well, if anybody thinks that means he's going to cave and start giving away Laynce Nix or Adrian Gonzalez, uh, think again.
"You know me," Hart said Friday. "I've been through this [trade-deadline] drill a lot of years in Cleveland. We made a lot of moves this time of year. Some of them worked. Some didn't. But we were never afraid to make one. And we're out there looking and talking right now.
"But I'm not going to short-circuit this plan we've got going here," Hart said. "I'm not going to do it. I've got the tea leaves read pretty good, and I'm just not going to derail this thing."
Despite rumblings that Hart would trade outfielder Kevin Mench for Kris Benson if the Pirates were amenable to that, an official of one club says Hart told him, "I ain't trading (Mench) away for some rent-a-player."
So the Rangers continue to talk on Benson, Shawn Estes and the other assorted pitching flotsam and jetsam. But in reality, Hart says, this is a team that's still "a year ahead of schedule," with a pocket full of A-Rod savings to spend this winter.
Which means they may make a low-level move or two -- or swap Mench for a young starter at a similar stage. But despite all those splinters in Rodriguez's elbow, they're the contender most likely to think big-picture, not win-today.
"I know there are a lot of clubs built to where they almost have to win," Hart said. "So somebody might jump up in the next week and overpay, because they have to. But we've got a lot of good things going here. And I'm not going to look up this winter and ask myself, 'Why'd I trade that guy?' ... So I'm making it clear there's a price we're willing to pay -- and a price we're not willing to pay."
Big Unit Rumblings
The days tick down toward the trading deadline. But, from all indications, the Diamondbacks still haven't called either the Angels or Yankees to find out what they're willing to offer for the privilege of adding Randy Johnson to their World Series Express.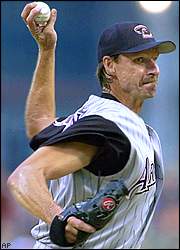 APDon't be surprised to see Randy Johnson in a D-Backs uniform next season.
That may be confusing to some people. But as best we can glean, the reason is as basic as a full-count fastball:
The Diamondbacks apparently believe, until they hear otherwise from Johnson, that the Yankees are the only team he would go to. And, no matter how hard it looks, Arizona can't find even one available Yankees player above A-ball it would be interested in.
"If Randy stays adamant that it's one team or nothing," says an official of one team following this situation, "then that one team is going to have to get really creative, and find some way to get a third team involved. ... Or else Randy's going to finish the year in Arizona, and probably pitch next year in Arizona."
According to baseball men who have felt out the Diamondbacks, Arizona isn't interested in any show-us-the-money Big Unit salary dumps. It doesn't even appear interested in any six-for-one extravaganzas that would mostly involve taking on a bunch of marginal Yankees prospects or prospects who might not reach the big leagues till 2008.
So it would seem logical that, in the next few days, the Diamondbacks will make an attempt to convince Johnson to consider going to Anaheim, a team with which they at least have a talent match. But even then, would the Angels be willing to pay what essentially would be a go-for-broke price?
Indications are that the Diamondbacks haven't just targeted Anaheim's farm system. They've also looked hard at the Angels' big-league club.
If you've seen that Arizona bullpen lately, you know that means the Diamondbacks would want to start any package with a young, potentially dominating bullpen arm -- say, Scot Shields, or even (gulp) Francisco Rodriguez.
Or, assuming the Angels would turn that deal down, it's impossible to envision Arizona settling for anything less than third-base phenom Dallas MacPherson as the centerpiece of any deal.
So unless Arizona changes its mind about what it wants, or Anaheim changes its mind about its willingness to mortgage the future, or Johnson changes his mind about where he'll play, or the Yankees suddenly come up with three hot-shot, big-league-ready prospects, the answer to those "Where-is-Randy-going" questions is simple:
Absolutely nowhere.
Rumor-Mill Rumblings

Despite massive talk that the Diamondbacks and Phillies have been zeroing in on a Steve Finley-for-Marlon Byrd package, indications now are that Arizona hasn't come off its insistence on Cole Hamels or Gavin Floyd. And the Phillies have consistently told everyone that neither is on the market.
| | |
| --- | --- |
| | |
| | Finley |
Meanwhile, other clubs that have kicked the tires on Finley report that the Diamondbacks have told his three NL West suitors -- the Giants, Dodgers and Padres -- that it would have to "win the deal" to trade Finley within the division.
Also, because Arizona hopes to bring Finley back this winter as a free agent, it's apparently setting a higher price for teams it thinks he would be more likely to want to stay with (i.e., San Diego).
So that leaves Florida. Which would have to debate whether to deal someone like first-base prospect Jason Stokes, plus one of its pitching prospects (a la Double-A strikeout machine Bill Murphy), for Finley.
At least Finley is thought to have indicated that he would approve a trade to any contender. But if he can't go to San Diego or stay on the West Coast, it's believed he prefers the Phillies over the Marlins.
The Marlins, Dodgers, Braves and Red Sox have all kicked around the possibility of dealing for Larry Walker between now and the deadline. And while Walker has been publicly noncommittal about waiving his no-trade clause, people who know him say he is far more likely to approve a deal this time than he was when he pulled the plug on a trade that would have sent him to Arizona in 2002.
| | |
| --- | --- |
| | |
| | Walker |
So now the questions are: How much of the $18 million or so left on Walker's contract would Colorado digest? And how attractive a player is he these days, given all his assorted maladies?
"If we knew he'd be a 145-game player, we'd have to really think about him," says an executive of one contender in the market for a bat. "But even if they'd pay, say, two-thirds of the contract, or more, if he's just going to be a guy who plays 50 or 60 games, is he worth the $4 million-$5 million? We can't take that gamble."
But one scout who has followed Walker recently says: "He can still play. I know that. He keeps doing stuff that makes you go, 'Wow.' It's just getting him out there and keeping him out there that are the problem."
The Pirates aren't just trying to wangle a big payoff on Kris Benson. They're being almost as demanding for their 38-year-old closer, Jose Mesa.
| | |
| --- | --- |
| | |
| | Mesa |
The Cubs, Cardinals, Giants, A's, Yankees and Braves (among others) have all inquired about Mesa. But Pirates GM Dave Littlefield has been telling them that Mesa works cheap ($800,000, plus another $465,000 in reachable incentives). And that the Pirates have no other prospective closers on the roster. And that they might just keep him and try to finish with a winning record.
So it's possible the Pirates won't trade Mesa this month at all. They're thinking about hanging onto him for a while to see how they play over the next few weeks. Then they'd mull pushing him through waivers and trading him in August.
"If this guy were making $4 million-$5 million, they'd be ready to trade him tomorrow," said an official of one club. "But at under $1 million, they feel like there's no pressure to do it unless it's a hell of a deal."
The other closer whom teams keep calling on is Eddie Guardado. But there are no indications Seattle is interested in trading him.
We would still bet that the deal most likely to happen in the next week is Orlando Cabrera going to the Cubs. But Montreal appears to be in no rush to make any moves. So the Cubs wait patiently -- and even put in an occasional Nomar Garciaparra call in their spare time.
The Braves continue to shop for left-handed relievers. According to one scout who recently passed through Atlanta, they even tried recently to lure Graeme Lloyd out of retirement. But if they can't make a deal, they might promote prospect Dan Meyer, who rolled up 101 whiffs in his first 80 innings at Double-A and Triple-A.
The Phillies and Red Sox look like the main contenders for Blue Jays setup man Terry Adams. But Toronto has rejected offers of second-tier prospects from both. So stay tuned.
Besides shopping for a big bat and bullpen help, the Marlins are still searching for another catcher. One name it's believed they added to their list recently is Benito Santiago, if the Royals are willing to pick up a big chunk of the $2.15 million he has coming next year. Santiago is due back from a broken hand by mid-August.

Jayson Stark is a senior writer for ESPN.com. Click here to send Jayson a question for possible use on ESPNEWS.
Senior Writer, ESPN.com
Senior writer for ESPN.com
21 years at the Philadelphia Inquirer
Author of three baseball books
SPONSORED HEADLINES
MORE MLB HEADLINES
MOST SENT STORIES ON ESPN.COM
EDITORS' PICKS
Corey Kluber and six others should get contract extensions.
Bowden

The Rangers are among those hoping for a 2015 do-over.
Olney

Is Yasiel Puig among the worst baserunners ever?
Schoenfield »