Marlins so need Beckett to shine
While Josh Beckett was last October's hero, this season he's been plagued by injuries and ineffectiveness.
Originally Published:
August 10, 2004
By
Jayson Stark
| ESPN.com
When he walked off the mound in Yankee Stadium on that unforgettable Saturday night last October, we all thought we knew where Josh Beckett was heading next.
Nah, not Disney World.
He was bound for Jason Schmidt's World. Or maybe Mark Prior's World. Or, at the very least, Roy Oswalt's World.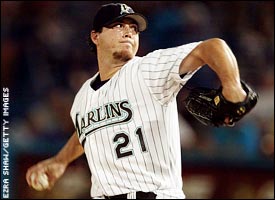 Getty ImagesJosh Beckett thus far hasn't lived up to the expecations that were placed on him heading into this season.
He was bound for greatness. Wasn't he? How could there have been any doubt of that?
After an October in which he gave up 21 hits in 42 2/3 innings -- and struck out 47?
After an October in which he became the first man to throw a postseason shutout against the Cubs since Babe Ruth?
After an October in which he became the first man to eliminate the Yankees with a postseason shutout in Yankee Stadium since Lew Burdette in 1958?
So what would you have said if someone had told you then that Josh Beckett would have four wins in the second week of August? As many as Matt Perisho. Fewer than Jimmy Gobble and Gary Knotts and R.A. Dickey.
Four.
"If someone had told me that, I'd have been disappointed. I know that," said Marlins GM Larry Beinfest. "And I'd wonder what happened."
What happened? It's a question Josh Beckett hears a lot these days.
Well, stuff did happen to explain those four wins. Stuff that no one could have foreseen.
There was the return of the blister problem he thought he'd solved. And a pulled muscle in his back. And a patch of skin that tore right off the middle finger of his pitching hand.
So stuff did happen. Stuff that can throw a mean detour onto that Cy Young Highway that Beckett thought he was driving.
But now Josh Beckett has reached the point in this season where it's time to toss the past in the nearest garbage disposal. This is the time when his season, and his team's, is shaking on the tightrope.
He went into his start Tuesday against the Cardinals with a 4-7 record and a 4.54 ERA. His team went into that game at exactly .500 (55-55), 8 games out of first place, 5½ out in the wild-card derby.
"I think Josh knows this team needs him right now," Beinfest said. "He needs to consistently win. And we need to consistently win. And they go hand in hand."
This is the time, all right -- the time when Beckett needs to reach into his top hat and yank out that October magic act. There isn't enough season left anymore for him to win 20 or pile up the kind of numbers that once seemed so preordained. But there is time for him to save the season -- his season and his team's.
Think there isn't? Well, guess how many wins Josh Beckett had at this stage of last season?
| | | |
| --- | --- | --- |
| | " | I think Josh knows this team needs him right now. He needs to consistently win. And we need to consistently win. And they go hand in hand. " |
| | | — Larry Beinfest, Marlins GM |
That would be five (thanks to another extended stay on the disabled list). But obviously, he still had plenty of time last year to pitch his team into the playoffs and evolve into the Monster Who Ate October. So logic tells us he has plenty of time to do that this year, too.
"Hopefully," Beinfest said, "this year will mirror last year."
But last year, through 110 games, the Marlins were 10 games over .500 and just two games out in the wild-card race. They were already on a serious roll (41-21 in their previous 62 games). And everyone in their rotation except Beckett was pitching great.
This year, though, has followed a very different script. This year, they burst out of the chute 8-1, got to 30-20 by Memorial Day weekend and then forgot how to win.
They've had just one winning streak longer than two games since then. They're down to 24th in the big leagues in runs scored. They're 10th in the National League in ERA (4.15). And even their spectacular flurry of trades before the deadline hasn't seemed to get them going. (They were just 2-4 since the deadline, going into Tuesday night.)
So if they're going to live up to the expectations they set for themselves last fall, it's time to start their engines. And for all the hoopla you may sometimes hear about Juan Pierre or Miguel Cabrera, this team is constructed to turn that ignition with starting pitching.
Which means it's Josh Beckett's time.
"We know his stuff is certainly still there," said Marlins assistant GM Dan Jennings. "Coming out of spring training, he looked absolutely great. The first month of the season (when Beckett allowed four hits or fewer in three of his first six starts), he looked good. Then here comes the blister. And then here comes the muscle pull. And here comes another blister. And he's just never been able to develop any consistency since."
Heading into his start Tuesday, Beckett's last win was May 20. The last time he'd even gotten into the fifth inning was May 25. He had almost as many trips to the disabled list (three) as wins (four).
"When you take the ball every fifth day, you get a more consistent release point and more command of your off-speed stuff," Jennings said. "And he just hasn't been able to take the ball."
But scouts who have watched Beckett this year say his problems aren't all blister-related.
One scout who saw him scuffle in a start in May said: "It looked like he got caught up in that old syndrome of, 'When I get in trouble, I'll just throw harder and harder,' instead of taking a little something off. Last October, I didn't see that. Last October, he pitched."
But it's tough to "pitch" when you have no feel for your change-up or breaking ball. And that's where the rust has taken its greatest toll.
| | | |
| --- | --- | --- |
| | " | When you have the moment (Josh) had, it's hard not to think that was the beginning of his moment of greatness. And you know what? It still can be. " |
| | | — Dan Jennings, Marlins assistant GM |
"His two pitches other than his fastball are both 'feel' pitches," Jennings said. "And if you can't go out there every fifth day, you can't develop that feel."
But now is the time. If you've followed the career of Josh Beckett at all, since the Marlins made him the No. 2 overall pick in the 1999 draft, you know he has always lived with expectations the size of Mount Everest -- not to mention the occasional whispers that he wasn't living up to them. And he has always used that as fuel, not as pressure.
"One thing we know about Josh," Beinfest said, "is that he does have the unique ability to put things behind him. The blister problem. The (muscle) strain. Even World Series MVP. It's all back there. But helping us win is No. 1. It's all about helping us win and moving us forward."
But just to make sure that's where Beckett was focused, Jack McKeon pulled him into the manager's office recently -- to remind him of exactly how good he was last October, and why.
"Jack just wants to make sure," Beinfest said, "that no one is resting on his laurels and you've got to push yourself every day. I don't think that's a factor (in Beckett's case). ... But the point is, it's not going to get easier now. It's going to get harder."
For Josh Beckett, though, can it possibly get harder than stomping out of the Wrigley Field bullpen to save the season on two days' rest?
Can it possibly get harder than taking the mound for Game 6 in Yankee Stadium on three days' rest, knowing the second-guessers were waiting to descend?
After the way he pitched in those settings, Beckett chuckled this spring, "I don't think people will be asking too many questions about whether I can handle the pressure."
But the great thing about sports is that the tests never stop. And now, the Marlins need Josh Beckett to step up and ace a whole new set of tests.
He's still only 24 years old. The fastball still crackles along at 97 mph. The power curve and the freezer-burn change-up are still sitting there in the top hat. Now it's time for the magic man to pull them out when his team needs them most.
"The great thing is, it's all in there," Jennings said. "Like anybody, sometimes you want things to happen sooner than maybe they're supposed to. Well, it hasn't happened this year. But it's all in there.
"When you have the moment he had, it's hard not to think that was the beginning of his moment of greatness. And you know what? It still can be."
Jayson Stark is a senior writer for ESPN.com. Click here to send Jayson a question for possible use on ESPNEWS.
Senior Writer, ESPN.com
Senior writer for ESPN.com
21 years at the Philadelphia Inquirer
Author of three baseball books
SPONSORED HEADLINES
MORE MLB HEADLINES
MOST SENT STORIES ON ESPN.COM
EDITORS' PICKS
These players are vital to their team's success.
Blog

Ranking baseball's 30 farm systems for 2015.
Keith Law