Nothing comes easy for Cubs
The Cubs entered this season as big favorites. And while they've appeared to struggle, they still sit in a very good position.
Originally Published:
September 20, 2004
By
Jayson Stark
| ESPN.com
MIAMI -- They could have made this easy. But hey, they're the Cubs.
They could have kept everybody healthy. And everybody happy. But hey, they're the Cubs.
They could have taken total charge of the National League wild-card race as recently as Monday, just by beating a pitcher who was starting on a couple of thousand days of rest. But hey, they're the Cubs.
"I'd love to do it easier, man," said their toothpick-wielding manager, Dusty Baker. "But that ain't how it's been."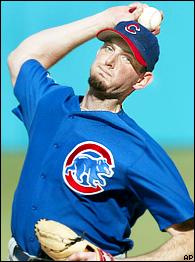 APMatt Clement was roughed up for five runs in 2 1/3 innings, and suffered the loss in Monday's second game.
Yeah, that ain't how it's been, all right. Not this week. Not last week. Not last decade. Not for the last 87 stinking years. But hey, they're the Cubs.
On Monday, all the Cubbies had to do was just sweep the Marlins in a doubleheader that was theirs for the sweeping -- and they would have taken a half-game lead over the Giants in the wild-card free-for-all. That's all.
So naturally, they pulled off the hard part. With the help of what might have been Mark Prior's most Prior-esque start of the year, the Cubs beat this year's regularly scheduled Marlins Cy Young candidate, Carl Pavano, in Game 1, by a score of 5-1.
That meant all they had to do was have Matt Clement outpitch David Weathers -- making his first start since May 22, 1998 (2,064 Randy Johnson strikeouts ago) -- in Game 2. And the sweep would be theirs. The wild-card lead would be theirs. And the coveted spot in the driver's seat on the highway to October would be all theirs -- right there in their very own control.
But hey, they're the Cubs. And sweeping doubleheaders isn't exactly the house specialty -- seeing as how they've swept just four of their last 53, over the last 20 years.
So naturally, Clement, who has been battling a stiff neck, gave up a three-run homer off the foul pole by Damion (Yeah, He's Still Playing) Easley and was gone by the third inning.
And naturally, Weathers spun off five two-hit innings, whiffing six.
And naturally, when the Cubs had a chance to put a serious scare into Armando Benitez in the ninth, Juan Encarnacion pulled a prospective Todd Walker two-run homer out of the sky for just another vintage Cub Land out.
So what had changed, in the end, after six hours of baseball? Nothing, of course.
The idle Giants still had their half-game lead -- for the seventh consecutive day. So if the Cubs are going to make it into the great Octoberfest, they'll have to do it how they always do it -- gasping all the way.
"That's just the way it happens, I guess," Walker said. "Obviously, you wish you could be like the Cardinals and already know you'll be in the playoffs. But that's not how it usually works, here or most places."
Then again, of course most places aren't anything like the Cubs.
But that, in case you were wondering, is a good thing. How many other visiting teams show up in a place like Florida for a rescheduled doubleheader on a Monday afternoon in September and find two-thirds of the spectators rooting against the home team? Maybe two (Red Sox and Yankees).
That's the power of the Cubs brand name, though. That's the special bond they have with fathers and sons, and grandfathers and grandchildren, all over the continent.
And just imagine how magnetic that bond might be if they actually won a World Series every half-century or so?
But this was going to be the year. Right? With a rotation full of Cy Youngs, and a beefed-up bullpen, and the acquisitions of Derrek Lee and Walker, and the July trade for Nomar. This one had all the makings.
Until it didn't.
The Cardinals sprinted off into the distance. The Cubs, meanwhile, crammed more people into the trainer's room than they cram into Wrigley Field. They feuded with their broadcasters. They were sloppier than an el station during a snowstorm. This wasn't pretty.
"
I think it's just that we're so far back in our division, you feel like we're struggling. We haven't played as well as we can. But everyone expected the league to just hand it to us in spring training, based on pitching and the depth this team had. And that's just not realistic. "
— Todd Walker, Cubs
second baseman
The nationwide perception was that they were falling apart in front of our eyes. Yet every time you looked at those wild-card standings, they were right near the top. A game up. A game down. But never more than two out at any point since the All-Star break.
We can think of two dozen teams that would like to fall apart like that.
"I think it's just that we're so far back in our division, you feel like we're struggling," said Walker, whose training for life as a Cub came in a season with the Red Sox. "We haven't played as well as we can. But everyone expected the league to just hand it to us in spring training, based on pitching and the depth this team had. And that's just not realistic.
"We had 10 guys on the disabled list in the first half. Mark and Kerry (Wood) missed a month apiece. We've had a lot of stuff happen. If we get to the playoffs, nobody is going to remember how hard we had it. But we're in good position, because we've got a very manageable schedule the rest of the way."
Matter of fact, they have the most manageable schedule in the race. Between now and the last three games of the season, when the Braves arrive at Wrigley to set their rotation for the playoffs, the Cubs play only the Pirates, Mets and Reds.
Which should be made to order for them. But hey, they're the Cubs.
So naturally, they're in the midst of an insane road trip right now, from Cincinnati to Miami to Pittsburgh to New York -- for 12 games in 11 days. And like the Marlins, the Cubs didn't get any breaks from Hurricane Frances, either. They have no off days left all season. So don't go telling them what an easy schedule they have.
The Pirates? "They throw a quality pitcher at you every day," said Clement.
The Mets? "Those starters -- Al Leiter and (Tom) Glavine and (Steve) Trachsel -- are no pushovers," Clement said.
And the Reds? "You know they're going to throw a good lineup at you," Clement said.
"I guess maybe you could call our schedule 'easier,' because you look at San Francisco, and they're playing all teams in the race (Houston, L.A., San Diego)," Clement said. "But this time of year, I don't think anybody is easy."
And even if they were, remember: They're the Cubs.
But this year, they're also fueled by the memory of the way last year ended, with the champagne literally being wheeled out of their clubhouse and into the Marlins' locker room at Wrigley. So they know just what's out there at the end of the October trail -- if they can only get there.
"Last year," Clement said, "I think we were ready to go farther than we went. And this year, we feel we're better than we were last year. ... I know the guys in this rotation got a chance to pitch in that atmosphere last year. And we're ready to go to that next level. We got a taste of that last year. We'd love to get back there again."
If you polled America's baseball fans on whether this year's Cubs are better than last year's, we bet nine out of 10 would answer: No. But guess again. After 149 games this year, the Cubs are 83-66. A year ago, they were only 79-70.
You could win a few bucks on Rush Street with that wager, we bet. But even playing four games better than the best Cubs team in maybe two decades hasn't guaranteed them anything. Of course. And you all know exactly why.
Just repeat after us:
Hey, they're the Cubs.
Jayson Stark is a senior writer for ESPN.com.
Senior Writer, ESPN.com
Senior writer for ESPN.com
21 years at the Philadelphia Inquirer
Author of three baseball books
SPONSORED HEADLINES
MORE MLB HEADLINES
MOST SENT STORIES ON ESPN.COM